Whether you want to sell t-shirts, stickers, mugs, notebooks, or any other merchandise with a design, print on demand is the way to go. One of the most important choices to make when you start a print on demand business is choosing the right provider.
What Are Print-on-Demand Companies?
Print on demand (POD) is an order fulfillment model where items are printed as they are ordered instead of being created in batches. Once an order is placed, the platform you use sends it directly to the nearest fulfillment center and ships the items out to your customers.
Most services offer a variety of print-on-demand products, such as:
| | | | | |
| --- | --- | --- | --- | --- |
| T-shirts | Hoodies | Mugs | Towels | Phone covers |
| Notebooks | Stationery | Stickers | Bags | Posters |
Some companies also offer less conventional print-on-demand merchandise options, like:
| | | | | |
| --- | --- | --- | --- | --- |
| Shoes | Leggings | Jackets | Sweatshirts | Blankets |
| Pillows | Watches | Jewelry | Wall Art | Headphones |
| Speakers | Tote Bags | Water Bottles | Toys | Face Masks |
There are two main types of POD companies:
Print-on-demand services
Print on demand services sellers to sell products on their own website and via third-party marketplaces like Etsy.
Some examples of print on demand services include:
Printify

SPOD

T-Pop

Gooten
Print-on-demand marketplaces
Print on demand marketplaces are dedicated platforms for selling print on demand products alongside other sellers.
Some examples of print on demand marketplaces include:
Sellfy

Teespring

Redbubble

Printful
Printing Method Options
Most print on demand services offer several printing method options to get the best quality results for their wide variety of products. Some popular options include:
Direct to garment
Cut and sew
Sublimation Printing
Embroidery
Direct to Garment
Direct to garment printing, also known as digital garment printing, uses an inkjet printer and water-based ink to print designs directly onto clothing. It results in detailed, high-color images.
Cut and Sew
The cut and sew process involves printing the design before the product is manufactured and adding it to the garment later on.
Sublimation Printing
Sublimation printing uses ink and heat to transfer designs onto fabric. This method allows a design to cover an article of clothing from seam to seam.
Embroidery
Embroidery is sewing a design directly into an article of clothing with the thread creating the design.
The 12 Best Print on Demand Companies
Without further ado, here are the best sites for print on demand needs:
Printful

SPOD

Printify

Sellfy

Apliiq

Teelaunch

CustomCat

T-Pop

Spring (Formerly Teespring)

Gooten

Redbubble

Zazzle
The factors we take into consideration include:
Shipping

Printing Options

Direct to Garment

Cut and Sew

Sublimation Printing

Embroidery

Key Features

Plans and Pricing
Printful is a popular print on demand site for clothing. They offer a wide selection of high-quality products and brands. They also offer multiple clothing printing techniques and a mockup generator is another popular feature.
Shipping
Standard shipping to the US starts at $3.99 and takes 3-4 business days (see their shipping map for other destinations). Shipping costs depend on the product. Orders with multiple items are eligible for discounts.
Printing options
Printful offers
Direct-to-garment

Embroidery

cut and sew

sublimation printing
You can also add tear-away tags to your products, as well as inserts and stickers to your packaging for an additional cost for a more branded customer experience.
Key features
Mockup generator
Design maker
Support for integrations
Free to use
No order minimums
Custom branding
20% discount on sample orders
Plans and pricing
Signing up for Printful is free. You don't have to pay until a customer places an order.
Recommended for
Printful is great for beginners and experienced entrepreneurs alike who want a flexible, well-rounded print on demand solution that they can scale later on.
Product catalog
Printful carries over 220 items from clothing to accessories to wall art. These include:
T-shirts
Sweatpants, leggings, and joggers
Tote bags and backpacks
Mugs
Phone cases
Bean bag chairs
Framed posters
Prints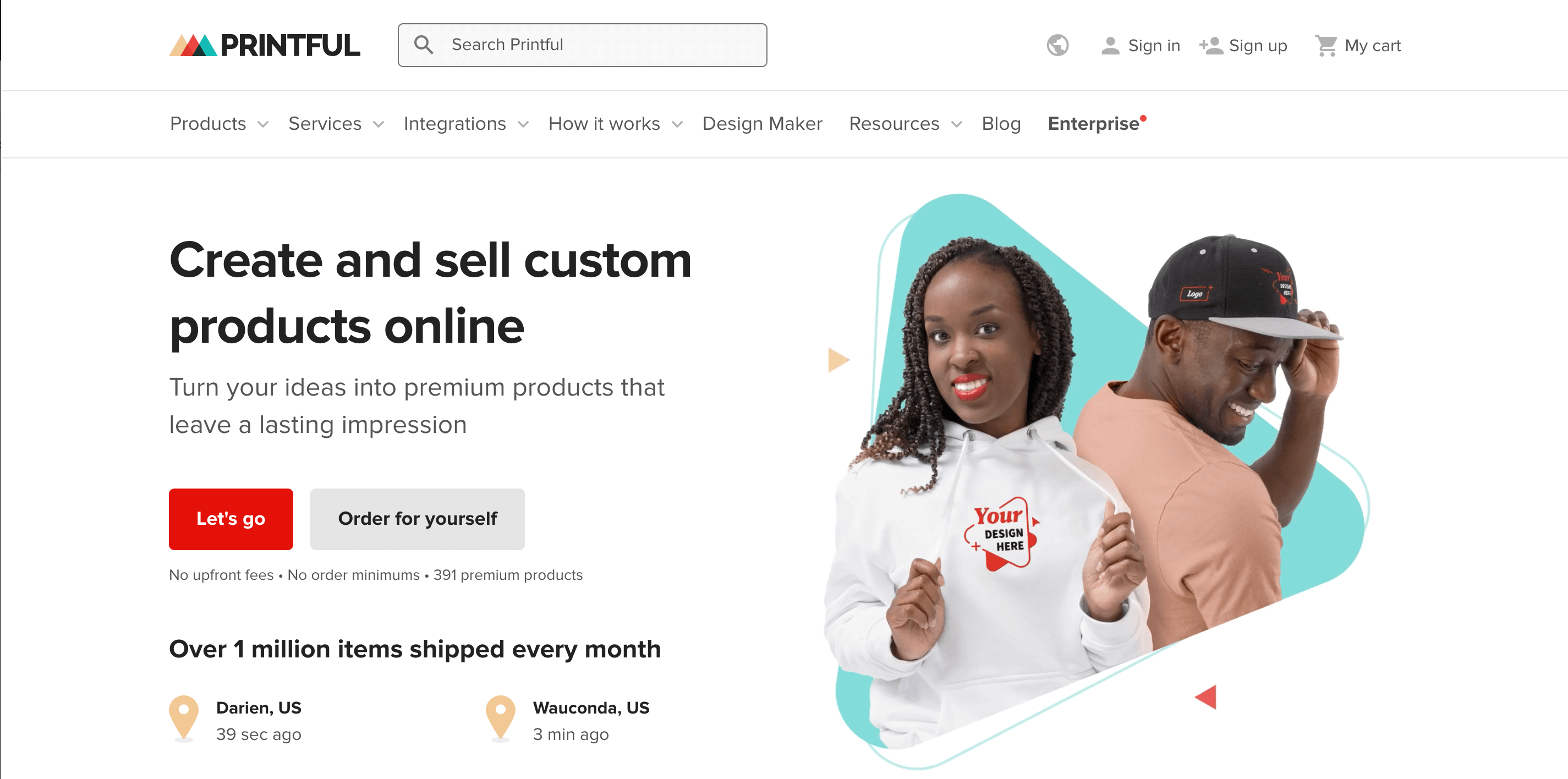 SPOD, a print on demand company owned by Spreadshirt is a great choice if speed is your priority. Their 48 hour turnaround time is one of the fastest in the print on demand business. They don't skimp on variety either. They offer over 100 product options and five printing options. The customization tool allows customers to create their own custom designs.
Shipping
Domestic shipping in the US starts at $3.57 with an estimated arrival time of 3 to 8 business days. See SPOD's shipping calculator for more details.
Printing options
SPOD offers
Digital direct

Thermal sublimation

Digital transfer/laser transfer

Special flex
Key features
Customization tool
Under 48-hours production
Integrations
Help-center
Variety of products
Shipping calculator
20% discount on sample orders
Plans and pricing
Setting up shop on SPOD is free. Sellers only pay once a customer places an order.
Recommended for
SPOD is a good choice for print on demand newbies who need fast fulfillment, simple shipping, and low prices.
Product catalog
SPOD's product selection offers over 110 items including:
Classic t-shirts
Premium organic t-shirts
Adjustable aprons
Baseball caps
Women's longer-length fitted tank top
Camper mugs
7-inch crew socks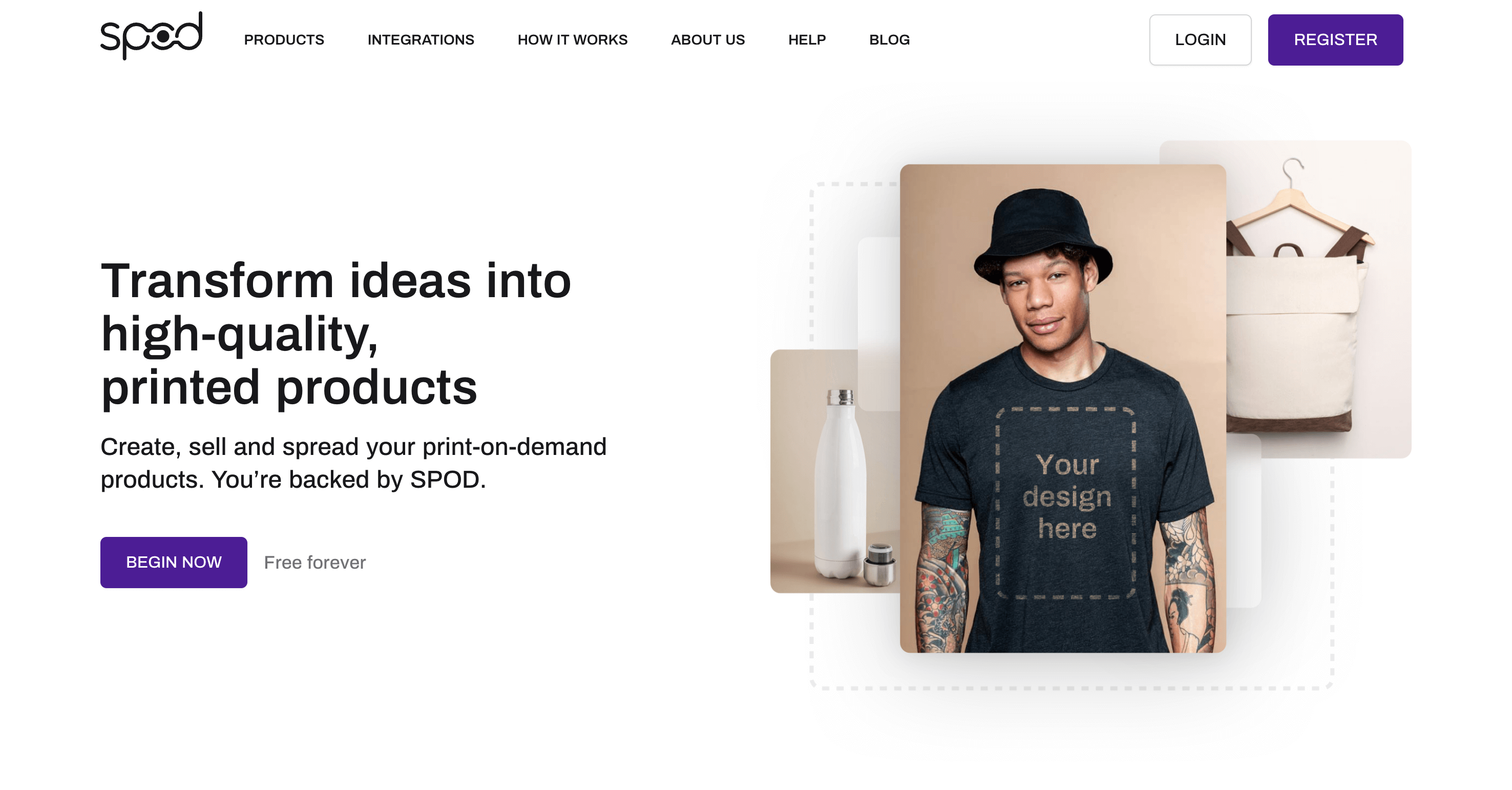 Printify gives its sellers access to a network of printing partners around the world. This means they get a larger variety of products, faster shipping time, and some of the best profit margins in the print on demand industry. The drawbacks of this setup are inconsistent quality and further setup required to work with multiple vendors.
Shipping
Products, shipping costs, location, packaging, and production times will depend on the print provider within Printify's network you choose.
Printing options
Printify offers
Direct to garment

cut and sew

Embroidery

And more
Key features
Mockup design
Powerful integrations
Manual order creation
Self-serve help center
20% discount
Plans and pricing
Printify has three pricing plans
Free Plan:
$0 per month
Premium Plan:
$29 per month
Enterprise Plan:
Custom pricing
Recommended for
Printify is a wonderful option for anyone looking for a print on demand provider with
Wide product selection
Flexibility
Low costs
Region-specific printing partners
Product catalog
Printify lets you print your designs on over 250 products including:
T-shirts
Hoodies
Backpacks
Canvas wraps and framed prints
Fridge magnets
Stickers
Swimwear
Skirts
Blankets
Sneakers
High heels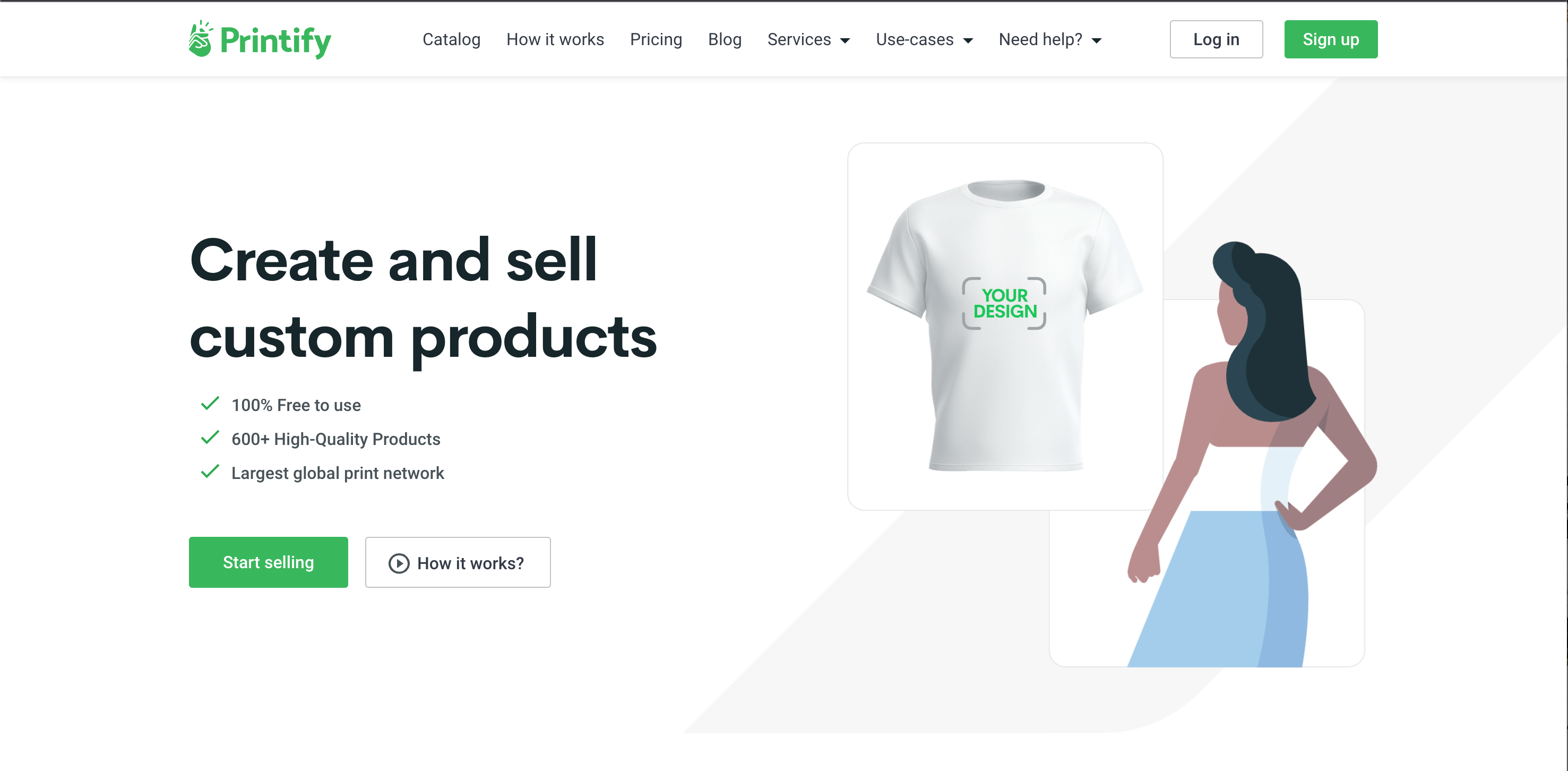 Sellfy is an eCommerce platform for selling digital and physical products from online courses and ebooks to T-shirts and hoodies.
Sellfy advertises that users can build their eCommerce stores in 5 minutes. Though it lacks the advanced features that some of its competitors have, it's easy and affordable to use.
Shipping
It can take up to 20 business days between the production time and shipping time for the item to arrive. This varies depending on the location of the customer and the specific product that they ordered.
Printing options
Sellfy offers
Digital products
Direct to garment
Key features
Specialized for online stores
No storage limit
No transaction fees
Can be embedded anywhere
Ease of use
Plans and pricing
Sellfy has four pricing plans:
Free
$0 per month
Starter
$22 per month
Business
$59 per month
Premium
$119 per month
Recommended for
Sellfy is the way to go for businesses that primarily sell digital products and are branching out into T-shirts and other merchandise.
Product catalog
Sellfy's selection of digital and physical products includes, but is not limited to:
Ebooks
Videos
Audio and Music
T-Shirts
Hoodies
Mugs
Hats
Digital subscriptions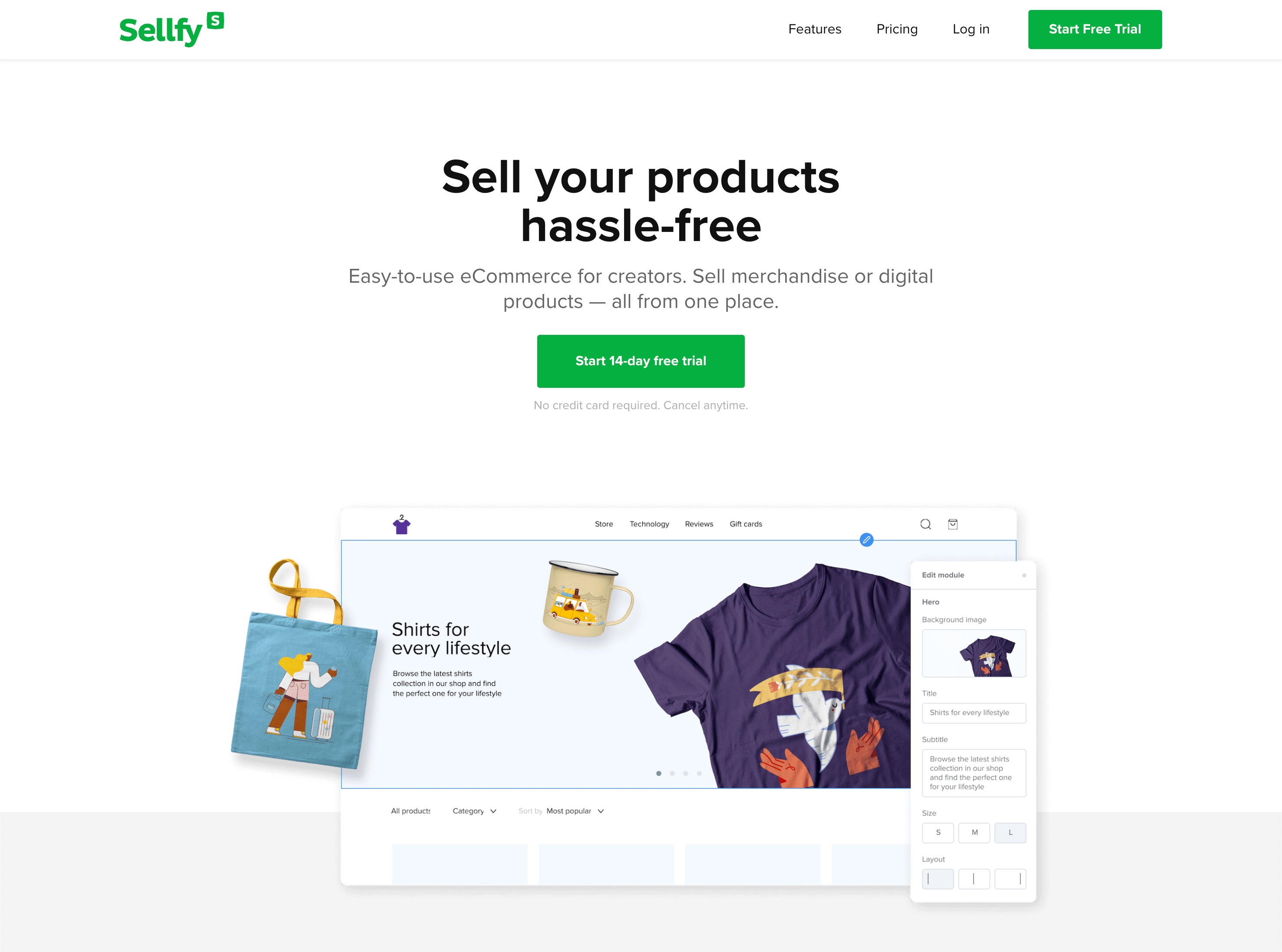 If you want to start a clothing line that prioritizes design and quality, look no further than Apliiq.
Their wholesale discounts start at 20% off for an order of 10 items, which is better than most print on demand providers. That makes Apliiq a great partner for new fashion entrepreneurs who want to sell through a mix of online and offline channels.starting at $3.99 to the US
Shipping
Once an order is placed, production can take up to 7 days. Apliiq offers weight-based shipping starting at $3.99 in the US. They also ship internationally to over 150 countries.
Printing options
Apliiq offers
Digital print

Direct to garment

Cut and sew

Appliqué

Embroidery
You can also use their private label option to add your own branded label, clothing tags, or embroidered patches. This way you're selling as your own brand as opposed to an Apliiq seller.
Key features
Support for embroidery
Customization options
Private label
Immediate quotes
Bulk discounts
Guaranteed delivery dates
Plans and pricing
Setting up for print on demand with Apliiq is free until a customer places an order. Talk to the sales department for private label and guaranteed delivery pricing.
Recommended for
Sellfy is the way to go for those who are starting their own clothing line with high quality products at high price points.
Product catalog
Apliiq's selection of high quality products for your designs includes, but is not limited to:
Pocket tees (designs on the chest pocket)

Joggers

Hoodies with print on interior lining

Kangaroo hoodies

Snapback hats

Denim jackets

Eco-friendly clothing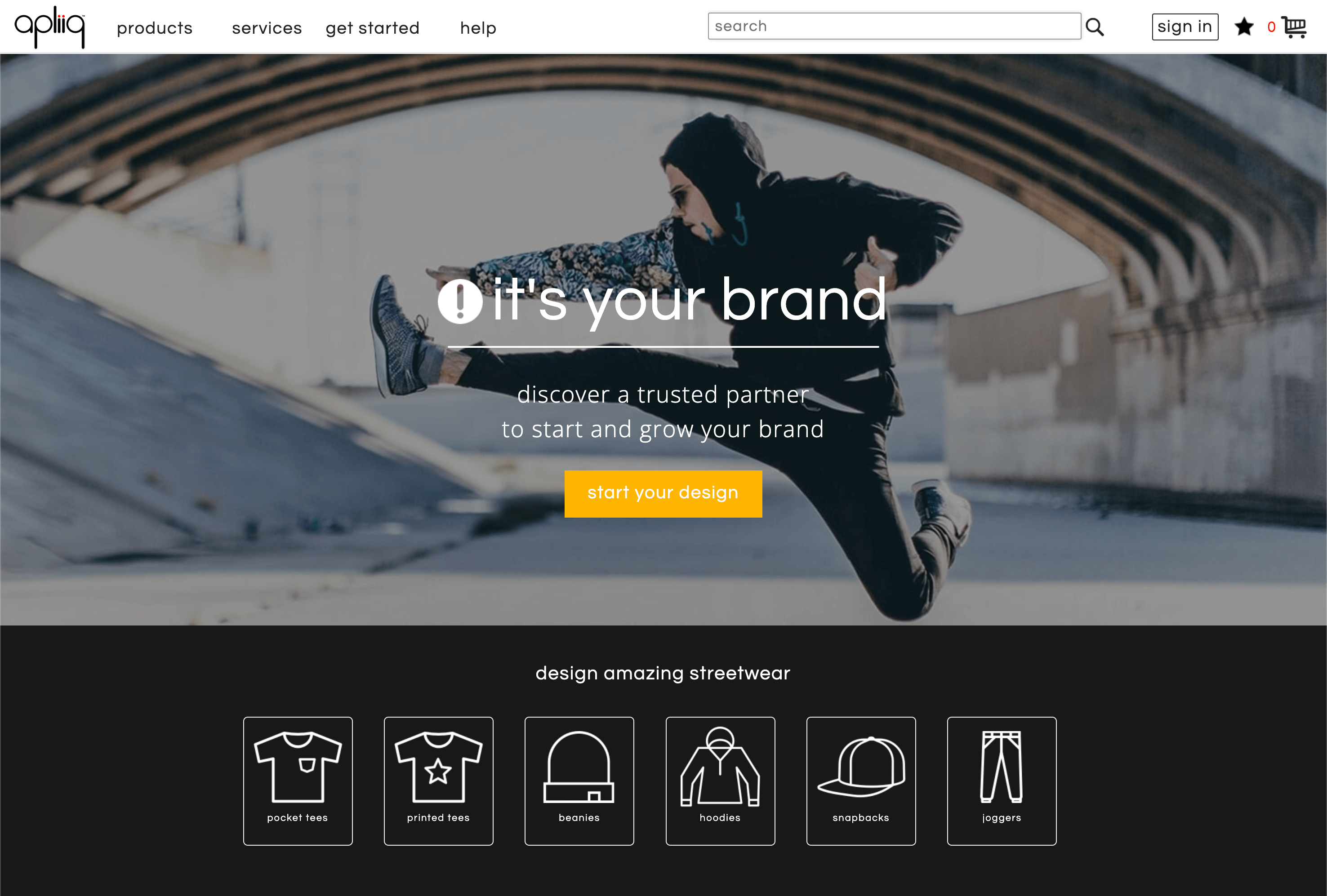 Teelaunch has a wide selection of products and printing method options. They allow users to sell their products directly on Etsy and Amazon and are one of the print on demand providers that provide item personalization for customers.
Shipping
Production usually takes 3-6 business days. Then the products ship from facilities in the US, Canada, or the UK. Shipping costs depend on the product and destination. You can see Teelaunch's full breakdown of product costs for details.
Printing options
Direct to garment
Cut and sew all-over-print
Laser etching
Key features
Product personalization tool

Mockup generator with lifestyle photos

Wide product selection

Direct integrations with Etsy and Amazon
Recommended for
Teelaunch is a great option for anyone who prioritizes high-quality products and uses TikTok and YouTube in their promotion strategy.
Plans and pricing
Getting started with Teelaunch is free. Sellers only have to pay for the cost of the product and shipping after a customer places an order.
Product catalog
Teelaunch isn't just about T-shirts. Their 120+ item product catalog includes:
T-shirts
3-piece canvas sets
Color-changing mugs
Monogram handbags
Balloons
Penryn backpacks
Running shoes
Bluetooth speakers
Dog bowls
Jewelry
iPhone cases
Phone chargers
Journals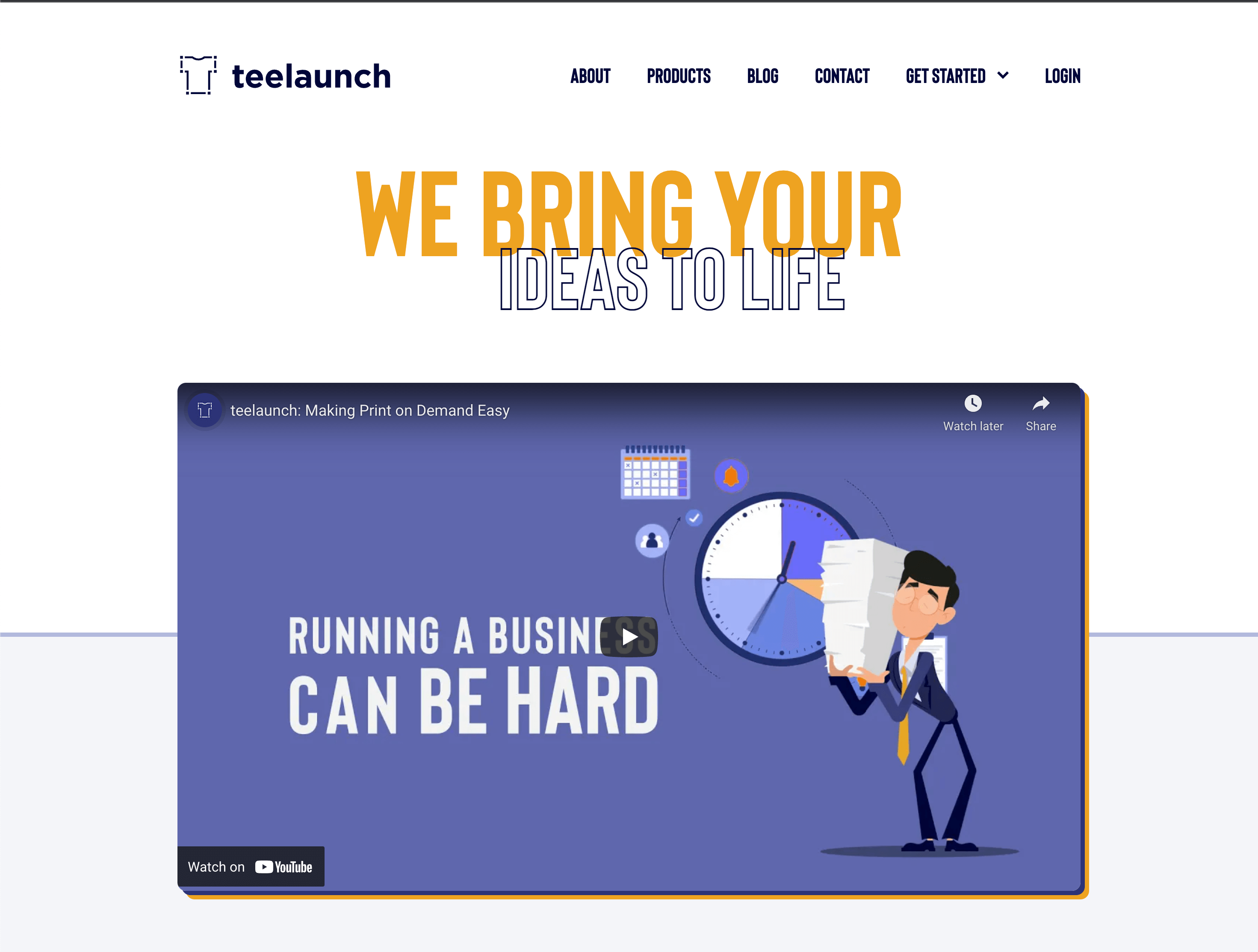 CustomCat is a large-scale print on demand company with a huge product catalog. It lacks some of the advanced features that competitors have, but it offers competitive prices and fast fulfillment times.
It offers a wide range of brands and products to choose from, along with a paid plan of $30 a month to get a discount on its entire catalog.
Shipping
Orders are usually ready to ship within 2-3 business days after the order is placed. Then domestic shipping within the USA takes 1-7 business days and costs $4.99 for the first item and then $1.50 for each additional item. International shipping takes around 15 days and costs $7.50 for the first item and $5.95 for each additional item. See CustomCat's FAQ page for details.
Printing options
Direct-to-garment
Sublimation
3D dye diffusion
Embroidery printing
Key features
The paid plan gives sellers access to more items and lower wholesale prices.
Recommended for
CustomCat's large product catalog makes it great for anyone looking to source hard to find products.
Plans and pricing
CustomCat offers two pricing plans:
Free Plan:
Free
Premium Plan:
$30
Product catalog
At 550 items, CustomCat has an impressively expansive product catalog. The highlights include:
T-shirts

Sweatpants

Laptop sleeves

Pet accessories

Jewelry

Drinkware

Windbreaker jackets and pants

Jerseys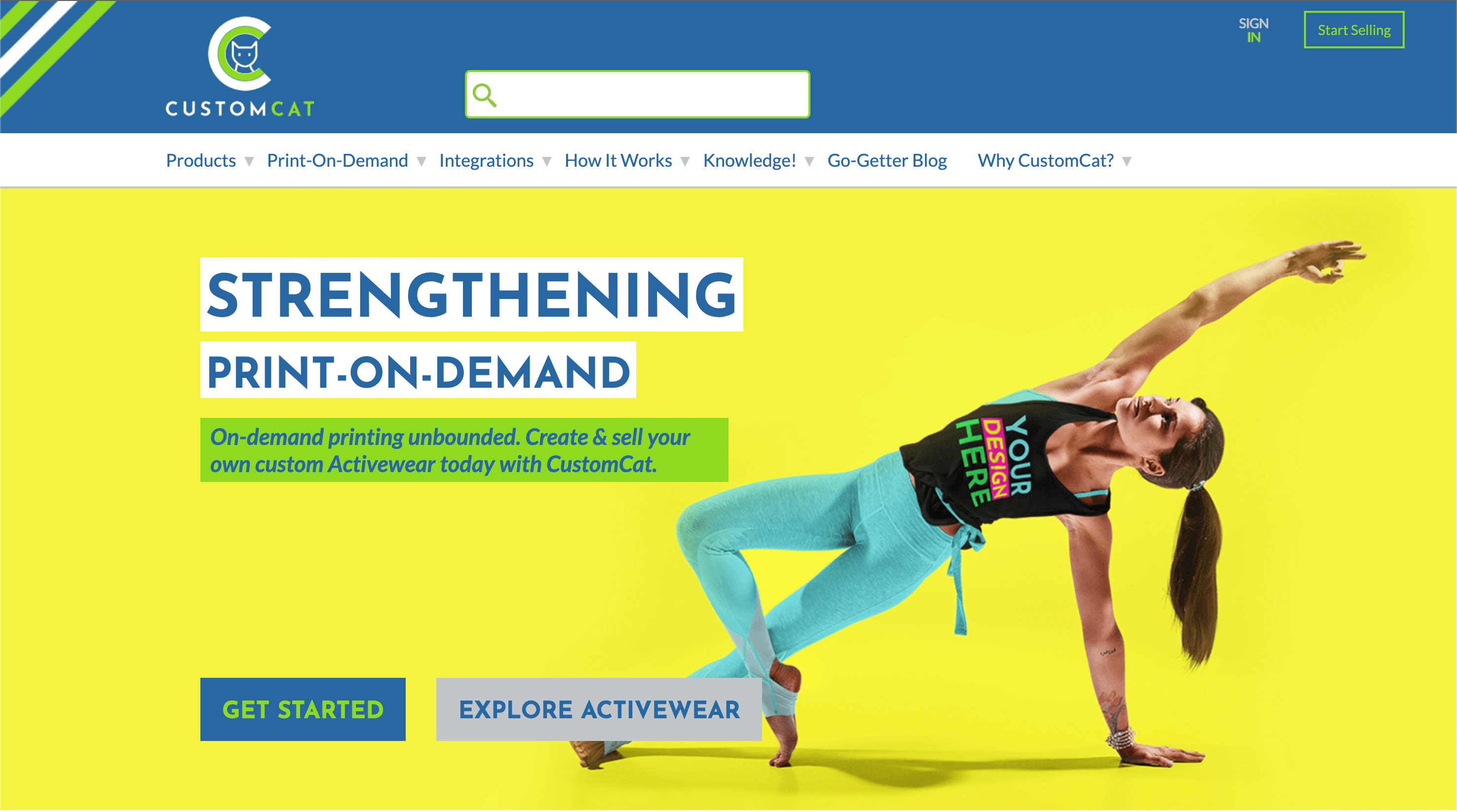 T-Pop is based in France and is the most popular print on demand company in Europe. They're known for their environmentally friendly practices including plastic-free packaging and packing slips printed on 100% recycled paper.
Their main supplier, Stanley/Stella, is part of the Fair Wear Foundation, an organization focused on ensuring compliance with labor laws in apparel manufacturing.
Shipping
Orders take two to four days before they're ready to ship. Orders within France arrive in 2-3 business days, the rest of Europe in 3-7 business days, and international orders in 5-10 business days. Shipping rates are based on weight.
Printing options
Direct-to-garment
Sublimation
Key features
Integrations
Free white labeling
Eco-friendly print-on-demand
Product personalization
Package tracking
Plans and pricing
T-Pop charges for product, printing, and shipping costs for every order placed, but has no monthly fees.
Recommended for
T-Pop is the ideal print on demand provider for anyone selling within Europe or anyone who prioritizes eco-friendly business practices.
Product catalog
T-shirts

Hoodie dress

Aluminum bottle

Tank tops

Tote bags

Sweatshirts

Metal and ceramic mugs

Cushion and cushion covers

Baby bibs and onesies

And more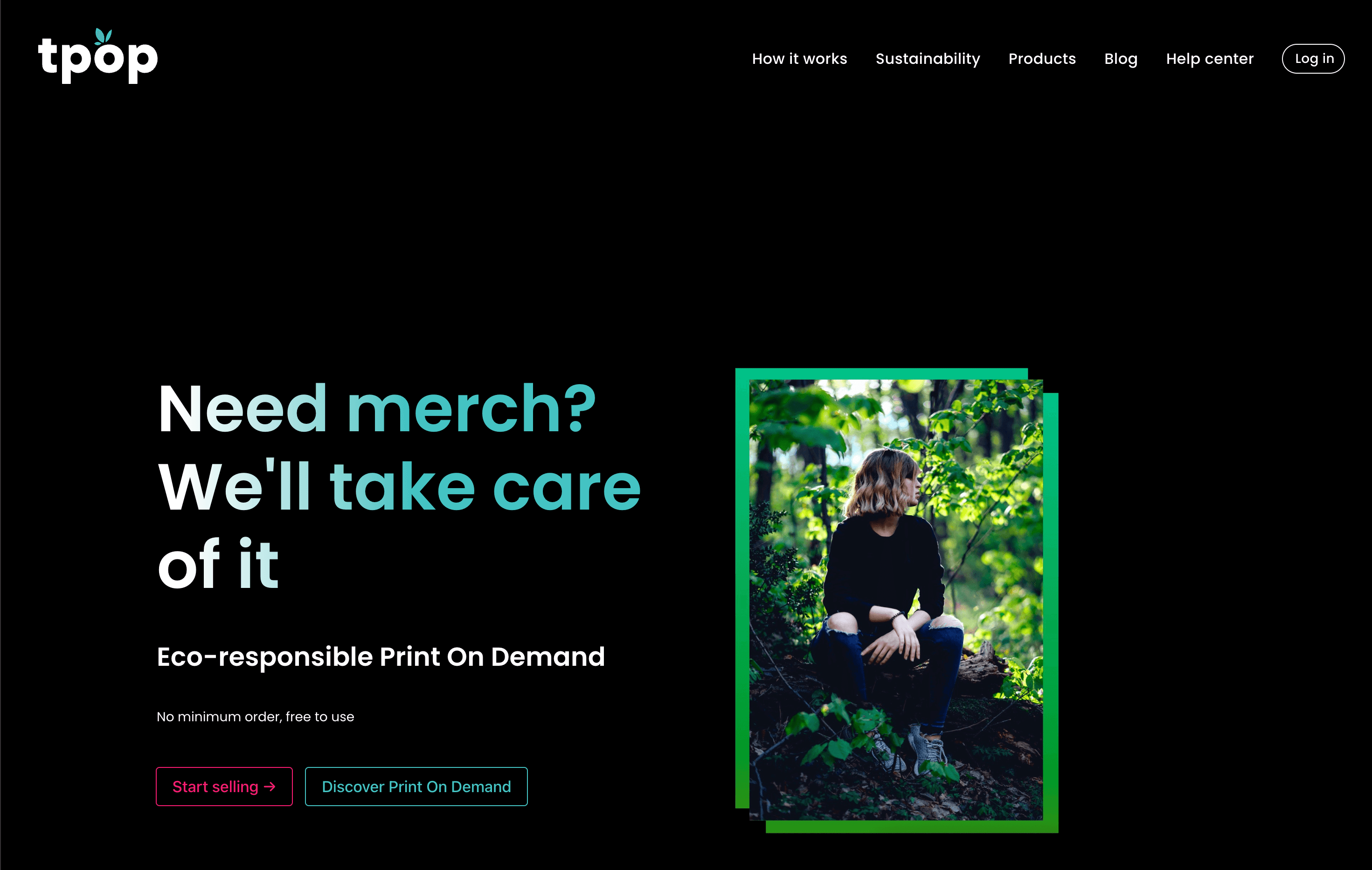 Teespring, now known as Spring, is a one-stop shop for creating, selling, and ordering custom products.
One of Teespring's unique features is the ability to sell directly on YouTube and TikTok. The company focuses on tops and digital products. You will be able to pick from various tank tops, t-shirts, and hoodies for both men and women.
The company will handle production, shipping, and customer support while you are left to handle marketing and selling your goods.Teespring is tailored to meet the expectations of the younger generation as is reflected in its integration capabilities with platforms such as Discord, Streamlabs, Google Shopping, and Twitch.
Shipping
Spring has different shipping fees, depending on where you are shipping to. There is also an additional cost for additional items. When adding items from different listings to the same shopping cart, each listing's shipping cost will be calculated separately. See the chart below for details.
Printing options
Spring Offers
Screen Printing
Direct to Garment
Key features
Ability to sell physical and digital goods
Social integrations
Create custom stores
Strategic partner manager
Custom fulfillment
Plans and pricing
Spring offers two pricing options:
Free plan
Free
Premium plan
Price upon request
Recommended for
Spring is a great choice for sellers who don't want to set up their own storefront online but don't want to sacrifice quality of products. It's also great for selling on social media.
Product catalog
Spring is called that now because it isn't just about T-shirts. The 150 items in their product catalog include:
Short-sleeve and long-sleeve t-shirts.
Pocket t-shirts
Hoodies and tank tops
Leggings
Water bottles and coffee cups.
Pandemic face masks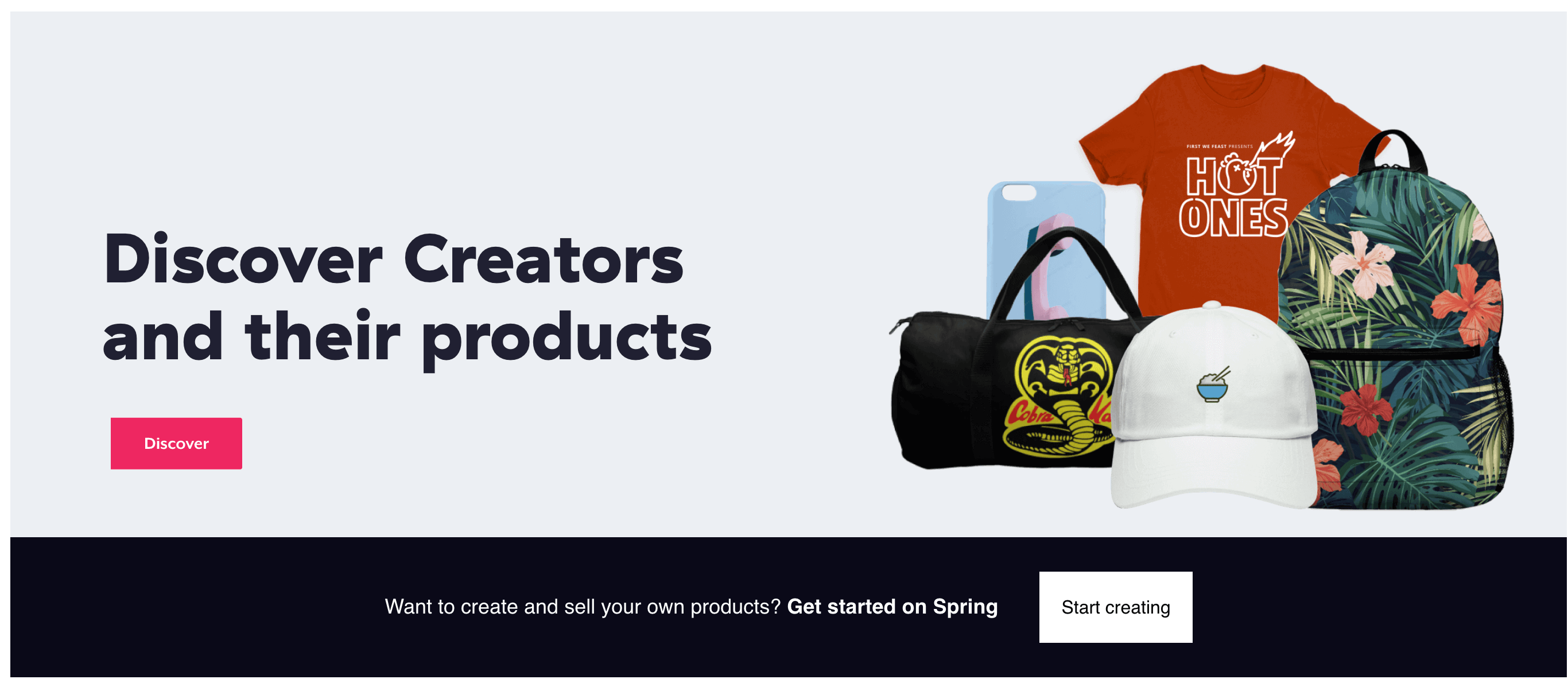 Gooten is a great choice if a variety of products is your priority. They offer everything from T-shirts to dog beds. They use several vendors and dropshippers from across the globe to achieve this variety. This makes the product quality inconsistent, but it also keeps the prices low.
Shipping
Gooten's print on demand dropshipping network approach enables them to manufacture and ship products close to your customers. This speeds up shipping and cuts down on costs.
Gooten also enables you to opt for flat shipping rates for domestic orders. Check out their shipping calculator to estimate shipping costs per product and location.
When a customer makes a purchase, Gooten accepts the order and routes it for production after a two hour wait period. Production can take up to four business days. They add tracking when one of Gooten's vendor's prints a shipping label and the shipping carrier scans it.
Deliveries within the USA can take up to 12 business days and up to 21 working days if you're shipping internationally. That said, expedited deliveries only take between two and four business days and
overnight shipping just one business day.
Printing options
Gooten offers:
Cut and Sew
Direct to Garment
Sublimation
Embroidery Printing
Key features
Comprehensive support center
Integrations
Over 150 products
Fast turnaround times
Gooten VIM
Plans and pricing
Gooten is free to use. They only charge for the product and shipping costs. Contact the sales department for the price of Gooten VIM services.
Recommended for
Gooten is a great choice for sellers of unique products that are hard to find elsewhere.
Product catalog
Some of the 150 items in Gooten's product catalog include:
Journals and notebooks
Travel and leisure
Ornaments
Totes and bags
Wearables
Kitchen accessories
Mugs
Home Decor
Office supplies and tech
Wall Art
Apparel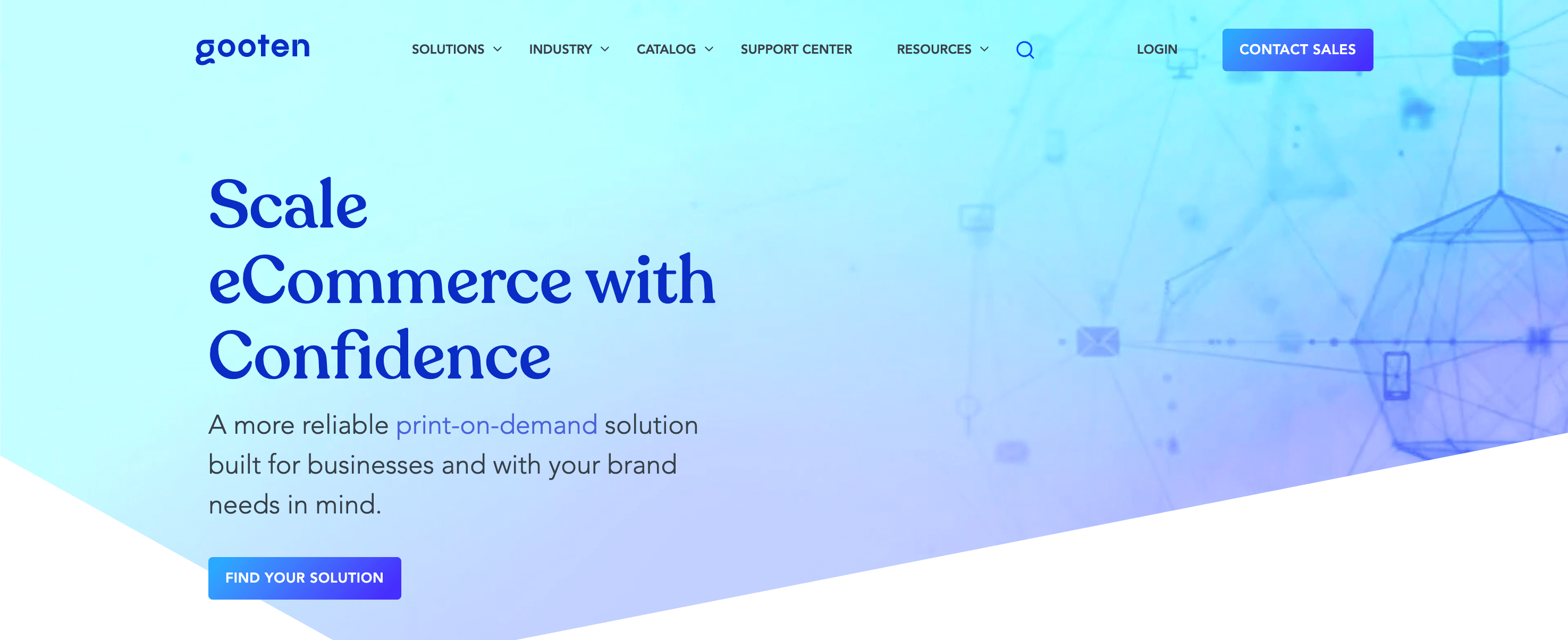 Redbubble offers a wide range of products and print designs by independent professional artists. Since their founding in 2006 in Melbourne, Australia, they've reached the top of the print on demand business by focusing on eye-catching designs.
On Redbubble you can use your own designs or purchase professional designs from over 700,000 artists on the platform. Whichever you choose, you will enjoy using the Redbubble app as it is simple yet very appealing.
Shipping
Because orders from independent artists on the Redbubble marketplace are made by 3rd-party printers around the world, shipping costs vary and depend on a few key factors:
Whether you ship Standard or Express

Where the order is shipping to and from

The packaging used to ship each part of the order

Orders containing multiple items may be printed at different facilities, adding to the shipping cost
Printing options
Redbubble offers
Direct to Garment
Sublimation
Key features
Huge art database
Comprehensive list of products
Secure payments
Easy returns
Standard and express delivery options
Plans and pricing
Redbubble is free to use. You will only be charged when orders are processed.
Recommended for
Redbubble is great for artists and sellers with unique designs.
Product catalog
Redbubble's product catalog includes, but is not limited to:
T-shirts
Hoodies
Cushions
Duvet covers
Leggings
Skirts
Scarves
Mugs
Phone cases
Babies' and kids' clothing
Stickers
Wall Art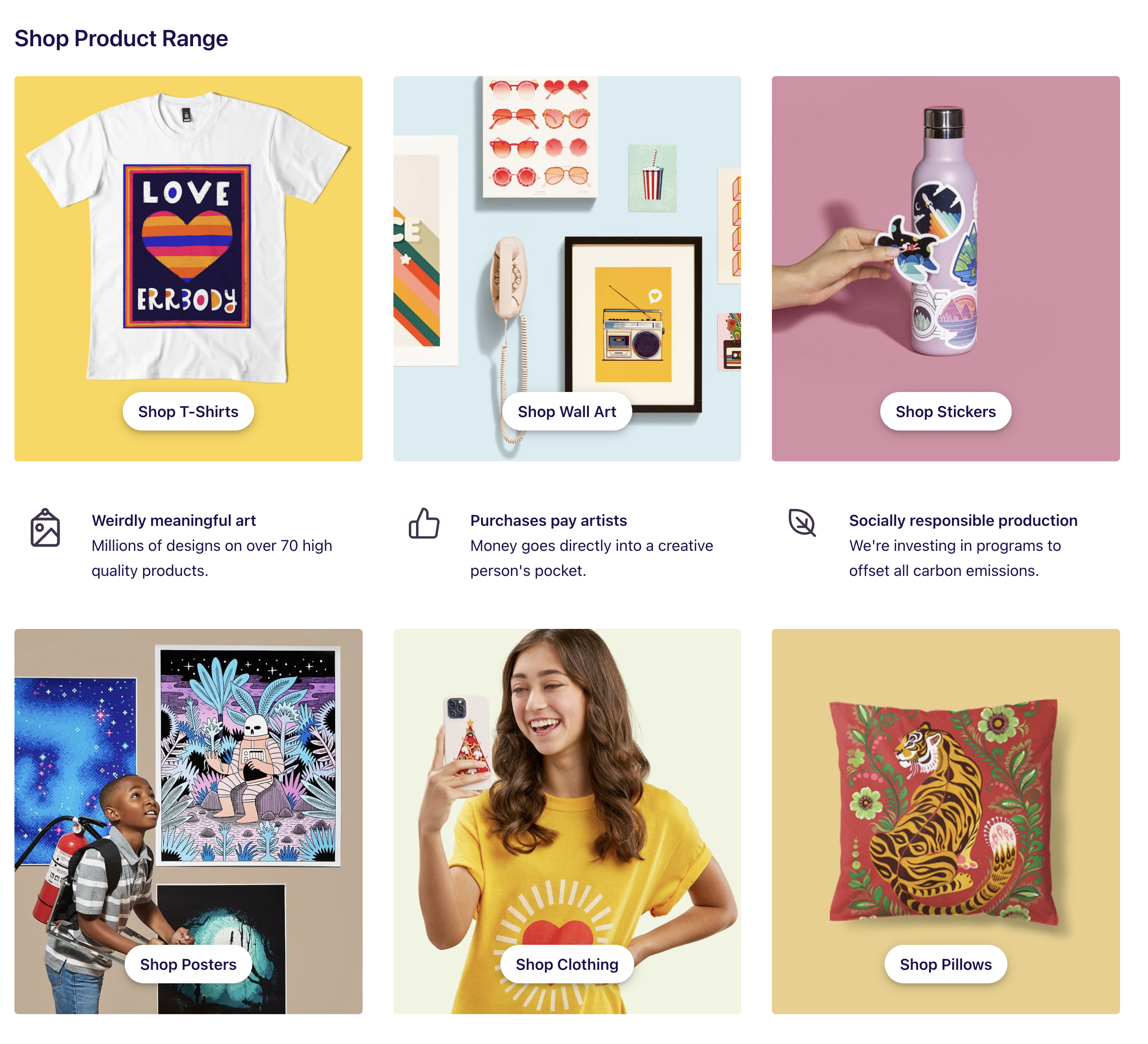 Zazzle is a print-on-demand marketplace for selling your designs via their website. There is a vast range of products to choose from in all manner of categories. And as your store is on their website, you earn a commission payment based on your sales.
There is no direct integration for third-party eCommerce stores, but there is an API for you to list your products on a website.
Shipping
Zazzle offers 5 easy shipping options for orders shipped within the US:
Zip (speeds up manufacturing time)
Zip PLUS (speeds up manufacturing time)
Express (1-2 business days)
Premium (2-3 business days)
Standard (4-7 business days)
Printing options
Zazzle offers
Key features
Customization options
Wide selection of products
Set your own royalty rates
Straightforward payment
Recommended for
Zazzle is a good choice for people who don't want to build their own online store and people who want a wide variety of products.
Plans and pricing
It's free to sign up for Zazzle and create products to sell. Sellers earn a 15% commission on every product sale.
Product catalog
At 0ver 1,000 items, Zazzle has the biggest product catalog on this list. These items include:
Mugs
Cushions
Clocks.
Tote bags
Badges
Key rings.
Wall art
Wrapping paper
Canvas prints.
Notebooks, planners, and calendars
Smartphone cases and laptop sleeves
Wedding invites, favors, and gifts
And 1300 more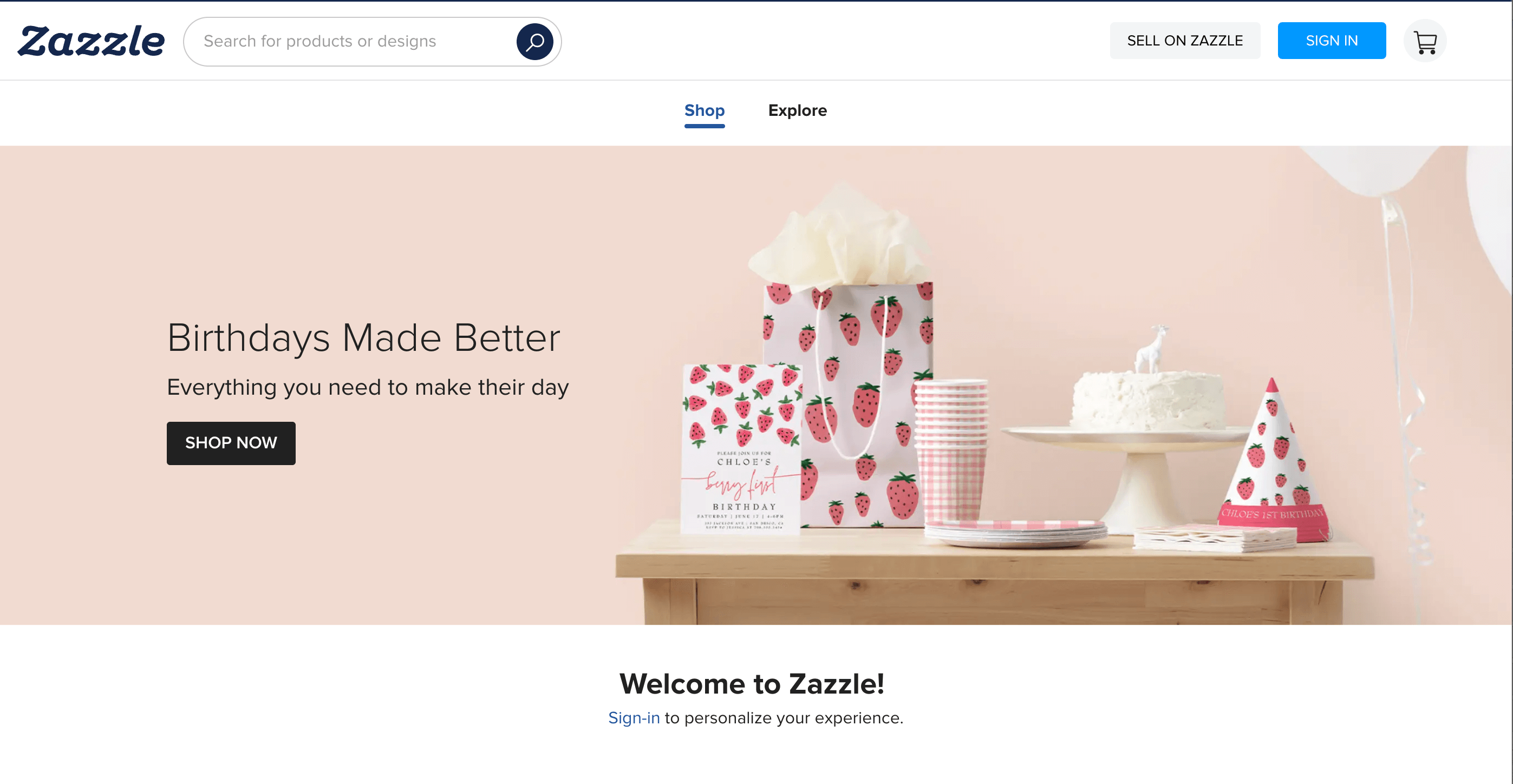 5 Things to Consider When Choosing a Print on Demand Supplier
Choosing the right print on demand supplier is perhaps the most important decision to make when you start a print on demand business. How do you make the right choice? The five things you need to consider include:
Quality products

Shipping times

Product costs and shipping rates

Customization and printing options

Integrations with other platforms
1. Quality Products
You wouldn't want to commit to a supplier just to find out that their T-shirts fall apart after you wear them twice. In order to vet the quality of the items before you set up shop with a print on demand company, shortlist your favorites and order samples from each. That way you can experience the quality yourself instead of taking other people's word for it. Get a sense of the entire product catalog's quality by getting samples of a wide variety of products, not just what you want to sell right now. This will make expansion choices easier down the road.
2. Shipping Times
In a world dominated by Amazon Prime, fast shipping times are expected for many customers. That's why shipping time is an important consideration for your brand reputation. Ideally, your customers should receive their items within a week of placing an order.
3. Product Costs and Shipping Rates
Once you've considered the product quality and shipping times, it's time to think about money! Product costs and shipping fees are crucial for calculating your profit margins. However, this doesn't necessarily mean to go for the lowest cost possible at the expense of quality. If you're paying more for higher quality products, you may be able to sell them for more money. Use a profit margin calculator to help you find a sweet spot.
4. Customization and Printing Options
Depending on your needs, you may require plenty of customization options and printing options or just a few.
Are you simply selling merchandise with your logo or selling a wide variety of complex designs? What are your packaging needs? What other branding needs does your print on demand service need to meet?
5. Integrations with Other Platforms
Different print on demand services have different integration options with other sales channels. These integrations may include:
Your own website

Etsy

eBay

Amazon

Shopify

WooCommerce
Even if you're keeping it simple now, it's better to choose a platform with more integration options in case you expand later on.
How Sav Can Help
Here at Sav, we're dedicated to helping creators elevate their passion with an online business. That starts with your own beautiful website. No matter what you sell, which supplier you choose, or who your audience is, we make it easy to build and manage your website. Find out how today!