Whether your perfect domain name for the website you want to build is taken or you're building up a domain investment portfolio, backordering can help you finesse expired domains. It's easy to see how the strategy works for people who have one specific domain in mind, but it can be a little trickier if you're backordering domains to sell for a profit later. Never fear! These tips will help you navigate it.
What is a Domain Backorder?
A backorder is the process of attempting to register an expired domain name that is about to be released to the public. It's one of the options for purchasing a registered domain name. A backorder is also called a drop catch. Domain backorders are great for
Customers whose dream domain is taken
Domain name investors looking to build up a portfolio
Domain name management companies looking for valuable domains for their clients
How Does a Domain Backordering Work?
A user can place a backorder request on any desired domain name. When that domain expires and is about to be released to the public for purchase, the backorder service will try to "catch" the domain and register it to the user.
What Makes a Domain Valuable?
Domain name pricing isn't an exact science, but there are factors that contribute to their value, including:
Short Length
Shorter domain names are more valuable than longer ones. Three letter domain names are in particularly high demand among domain investors.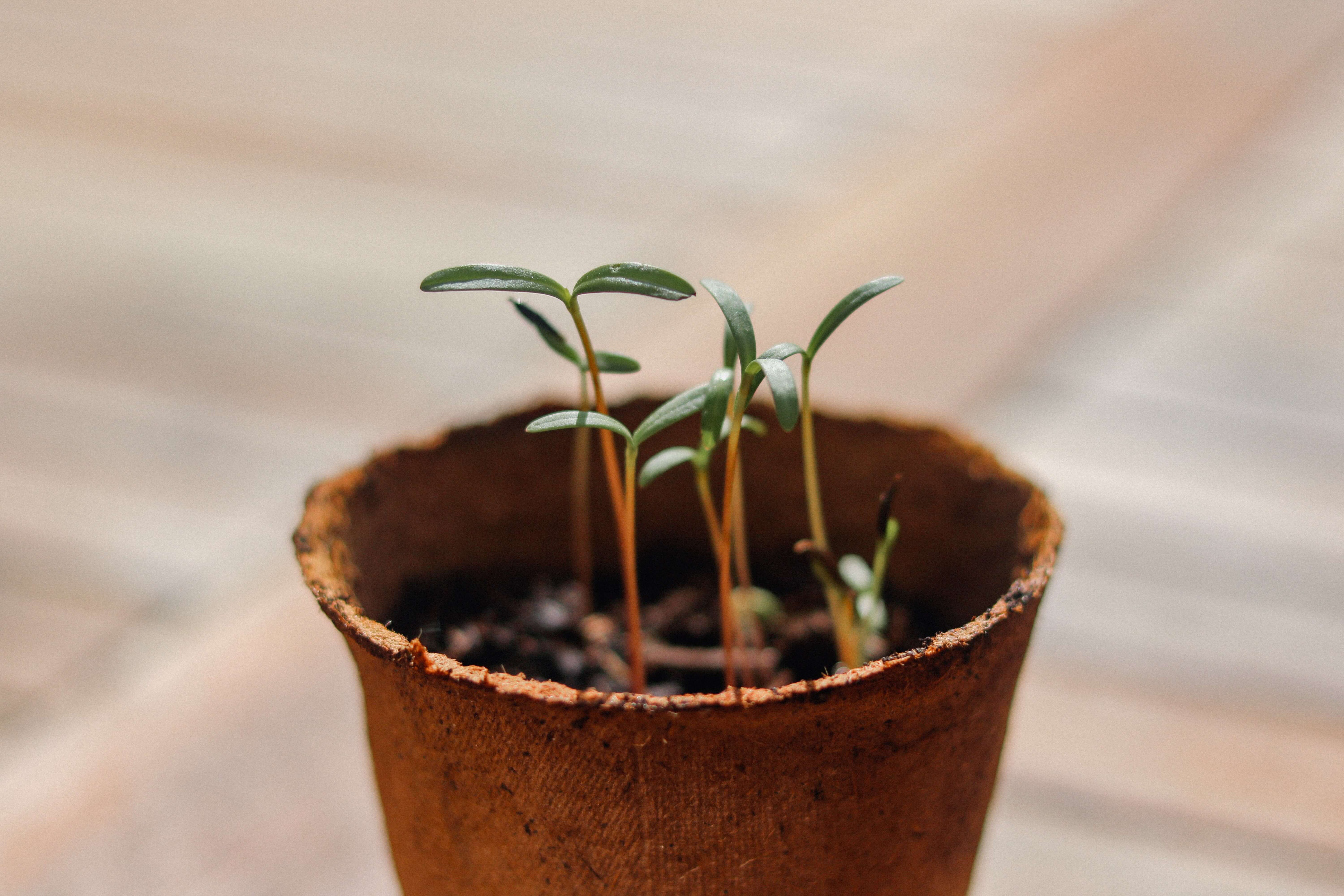 Common TLD
The industry term for domain extensions like .COM, .NET, or .ORG is top level domain, or TLD for short. Some TLDs are in higher demand than others. For example .COM domains are typically more in demand than other TLDs, which makes them more valuable.
Old Age
Older domains are typically more valuable than new domains, especially if that history includes website traffic. The exception to this rule is domains related to future events that are likely to trend.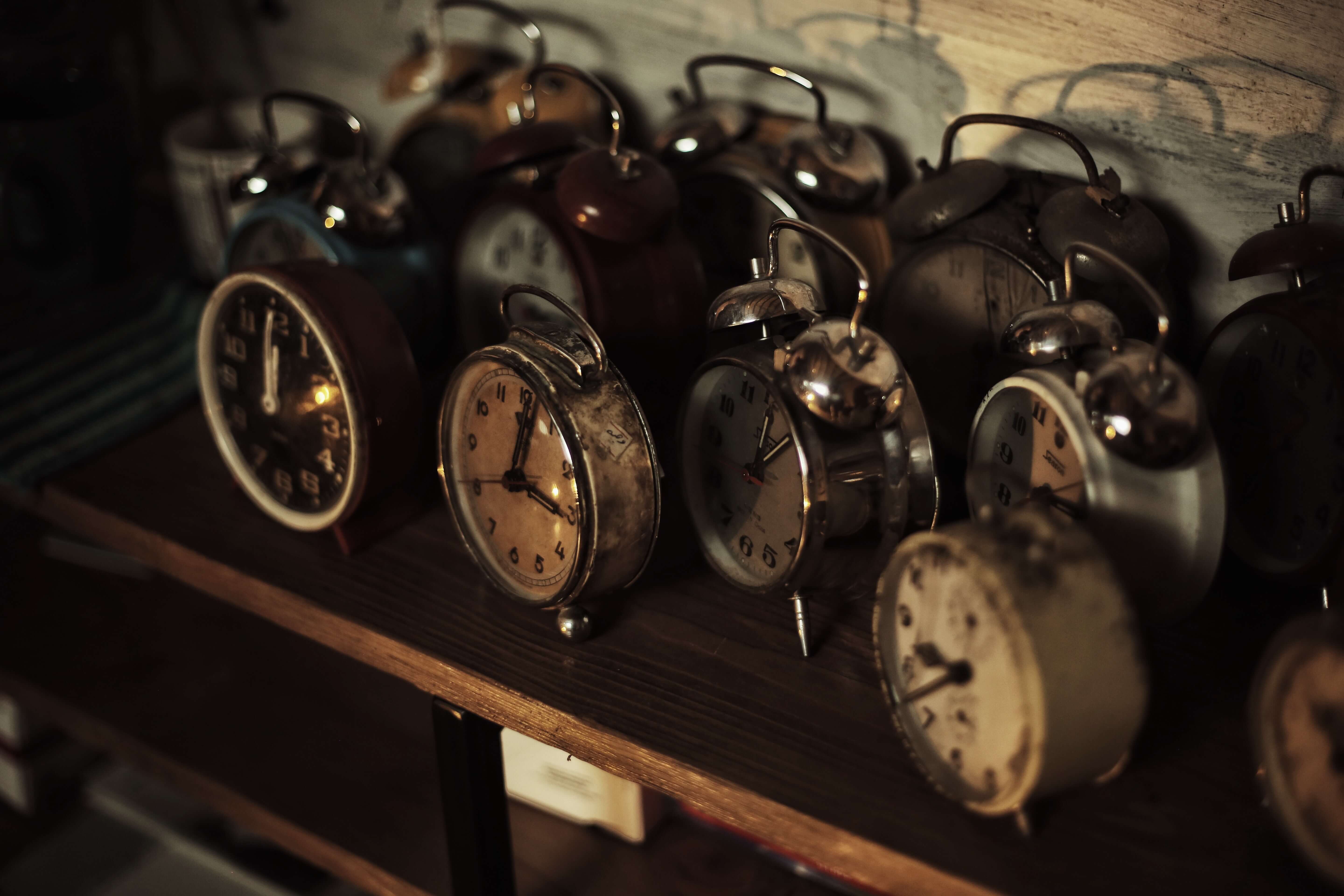 Presence of Traffic History
Domains with previous traffic history are more valuable because that means potential for traffic in the future. An online presence makes a domain more valuable. If the domain had subdomains attached, that's even better for its value.
Brandability
People want domains they can remember. This is why there is more demand for domains with:
Common words and abbreviations
Easy spelling and pronunciation
Industry keywords
Doing some SEO keyword research will tell you if the word(s) in your domain are typed into search engines often.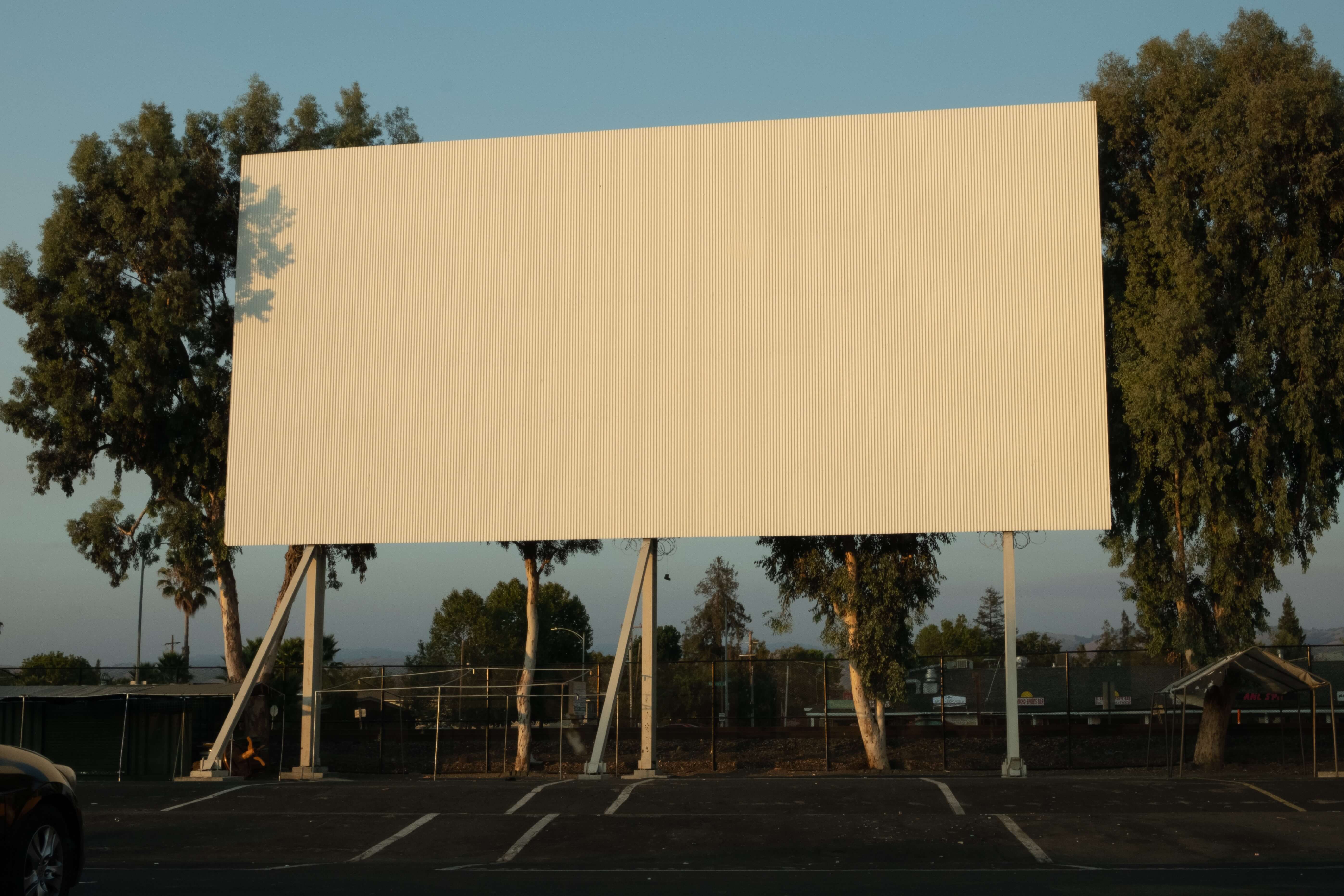 Premium Tier Pricing
Premium Domain Names are domains that are priced higher than the standard cost for their TLD. In some cases, the higher price is set by a seller and in others it is set by the registry. As a general rule, new domain name registrations cost less than purchases of pre-existing ones.
Typical Domain Name Lifecycle
To better understand how domain backordering works, it helps to understand what happens when a domain expires. Domains don't become available to backorder on their expiration date. Things happen. People miss payments. That's why ICANN gives domain owners wiggle room.
Days After Expiration

Domain Name Status

1 - 29

At Sav Expired Renewal Grace Period lasts 30 days after the domain expires. The length of the grace period varies depending on the registrar.




The owner can still renew the domain during this time. Some TLDs disable use of the domain during the grace period.

30 - 43

When the Expired Renewal Grace Period ends on day 30, an Expired Auction starts.




This auction lasts for 10 days. The highest bidder has 3 days to complete their payment.

44 - 74

If the domain doesn't sell at auction or if the highest bidder does not pay in time, it will be deleted and returned to its registry.




Then it will automatically enter the Redemption Period. During this time, the previous owner can redeem the domain for a fee.

74 - 79

If the previous owner doesn't redeem the domain within the Redemption Period, it will be labeled Pending Delete on Day 74.

79 +

The following may occur:




The domain may be released to the public.
The registry may re-tier the domain as Premium, which will increase the cost of registering the domain.
The registry may reserve the domain so no one can register it, indefinitely.
How to Find Expired Domains
There are two main ways to find expired domains: looking up a specific domain to see where it is in the life cycle and browsing pending delete lists for valuable domains.
Looking For Specific Domains
There isn't a way to look up the exact date an expired domain will drop from the registry, but you can check if a domain will be available soon. If you want to know a specific domain name's status, performing a WHOIS search is the quickest and easiest way to find the information you need.
The first thing to look for is the Registry Expiration Date. Adding 79 days to the Registry Expiration Date will usually give you a good idea of when the domain will drop. For more accurate information, you'll need to look at the Domain Status. The one you want to see if you're hoping to snag the domain is pendingDelete. That means that the domain can no longer be redeemed by the previous owner and it should be released by the registry within about 5 days.
When pendingDelete is paired with redemptionPeriod means the domain could still be redeemed by the current owner. This doesn't mean hope is lost, though! Every domain has to go through redemptionPeriod before it enters a pendingDelete status. If it's not expiring any time soon, you can look for the registrant's contact information in the WHOIS and try to negotiate a deal with them.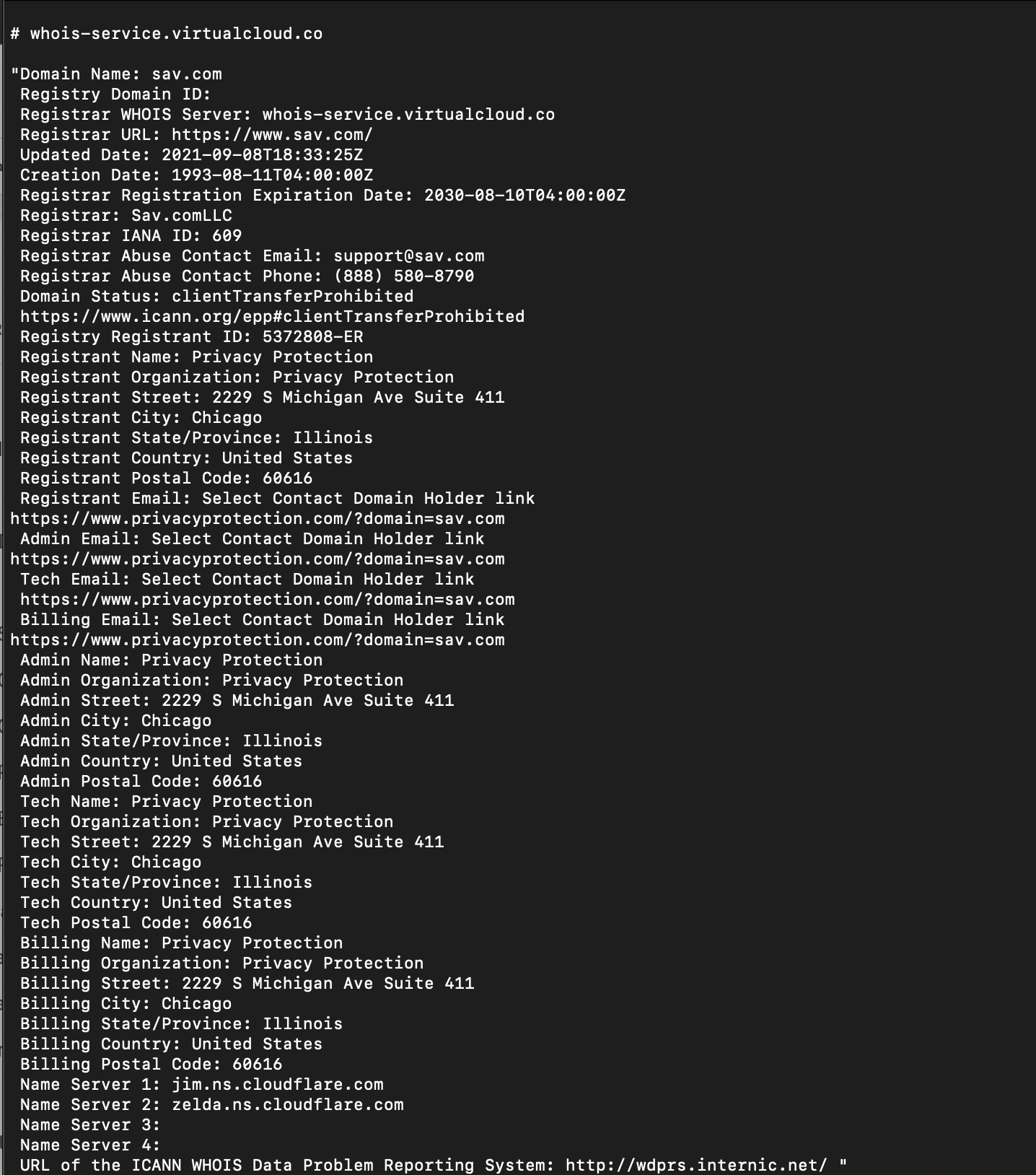 Browsing Expired Domains
Most registrars that offer domain backordering services have a Pending Delete Domains list available to download. These lists get their data from official registry lists, are updated daily, and include all of the domains that the registrar will attempt to catch upon release from their registries. On Sav, you can the link to download it on the Auctions tab.
Pending Delete lists vary depending on which TLDs the registrar supports. Sav supports backordering for 95% of our TLDs, but some registrars only allow users to request backorders for 25%, 12%, or even 2% of their total available TLDs.
It helps to have some idea of what you're looking for when you browse a Pending Delete list since thousands of domain names expire every day. That could be specific TLDs, length, specific keywords, or anything else you can see in the domain name itself. If you want to really narrow down your search. ExpiredDomains.net is a great place to go. They collect domain auction lists and offer a wide variety of search filters.

What is a Domain Backorder Service?
A domain backordering service, also known as a drop catching service is a site that catches dropped domains and registers them to users who placed a backorder request on them. Most domain registrars offer backordering, but there are also backorder services that aren't attached to registrars.
How to Backorder a Domain
Backordering a domain has two parts: placing the request and catching it. The first part is done by you, the second part is done by the backorder service provider.
Placing a Backorder
Follow these step by step instructions to place a backorder with Sav. The process is similar for other registrars and backorder services, but some details may vary.
Login to your Sav account.

Navigate to the

My Backorders

page.

In the Add Backorders field, type in one domain per line.

You will see this domain appear in your Active Backorder Requests list.

Add as many backorders as you want.

You will receive a confirmation email including the domain(s) you requested and the current registration prices for captured domains. These prices are subject to change.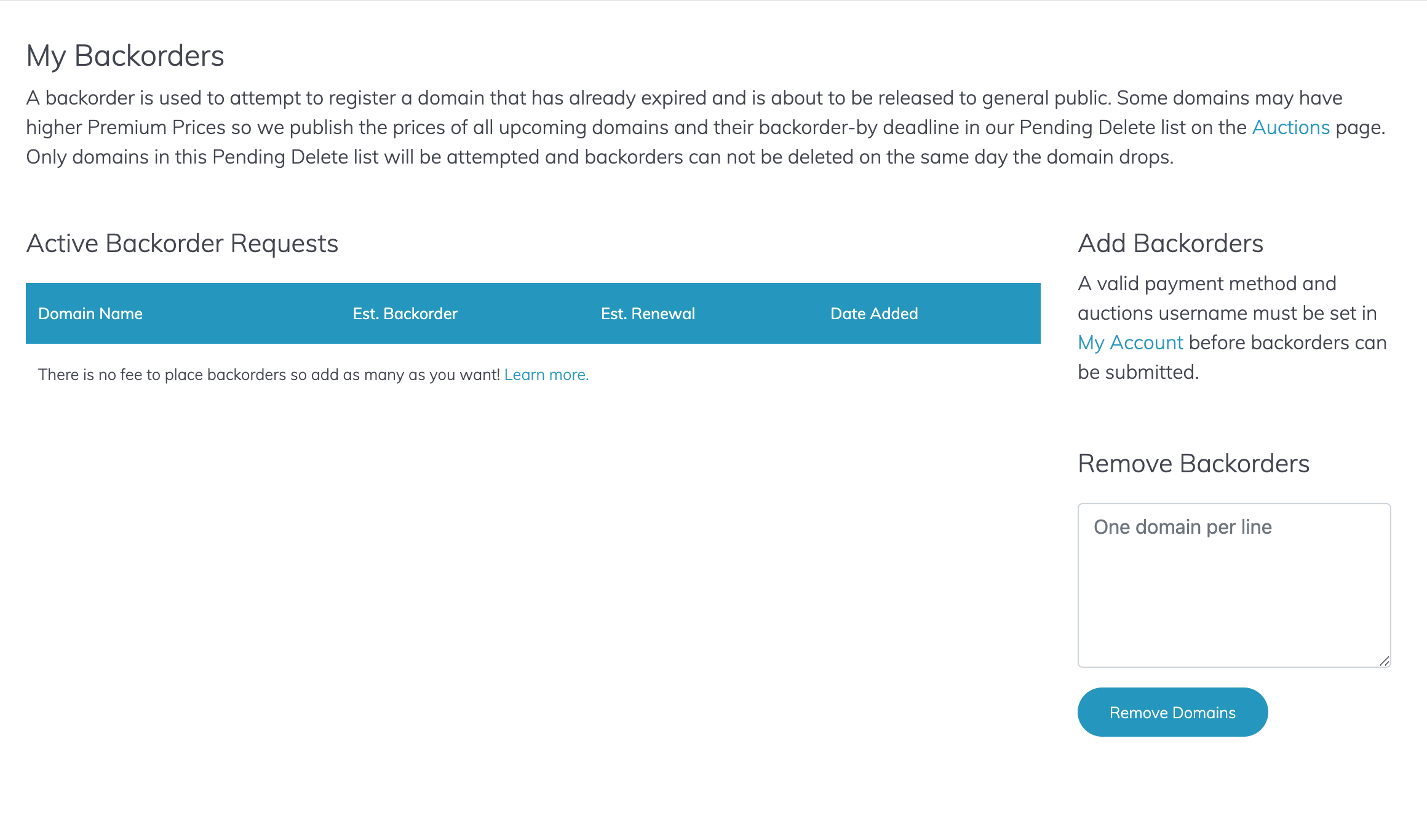 Catching a Backorder
When a registrar catches a backorder, one of three things could happen next:
You get charged the backorder price and the domain is added to your account.
A private auction starts between you and the other people who placed a backorder on the domain.
A public auction starts, which is open to anyone, even if they didn't place a backorder on the domain.
If you're the only person who backordered this domain, you will receive the domain. If multiple people did, an auction will start. You can view public dropped domain auctions by navigating to the Auctions tab and selecting "Dropped" from the dropdown menu labeled Type.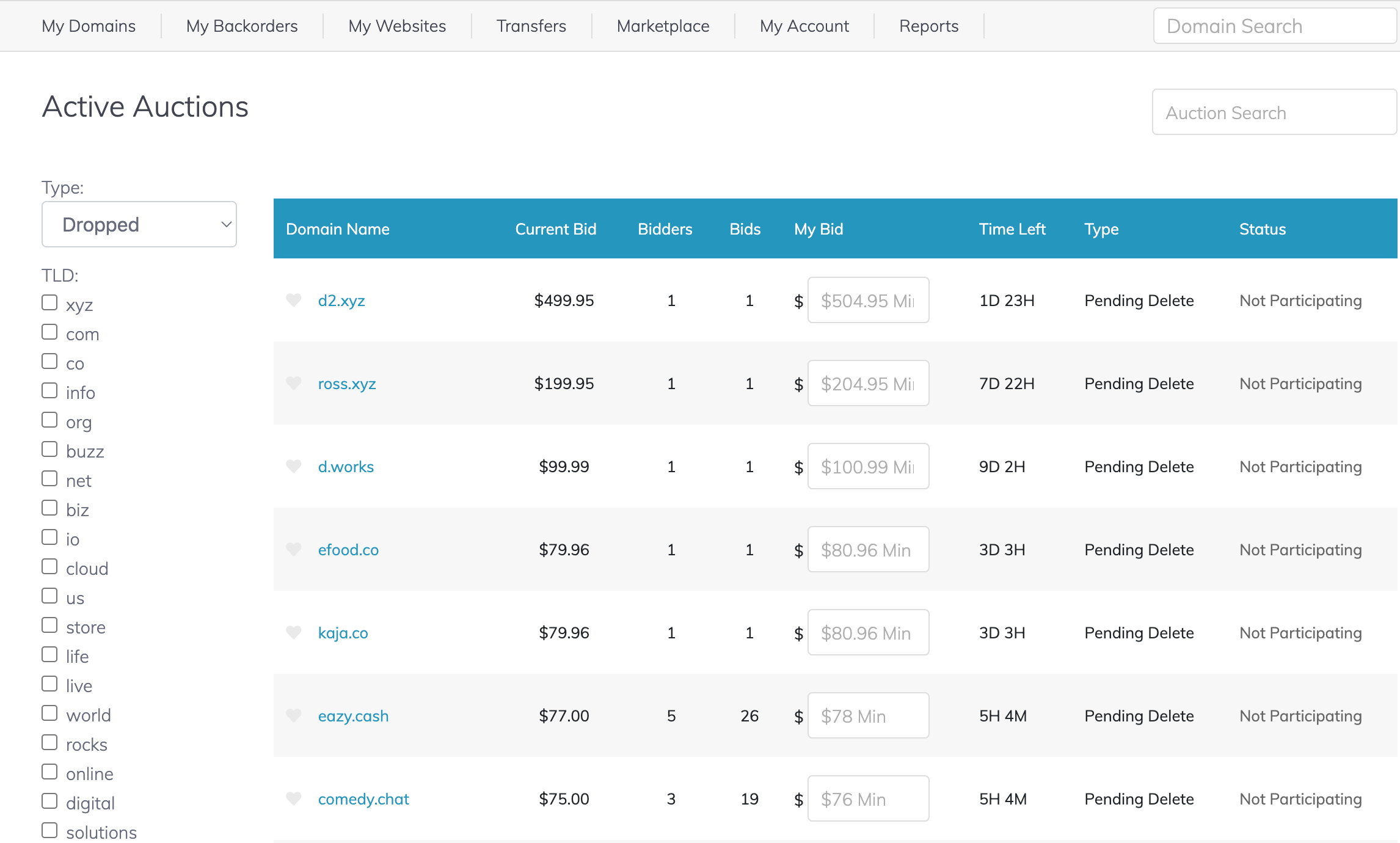 Tips For Successful Backordering
Backorders aren't guaranteed, but there are some things you can do to improve your backorder experience.
Always Research a Domain's History
Domains with previous traffic history are more valuable because that means potential for traffic in the future. An online presence makes a domain more valuable. If the domain had subdomains attached, that's even better for its value. The Wayback Machine or any WHOIS history search tool can tell you this information.
Use Multiple Backorder Services
Placing backorders on the same domain on multiple dropcatch services will help your odds. Just make sure all of the services you use let you place the request for free so you don't spend money unnecessarily. Most backorder companies don't charge unless they catch it, but
Keep an Eye on the Price
The estimated registration price is just that: an estimate. It could change at any time. Most registrars are happy to refund backordered domain name fees within a couple of days, but it's better to avoid the hassle by checking the estimated price regularly and deleting your request before the domain drops.
Bid Wisely
In the case of an auction, the first person who placed the backorder automatically gets the first bid. If that's you, you could get lucky and get the domain for the minimum bid. Or you could end up in a bidding war and paying more than you expected to. Proxy bidding lets users set a maximum bid on any domain auction and bids automatically until it reaches that price. It's a great tool to help you win without breaking the bank.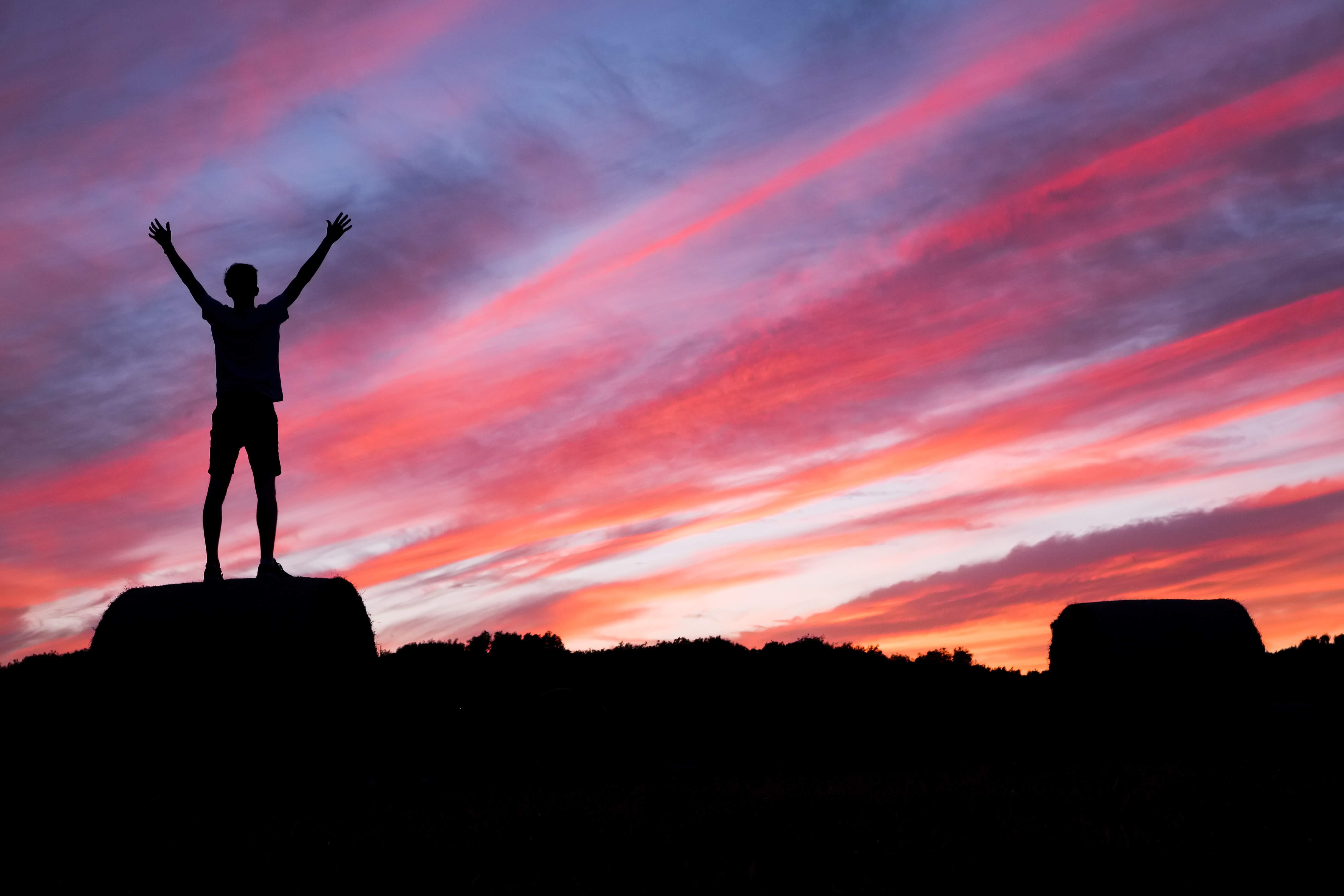 What to do if Your Backorder is Unsuccessful
Sometimes backorders don't go through. Maybe another service caught it. Maybe one of the other bidders won the auction. You get the idea. What do you do when that happens? If it's your dream domain, you can keep the backorder request and it will try again the next time the domain expires. You could also backorder different domains that can serve the same purpose. Or both.
How Sav Can Help
As the home of one of the best domain backorder services in the industry, Sav should be in your backordering rotation. But no matter who catches your domains, you can always transfer them here to take advantage of our low renewal fees, free SSL, world-class website builder, and other great features. Create an account today to find out how.