Facebook may not be the most popular social network for the younger crowd, but its advertising features are unmatched so far. Facebook ads allow businesses to target users precisely based on location, age, interests, and other factors. They also have excellent features for retargeting and lookalike audiences. All of these combined make Facebook an essential part of any social media marketing strategy. Just follow our lead to use Facebook to help reach your company's potential.
Create a Facebook Ad Campaign For Each Conversion Funnel Stage
Make ads for every stage of the conversion funnel. If you only make brand awareness ads, you might not get many purchases. If you only make retention ads you might not get any new customers. The stages of the funnel are:
Awareness
Consideration
Decision
Retention
Creating Your Facebook Advertising Target Audience
How do you take advantage of Facebook's ad targeting precision? You create an audience. A Facebook audience can include targeting by demographics, interests, and even previous interactions with your business to help you reach your ideal customers.
The Basics
Creating an audience starts with selecting relevant targeting options based on your audience personas.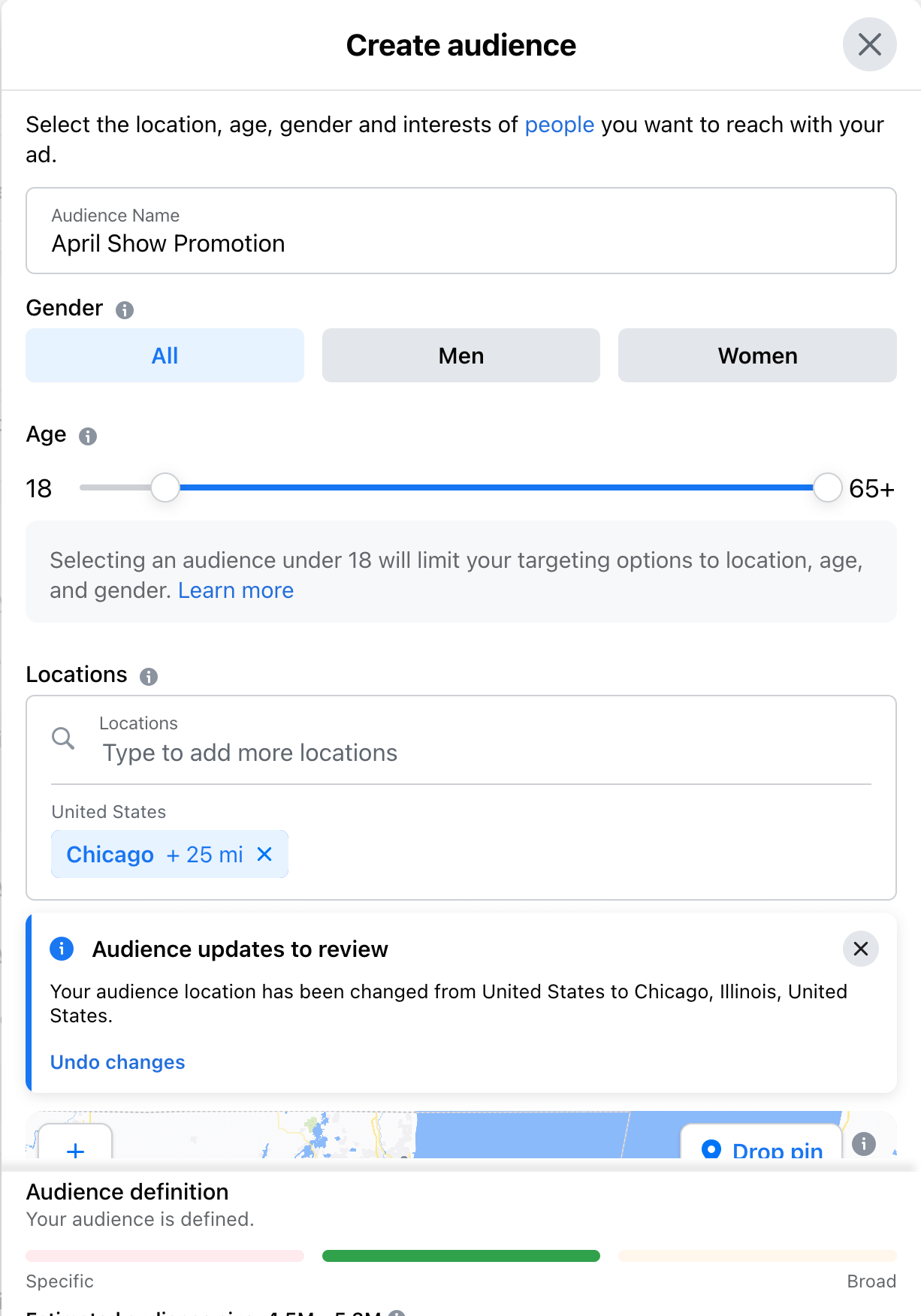 Location
Target people in your city and nearby areas.
Age
If your audience has an age range, you can target ads to that age specifically.
Interests
Facebook can find potential customers based on their likes and other activity on the platform.
Demographics
Education level, relationship status, income, political views, and other demographic information can inform your ad targeting when relevant.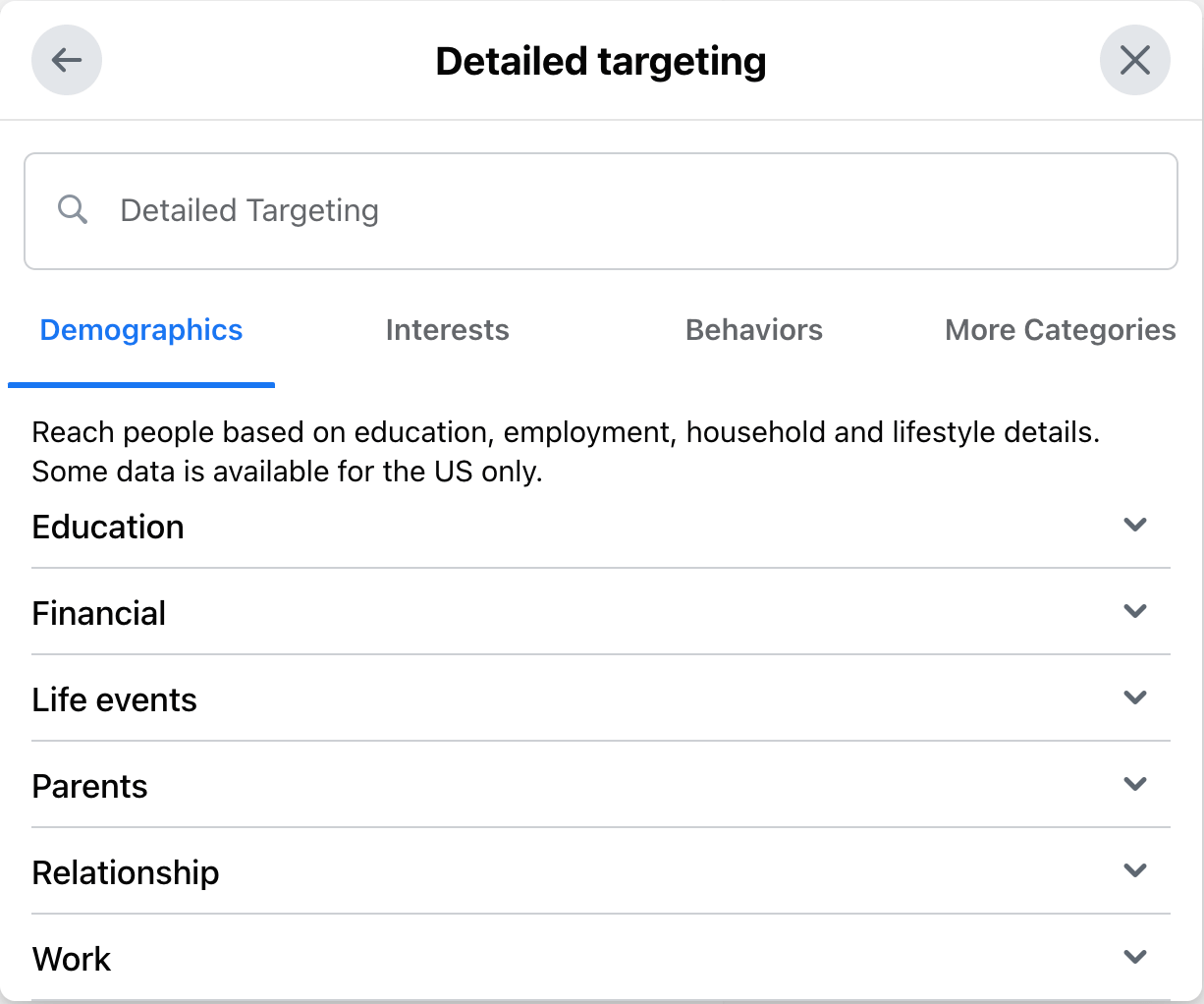 As you narrow down your range, a needle will guide you towards the sweet spot.
Custom Audiences
Custom audiences are used for remarketing campaigns. Ads with custom audiences target Facebook users who have interacted with your business in the past. These may include:
Lukewarm Leads
People who have visited your website but didn't engage with anything on it.
Past Blog Readers
People who have visited your blog, but only read one or two articles.
Engaged Blog Readers
People who have returned to your blog more than once. Engaged blog readers are more likely to make a purchase or share your content than past blog readers.
Landing Page Visitors
People who have clicked on a landing page.
Shopping Cart Abandoners
People who have added items to their carts but have not completed a purchase.
Repeat Customers
People who keep coming back for more. Repeat customers have potential to become brand advocates.
Facebook Page Visitors
People who have visited your Facebook page but haven't taken any other action.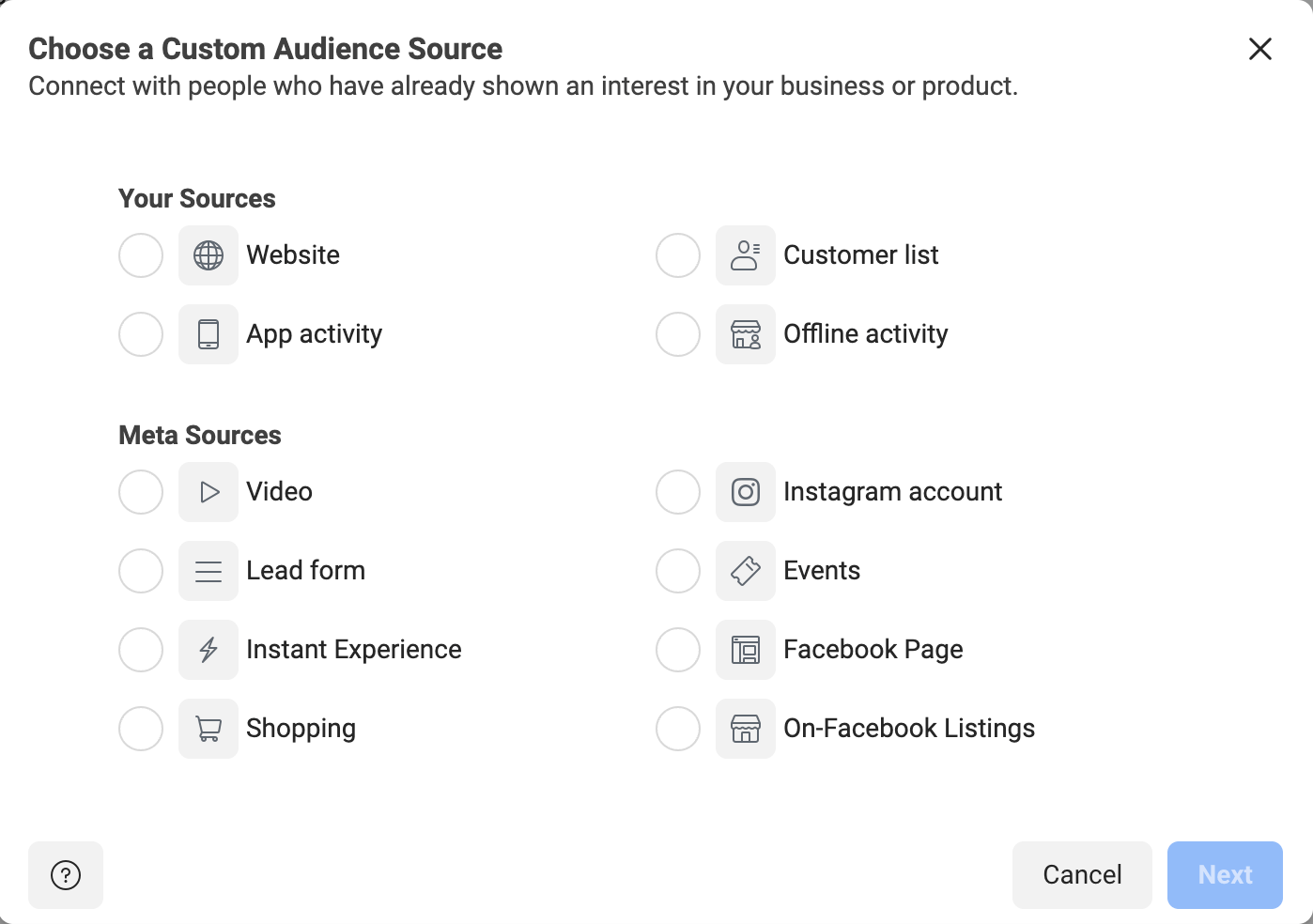 Lookalike Audiences
Lookalike Audiences allow businesses to target new customers based on their existing customer base.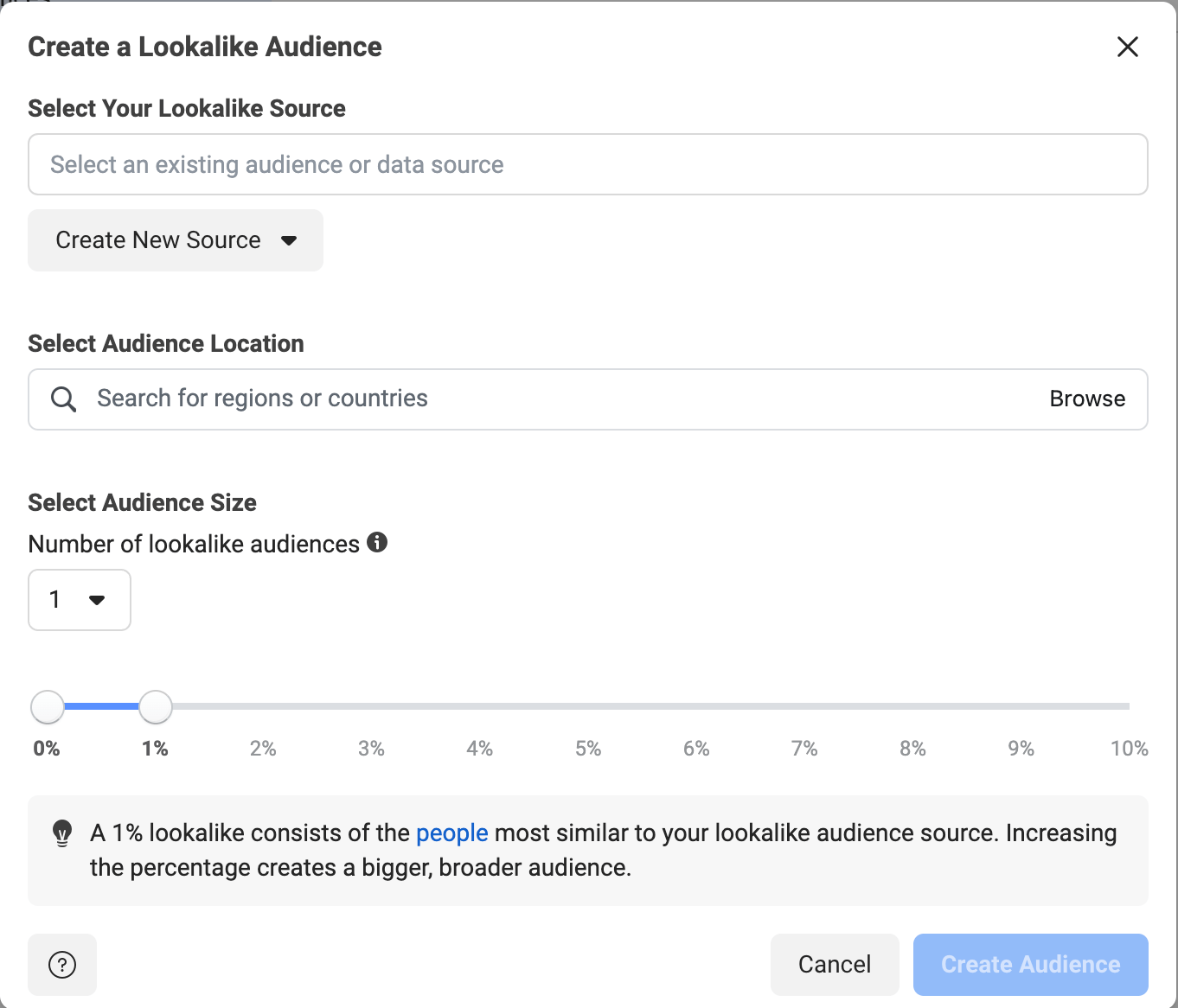 Choose Your Campaign Objective
Every Facebook ad campaign needs an objective. What are you trying to accomplish? Here are some options:
Brand Awareness
Reach
Traffic
Engagement
App installs
Video views
Lead Generation
Messages
Conversions
Store Traffic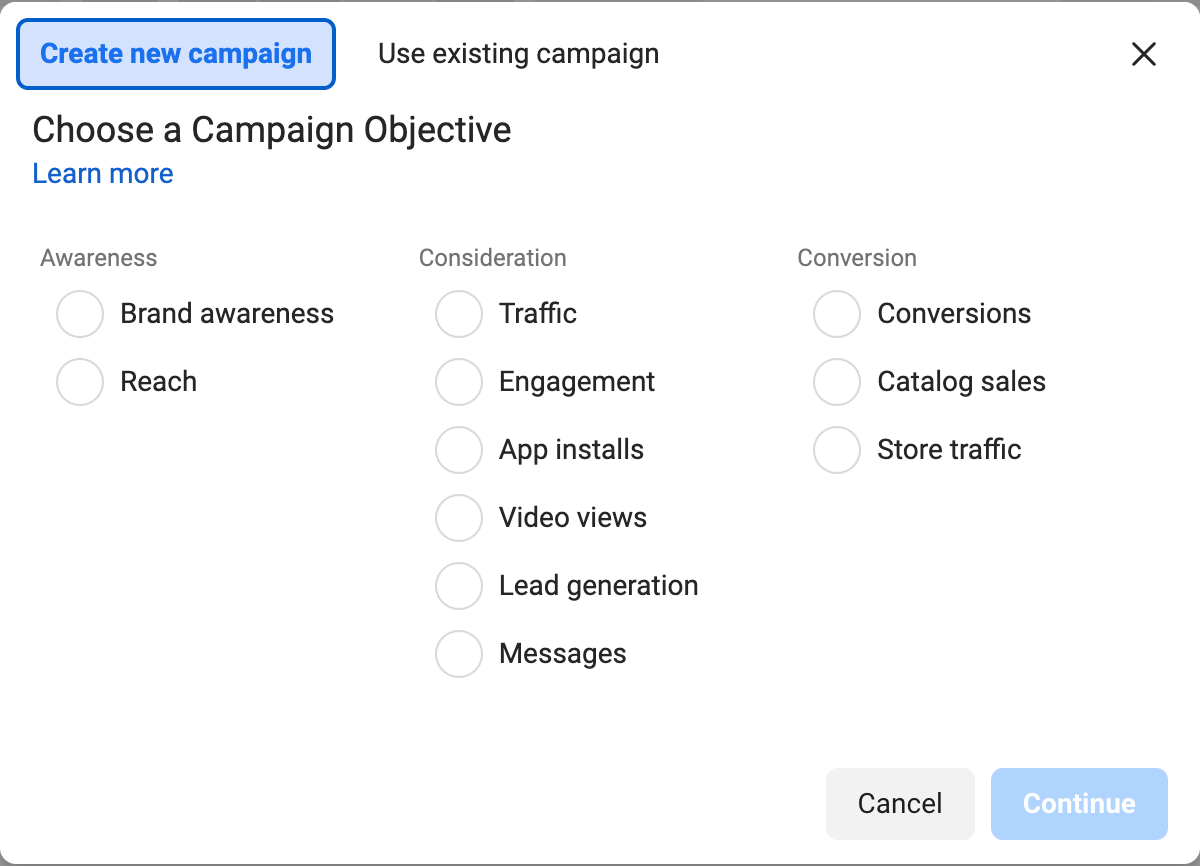 Choose Your Format
Facebook ad formats include image ads, video ads, poll ads, carousel ads, slideshow ads, collection ads, instant experience ads, leads ads, dynamic ads, messenger ads, stories ads, and augmented reality ads. Each format serves a different purpose and advantages for different stages of the funnel.
Image Ads
All Facebook ads require some kind of visual. A single still image is the simplest kind.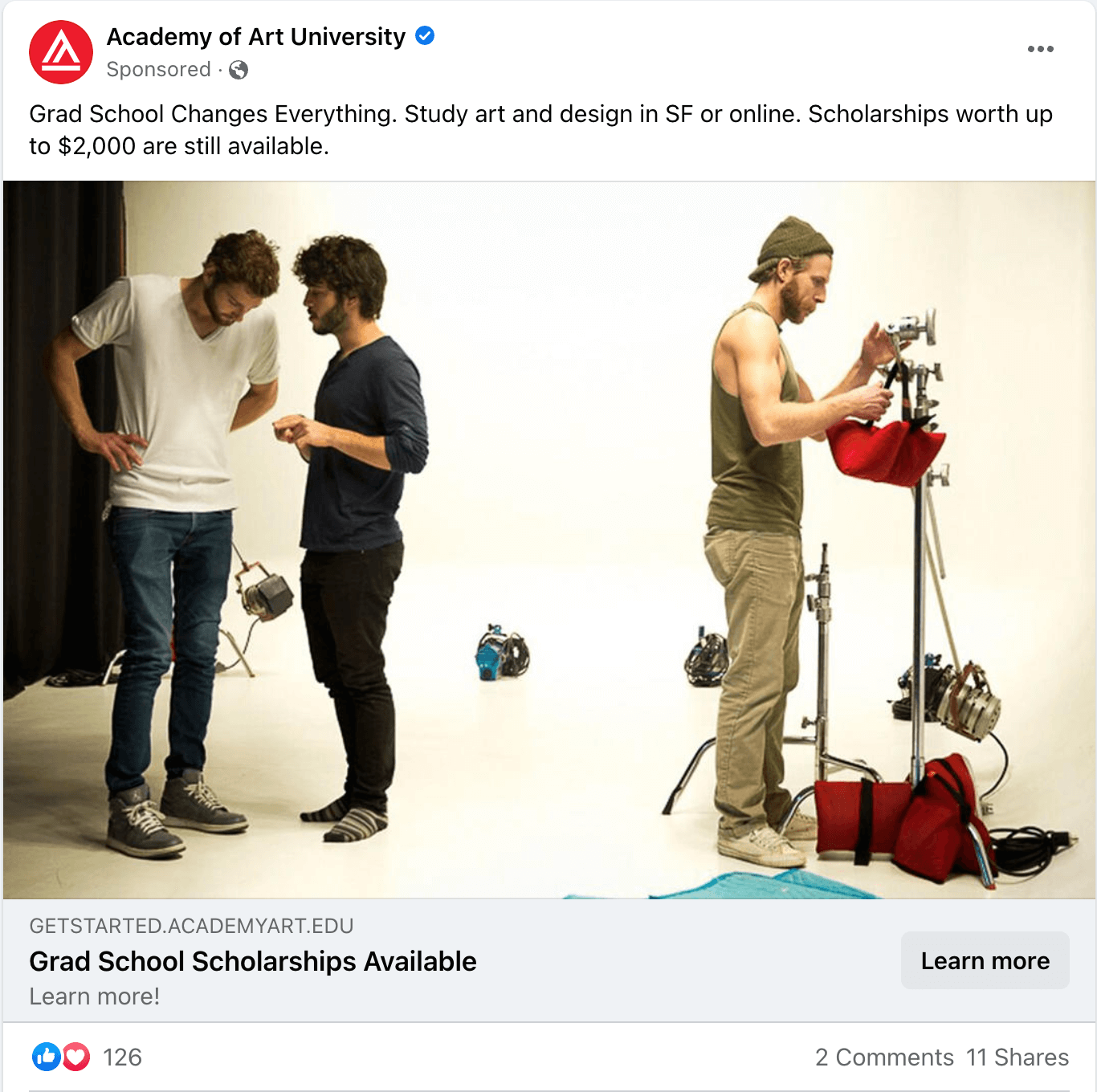 Video Ads
Video is by far the most successful type of Facebook ad. This is probably because they stop people from scrolling through their news feeds to watch them. Here are a few ideas of videos to create for your ads:
Explainers and tutorials
Testimonials
Features & benefits
Screen captures
Animations
Live Streams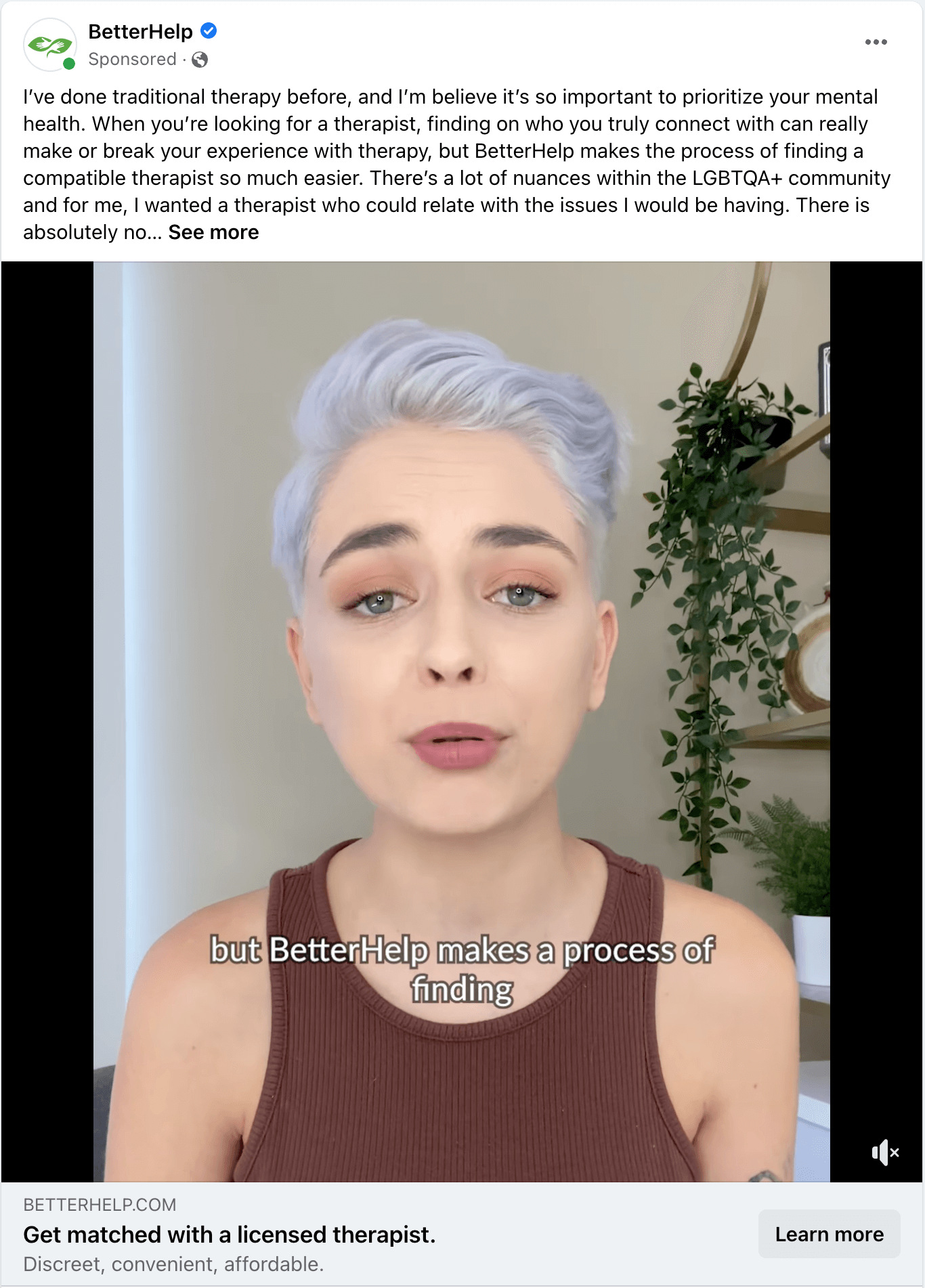 Facebook Video Tools
Legend – lets you choose unique text fonts to incorporate over videos or pictures
Videoshop – this is a video editor with enhanced video editing capabilities
Quik – lets you animate text and manage the transition between pictures or videos
Hyperlapse and Boomerang – lets you create time-lapsed videos and short loop videos
Vidlab and Piclab – lets you create slideshows or video mashups and add elements like filters
Poll Ads
Poll ads are great for getting engagement and feedback from your audience. To create them, choose an image or video and write a multiple-choice question.
Carousel Ads
An ad with a series of photos is called a carousel ad. This type of ad is a great choice for showing off multiple related products at the same time.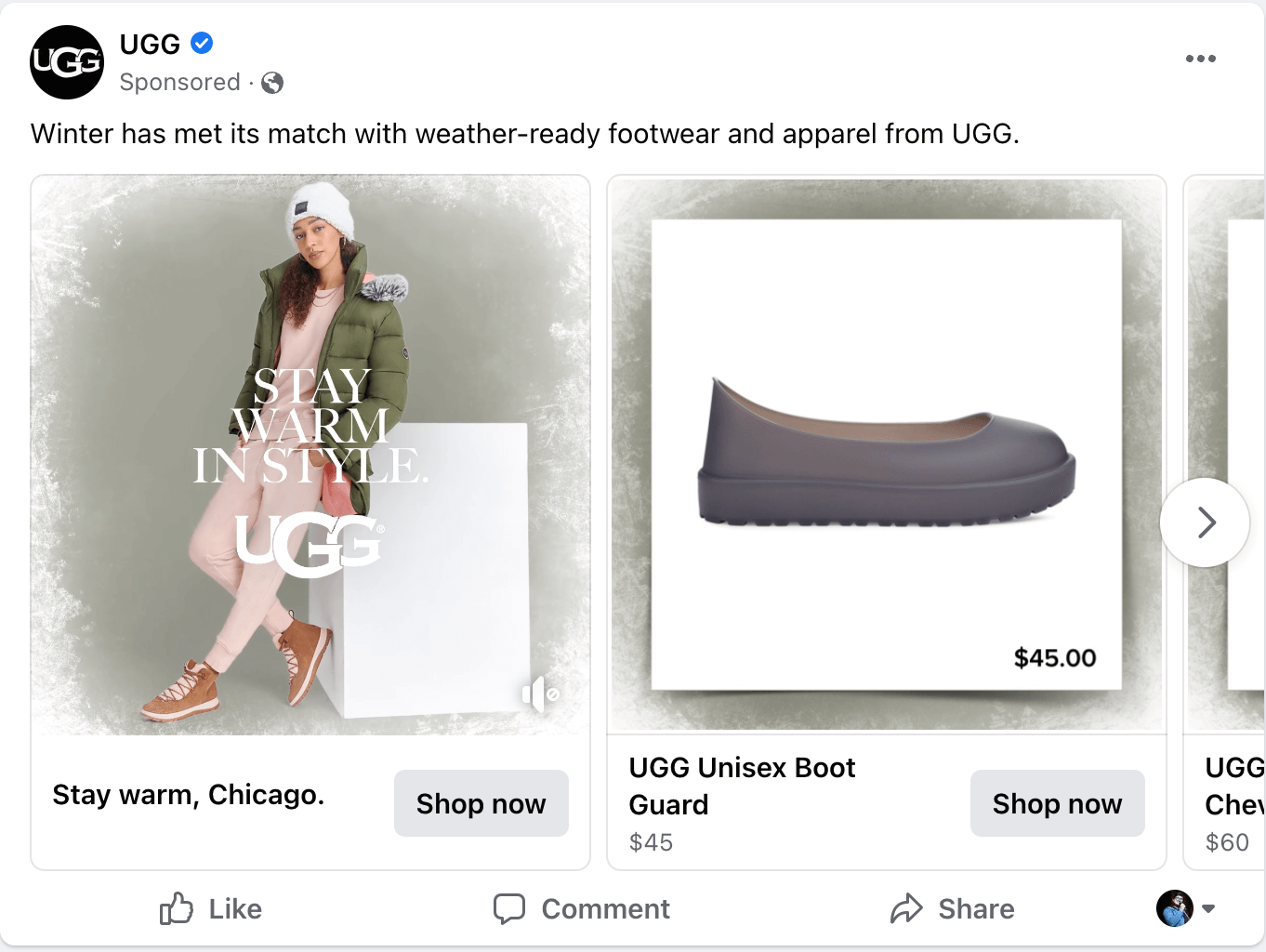 Instant Experience Ads
An Instant Experience is a full screen video that opens after a user taps the ad.
Collection Ads
Collection ads are a type of Instant Experience where Facebook users see a product catalog or storefront in full screen. These ads move users to the purchase stage quickly.
Dynamic Ads
Dynamic ads are highly targeted ads based on what visitors do on your website. Creating dynamic ads requires installing Facebook Pixel on your website.
Messenger Ads
A messenger ad is what it sounds like: an ad that shows up as a direct message. These ads reach individuals directly, show them an offer that is specific to them, and asks them a question that will further tailor their ad experience. Messenger ads are different from other types of Facebook ads because the call to action is to respond to the message.
Lead Ads
Facebook lead ads are any ad with a call to action that doesn't take the user off of Facebook. Some examples of these could be "subscribe," "like page," "send us a message," or to RSVP to an event.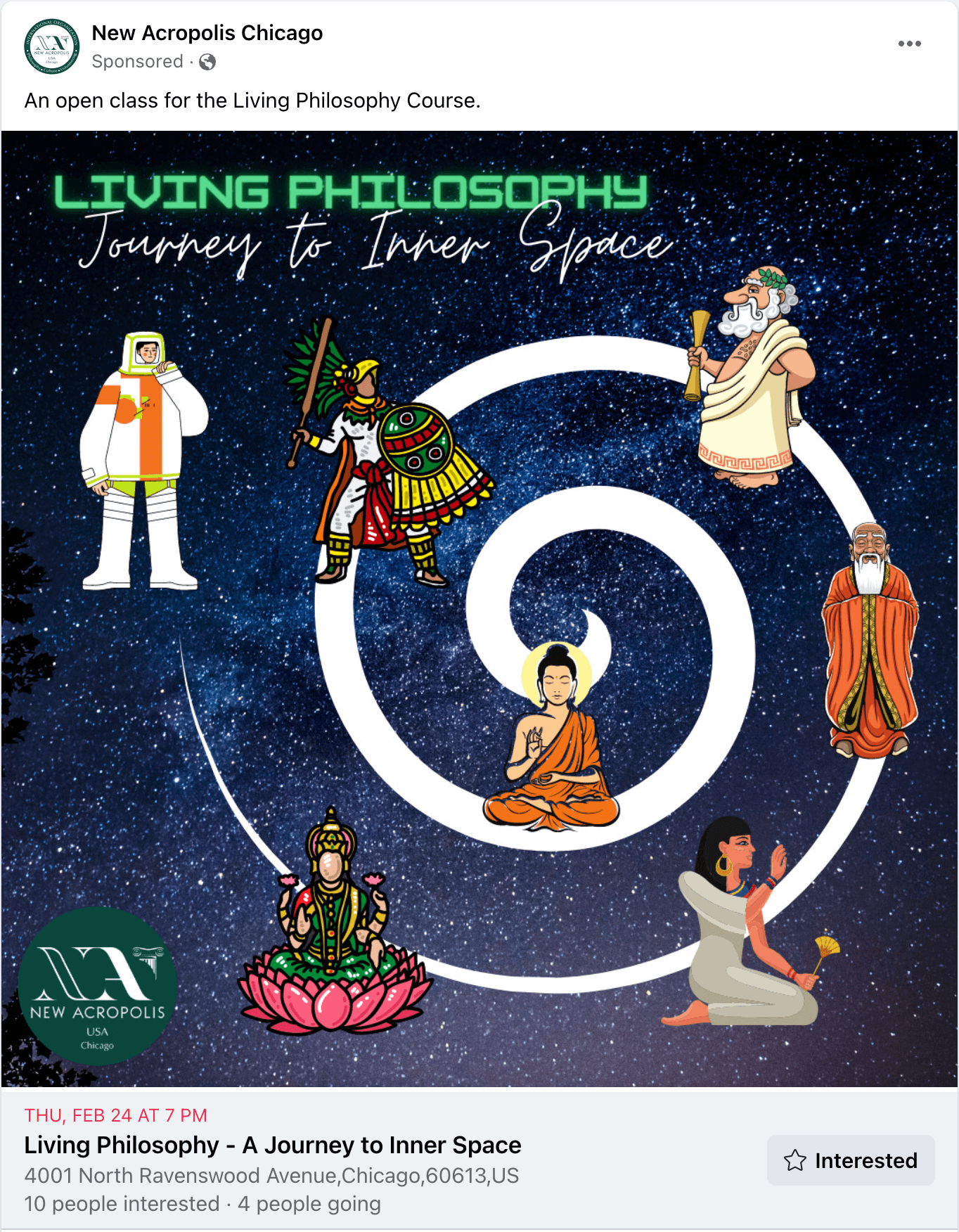 Story Ads
Facebook stories are a valuable space for ads directed to mobile app users. You can use still images and/or videos up to fifteen seconds long to create branded Facebook stories.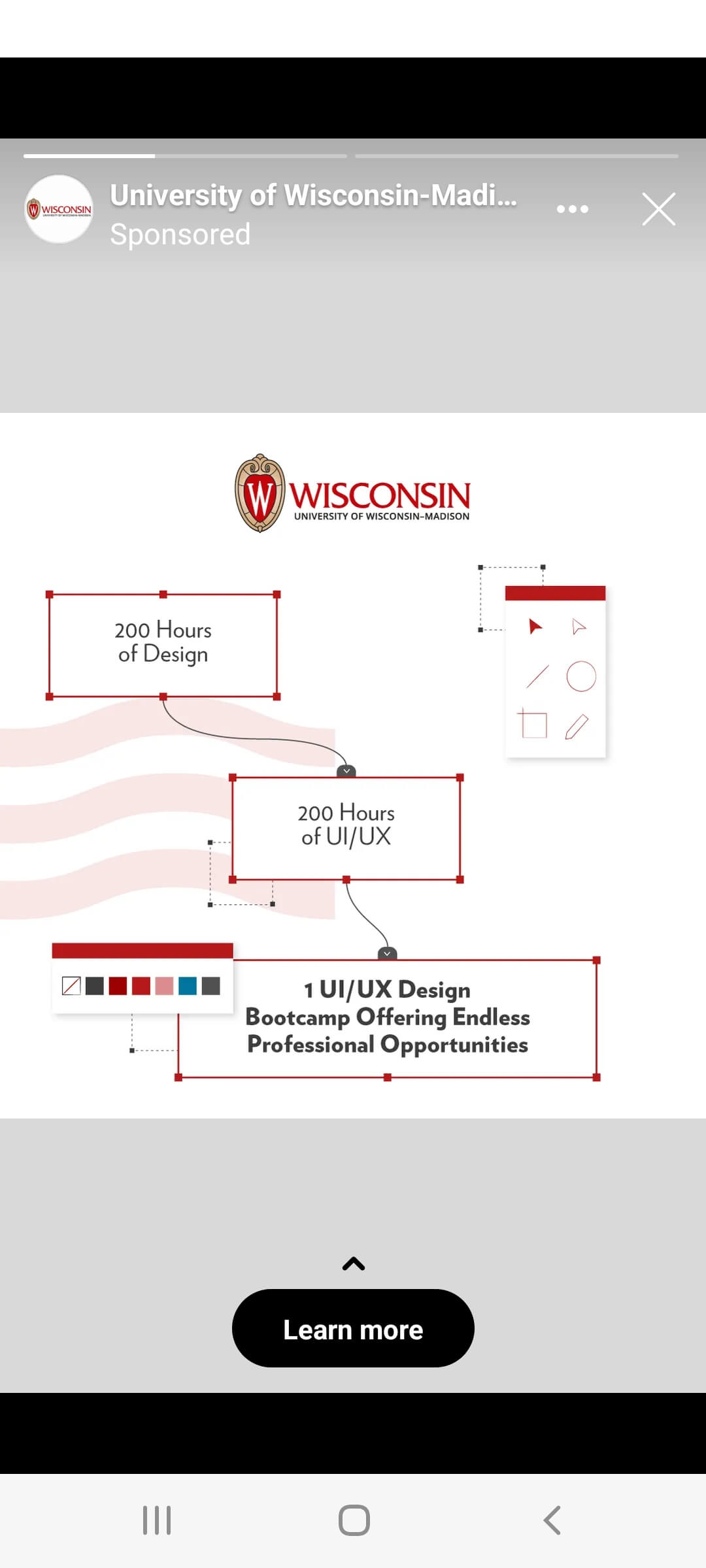 What Is A Facebook Pixel?
A Facebook pixel is a tracking mechanism using code that you can copy from Facebook and add to your website. Once the code is there, it tracks what visitors do when they're on your website and serves Facebook ads accordingly.
8 Steps To Setting Up Your Facebook Pixel code
:
Go to

Events Manager

.
Click Connect Data Sources and select Web.
Select Facebook Pixel and click Connect (Every Facebook ad account gets a single pixel code (that's all you need).
Add your Pixel Name.
Enter your website URL to check for easy setup options.
Click Continue
Copy the pixel code
Paste the code in the header of your content management system. You can paste it manually on each page or use a plugin like Insert Headers and Footers.
You can learn more about everything you can do with Facebook Pixel from Facebook's Pixel implementation guidelines.
How Much Do Facebook Ads Cost?
There isn't a fixed price for Facebook ads. These are the factors that affect the cost:
Timing
Bidding strategy
Ad placement
Ad relevance
Target audience
Facebook Ad Copy Best Practices
Visuals may grab the viewers' attention, but the words in the ad matter. Here's how to craft high-converting copy for your Facebook ads.
Length Specs
In general, follow these guidelines for how long the text of your ads should be:
Headline: 25 Characters
Link Description: 30 Characters
Body Text: 125 Characters
Evoke Emotion
An emotional response often inspires people to take action quickly. This isn't to say you don't want your audience to think things through, but "this product will make you happy" has a more immediate effect than "these are the logical benefits of using our product."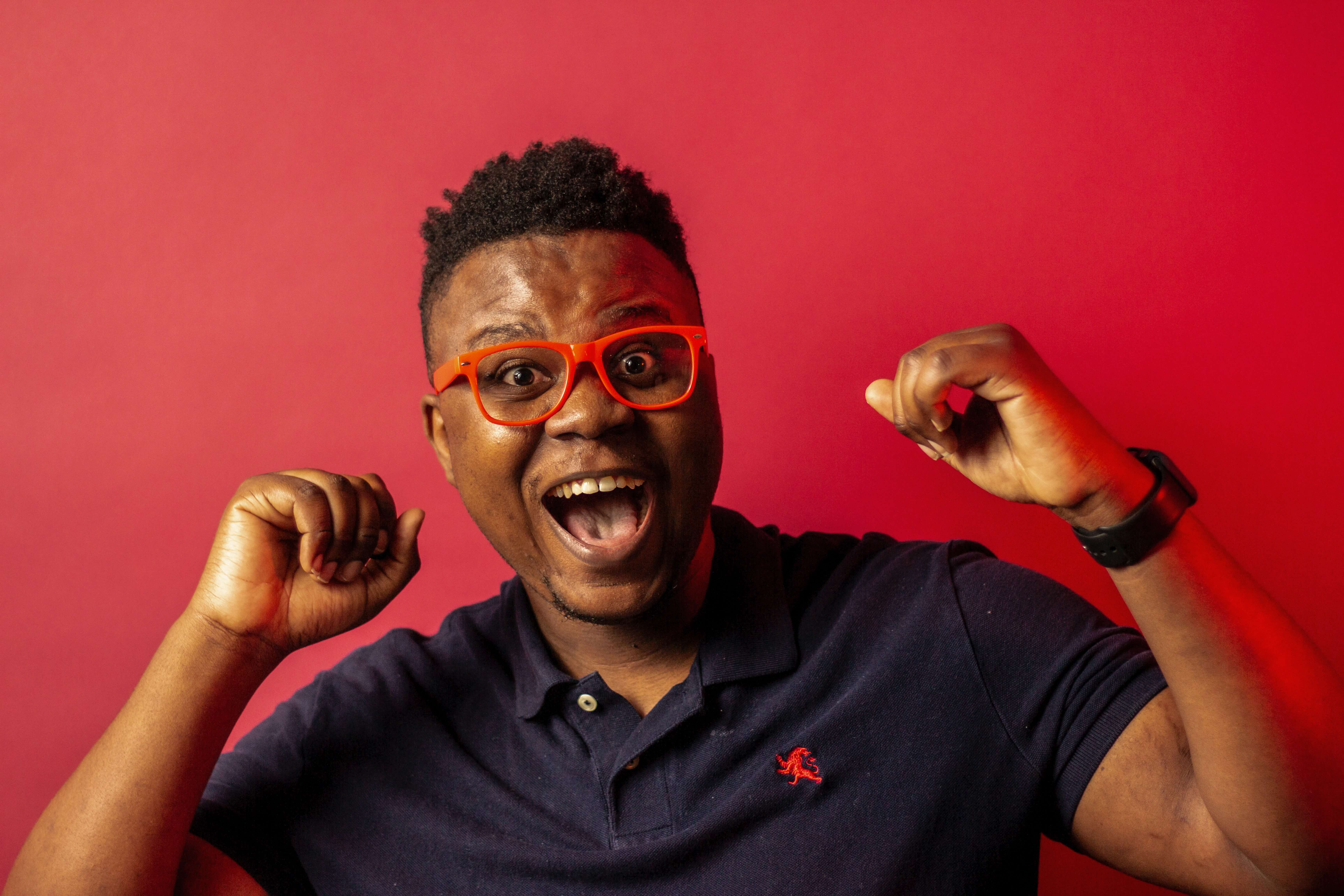 Inspire FOMO
People buy stuff because they feel like something is missing in their lives. Maybe the product solves a specific problem or maybe it makes them think of an aspirational lifestyle. If you see an ad for a cool jacket, you know that wearing the jacket won't make you literally look like the model, but if the marketing department does their job well, you may start imagining outfits you'd wear the jacket with or what occasions you'd wear it to.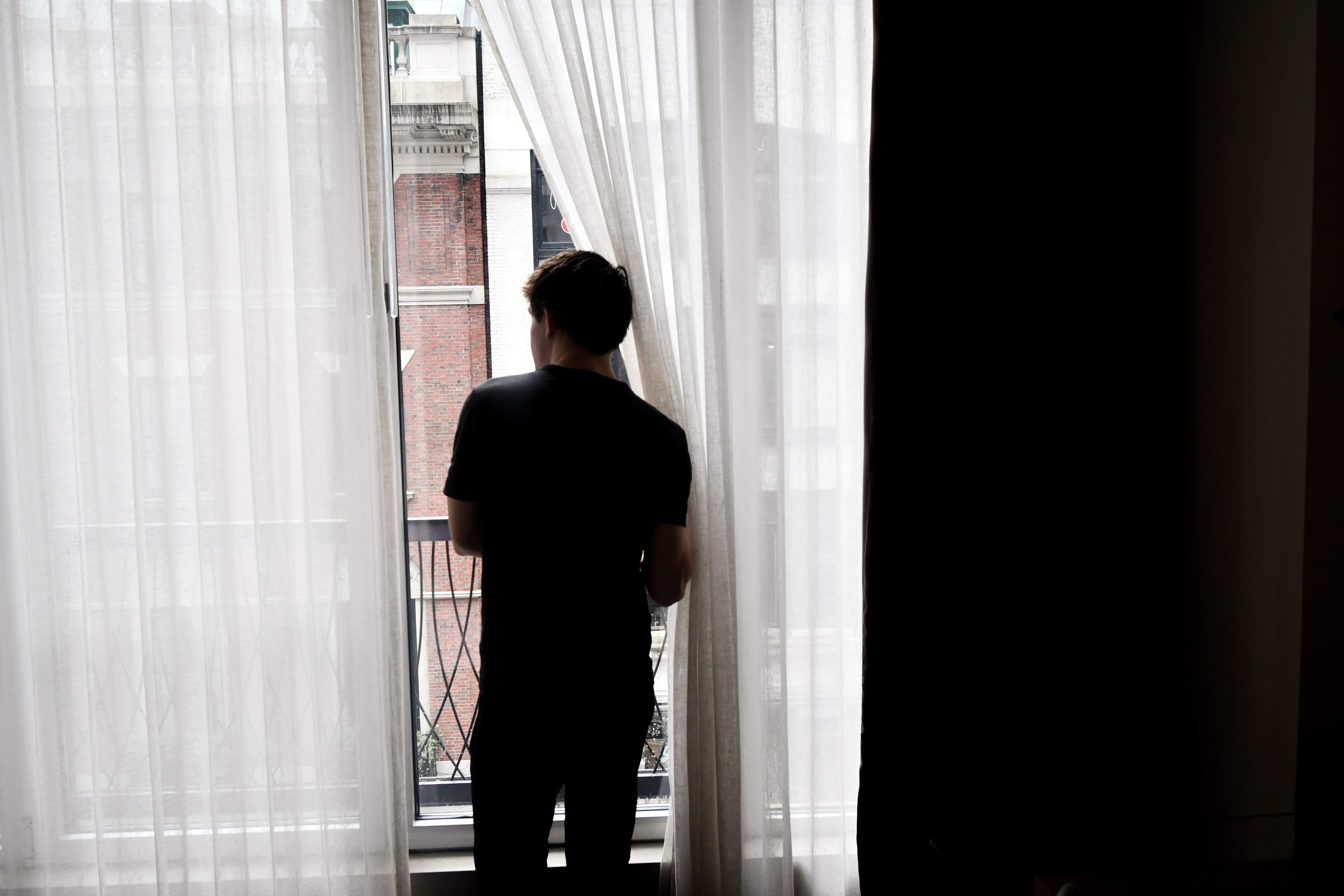 Spark Curiosity
The best way to get people to click on your ad is to make them want to know more about what you're selling. Regardless of what the call to action is, someone who wants to learn more is someone who can advance through the sales funnel.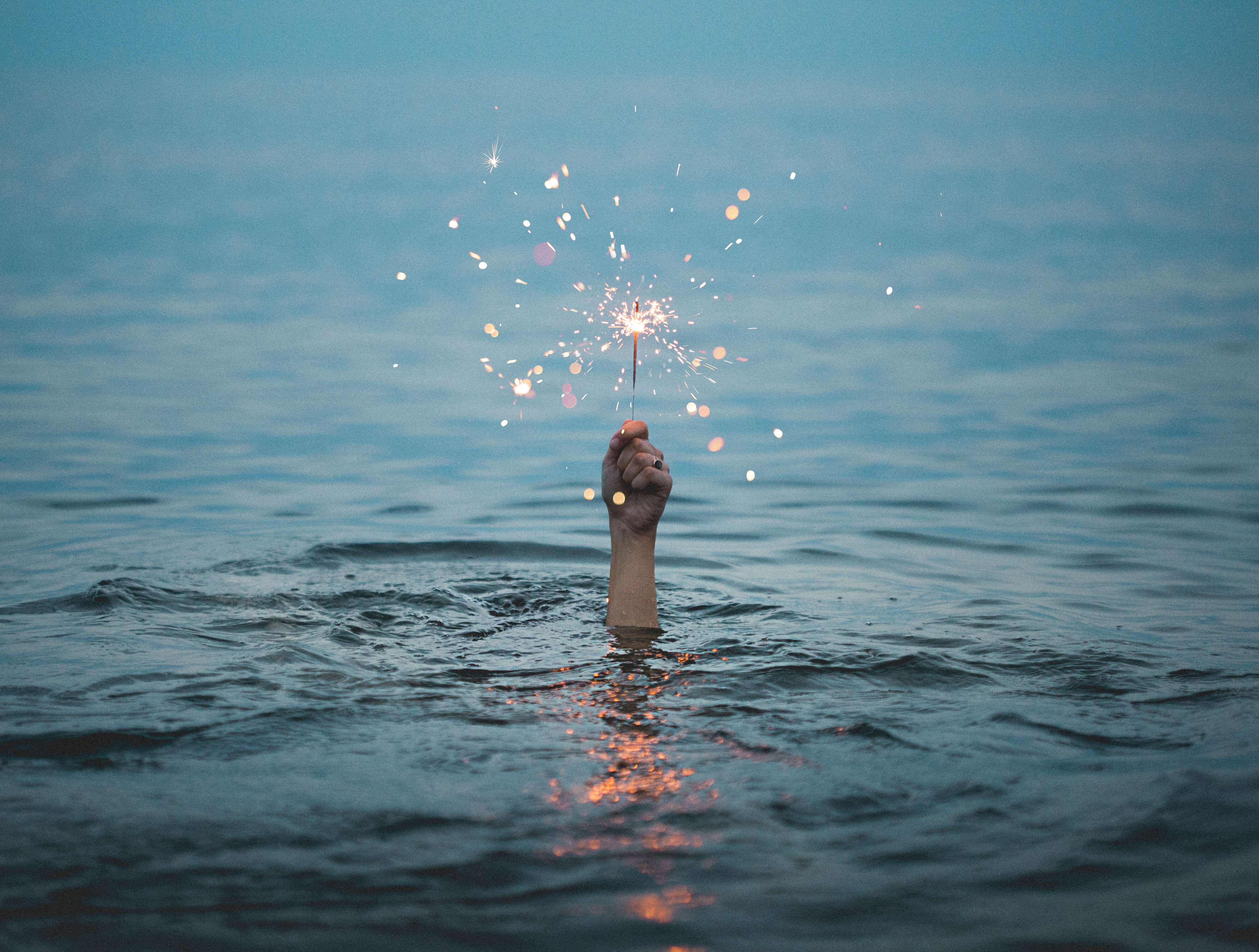 Use Emojis When Appropriate
Emojis can add light-hearted connection with your audience when used appropriately. Just don't overdo it and follow these guidelines:
Feel authentic, not forced
Are similar to the emojis your audience uses
Don't distract from what they're reading

Choose a Call to Action
A good CTA leads to a higher click-through rate. Facebook Ad Manager offers CTA buttons to choose from including, but not limited to
| | | |
| --- | --- | --- |
| Learn More | Shop Now | Sign Up |
| Book Now | Contact Us | Download |
| Get Offer | Like Page | Send Message |
Track the Metrics
Social media metrics are important to measuring the success of your Facebook ad strategy. Here are a few examples of metrics to track with your Facebook ads:
Post Reach
Audience Growth
Comments
Shares
Amplification Rate
Applause Rate
Average Engagement Rate
Brand Mentions
Click-Through Rate (CTR)
Cost Per Click (CPC)
Referrals
Bounce rate
Conversion Rate
Social Media Conversion Rate
Conversation Rate
Vanity metrics like follower count, post reactions, number of clicks, and impressions alone are limited in what they can tell you.
A/B Test Your Ads
A/B testing is a way to test how effective your ads are by changing only one aspect and comparing how they do.
Here are a few aspects of Facebook ads you can A/B test:
| | | |
| --- | --- | --- |
| Shorter or longer text | More direct or urgent messaging | Background or text colors |
| Images | Still image vs. video | CTA size |
| CTA placement | Type of ad | Offering |
From building a website to building a digital marketing strategy, Sav wants your business to succeed online. Start building today to find out how.