When selling a domain name, the listed price is not your final profit. After every successful sale, the seller is charged a processing fee of 3%, in addition to the commission fee charged by your marketplace. Most commission fees fall around 10-20%, meaning that 10-20% of your revenue goes directly back to the marketplace instead of into your pocket. In this article, we will analyze various different vendors' commission fees and calculate which commission percentages maximize your profit and are the best fit for you.
What are Commission Rates?
So what is a commission rate? Well, a commission rate is the fee a marketplace charges you for using their platform to sell domain names. Domain marketplace commission rates can often feel like your marketplace is robbing you for no reason, but in reality, there are quite a few things that the commission fee has to cover.
Processing Fees
When it comes to eCommerce, processing fees play a big role in determining actual profit. Processing fees are the costs accrued by the business owner when processing payments from their customers. So, the commission rate collected by your domain marketplace also includes the initial processing fees. Processing fees can vary based on what payment method is used(i.e., Creditcard, Paypal, wire transfer, etc.).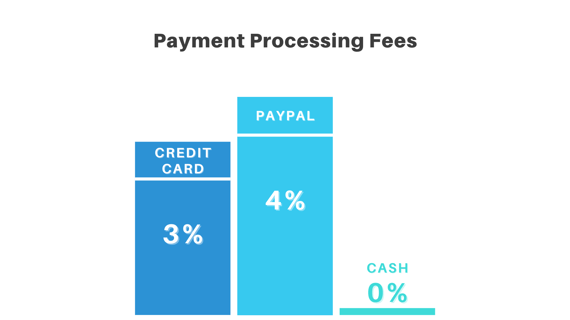 In the world of domain sales, cash transactions are impossible, so all payment types will incite fees.
Profit
At the end of the day, the goal of the domain marketplace is to profit off of you, the consumer. Just like any corporation, domain marketplaces need to keep the metaphorical lights on. Keep in mind that not only do processing fees cut into your profit, they also cut into the commission made by the marketplace. For example, if your marketplace is taking a 10% commission fee on your sale, in reality, the company is only making around 6%.

Marketplace Commission Rates
Now that we understand what commission rates are and why they exist, let's dive into the commission rates for some of the top domain name marketplaces.
Before we get started, some sites require a listing fee on top of their sales commission. Although these aren't necessarily detracting from the sales price, they will be included in the price roundup for each domain marketplace.
Maker Monikers

Makers Monikers does not charge a listing fee, but their commission fee is 10%. If we subtract 3% for processing fees, Maker Monikers' profit off of your TLD sale is 7%.
GoDaddy
GoDaddy also doesn't charge a listing fee, but their commission fee percentage depends on the sale price of your domain.
Let's break down GoDaddy's profit. If your domain sales price is $0-5k, the commission rate is 20%. But let's say your domain sells for $20; 20% of $20 is $4. GoDaddy auctions have a $15 minimum, so even though 20% of your sale price is $4, you are required to pay 15 dollars. If your sales price was $20, this means you only achieve a $5 profit from your premium domain while GoDaddy makes $14.40 after processing fees.
Sedo

The average commission rate of Sedo's sales options is 15%. Once we account for processing fees, that comes down to a 12% profit for Sedo off your revenue. For Example, if your Buy Now price was listed at $20, after fees, you would receive $17, and Sedo would receive $2.40 in profit.
$2.40 may seem like nothing now but let's say your domain auctions for $2,000. You would walk away with $1700, and Sedo would walk away with $240.
Namesilo

With a 7.5% commission fee, Namesilo is on the cheaper side for commission rates. Once we remove the processing fees, Namesilo's commission comes to 4.5%, meaning if your domain sells for $20 your profit amounts to $18.50, and Namesilo's profit amounts to $0.90.
NameCheap

Namecheap has a flat 10% commission fee on all sales. This means that their actual revenue off of your sale is 7%. When we factor this into our $20 domain scenario, you make $18, and Namecheap makes $1.40.
Afternic

Since Afternic is a GoDaddy subsidiary, their commission fee structures are identical. Once again, their base commission percentage is 20%, but they have a $15 minimum fixed price. This means that unless your sale price is $80 or more, you are losing far more than 20% of your revenue. With this in mind, if you sold a domain for $20, you would make $5 while Afternic makes $14.40 after processing fees.
BrandBucket

Similar to Afternic and GoDaddy, BrandBucket varies their commission fees based on the sale price of your TLD. Unlike the previously discussed marketplaces, BrandBucket does require a listing fee, meaning that you are required to pay $9 upfront prior to listing your domain. If we apply BrandBucket's base commission rate to our $20 scenario, you would make $14 not including the listing fee, While BrandBucket makes $5.40. With starting commission rate of 30%, BrandBucket is one of the most expensive marketplaces we've seen.
Sav

Sav's marketplace commission rates are by far the lowest available. After factoring in processing fees Sav's profit comes out to a measly 1%. If we factor this into our $20 domain scenario, You would receive $19.20 while Sav accrues $0.20 in revenue.
Side by Side Comparison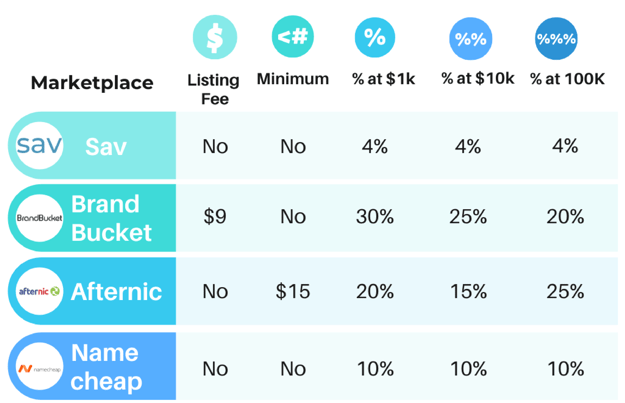 Final Thoughts
Understanding domain marketplace commission rates can be super confusing. Hopefully, after this commission deep-dive, you feel more confident in your understanding of what commission fees are for and exactly how much of your profit you get to see.
About
Read for insights
Find ideas for your business, gain leadership, stay on top of the strategic trends of your market to beat your competition.
Categories
topics on the blog