Want to get into dropshipping without the high shipping costs and unpredictability of an overseas supplier? Good news! There are plenty of great dropshipping suppliers located right here in the U S of A! If selling American-made products is important to you, you can find a domestic supplier no matter what products you sell.
What is Dropshipping?
Dropshipping is a growing ecommerce business model. Dropshippers source items from manufacturers and sell them on their own online store. The three involved parties in the dropshipping business model are
suppliers

retailers

customers
Suppliers
Dropshipping suppliers sell products to retailers at wholesale prices and take on the risk of unsold inventory. Their role in the process is to:
Create products

Carry inventory

Ship products to customers

Replace defective products

Restock products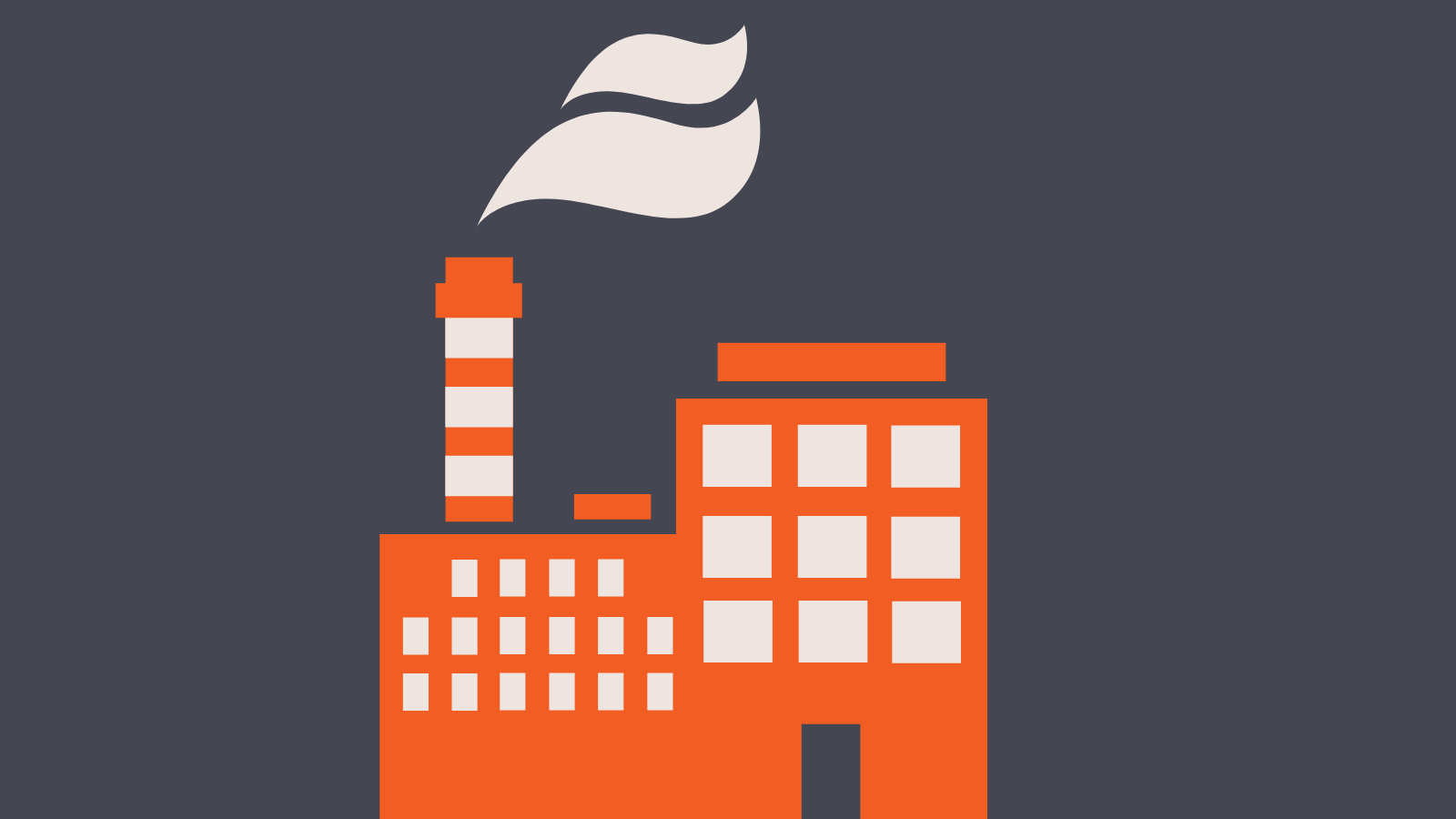 Retailers
Dropshipping retailers sell the manufacturer's products on their own websites under their own brands. The retailer's responsibilities are to:
Choose products to sell

Market the products they sell

Pay the shipping fees

Sett prices

Take care of customer service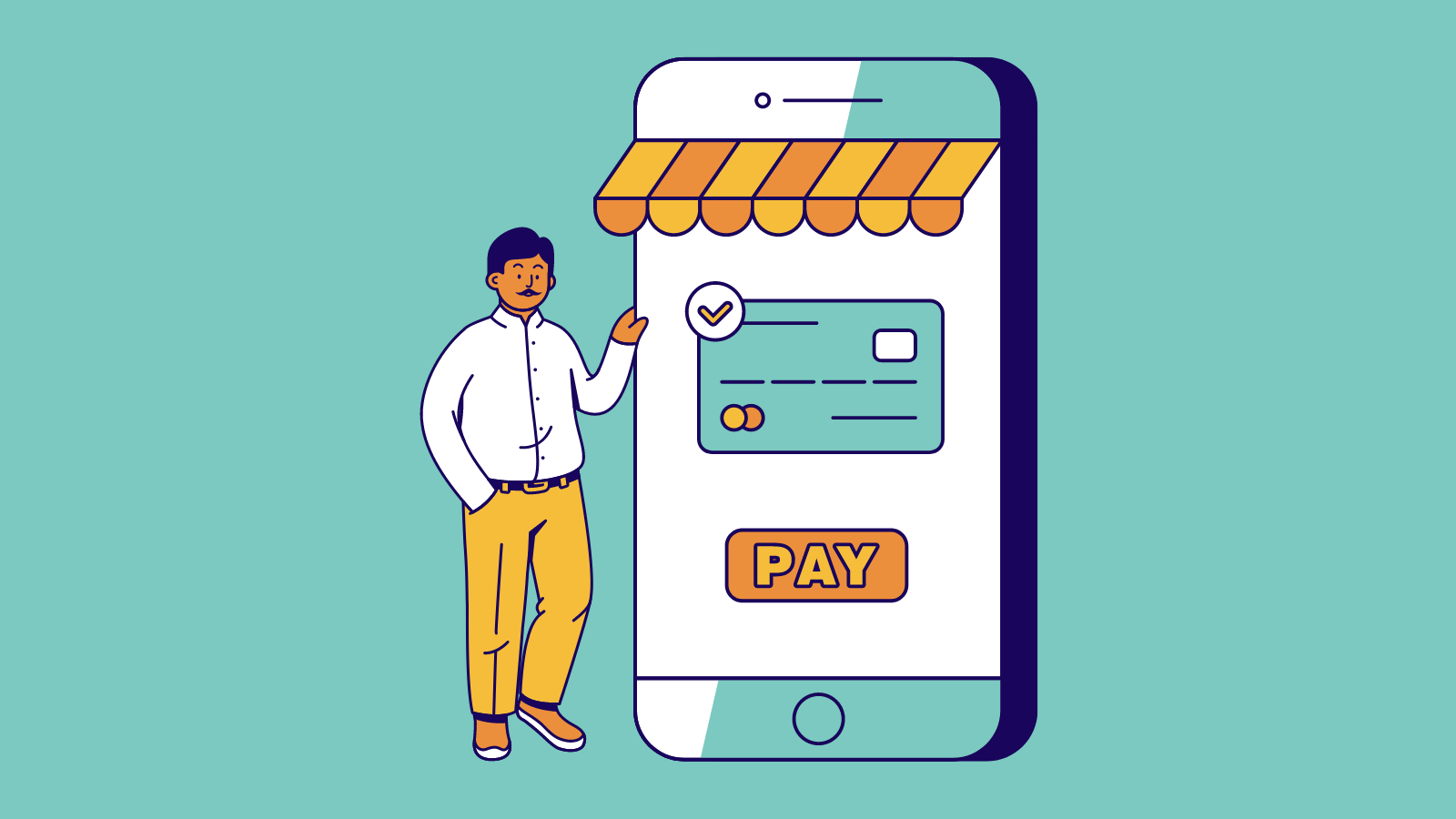 Customers
Dropshipping customers buy products directly from retailers. They often don't know who the supplier is. If customers have any questions, they reach out to the retailer, not the manufacturer.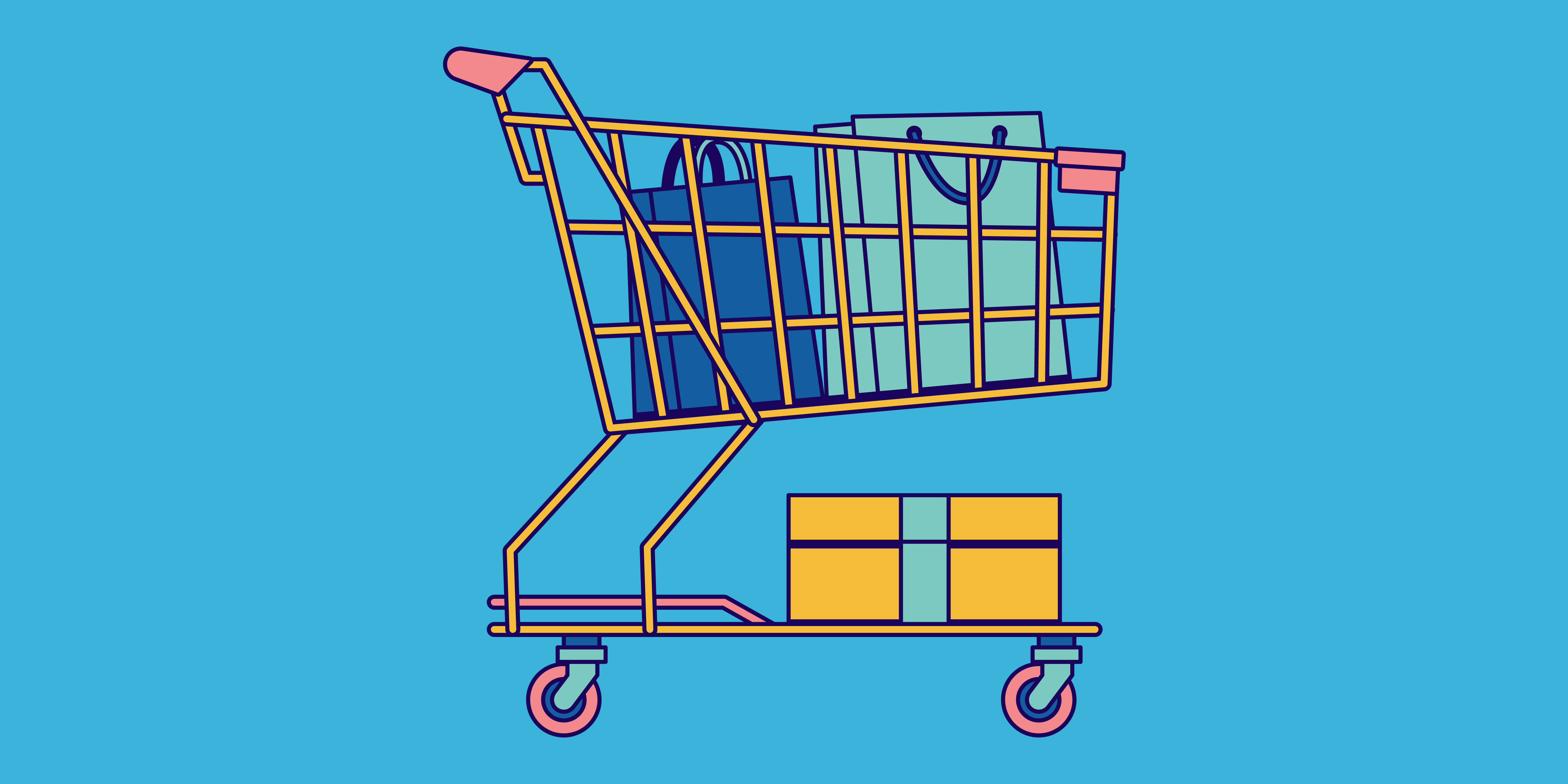 Profitable Dropshipping Niches
Developing a niche is the first step in running a marketable dropshipping store. It's important to sell types of products that you enjoy and would use in your daily life and that have enough demand to make a profit. Some examples of profitable dropshipping niches:
Beauty, health, and personal care
Fashion and jewelry
Home and furniture
Pet supplies
Electronics
Beauty, Health, and Personal Care
Makeup, skincare products, supplements, and other health and beauty products are popular for dropshipping because they're small and easy to white label. It's a great niche if you want to improve your customers' lives at a low price.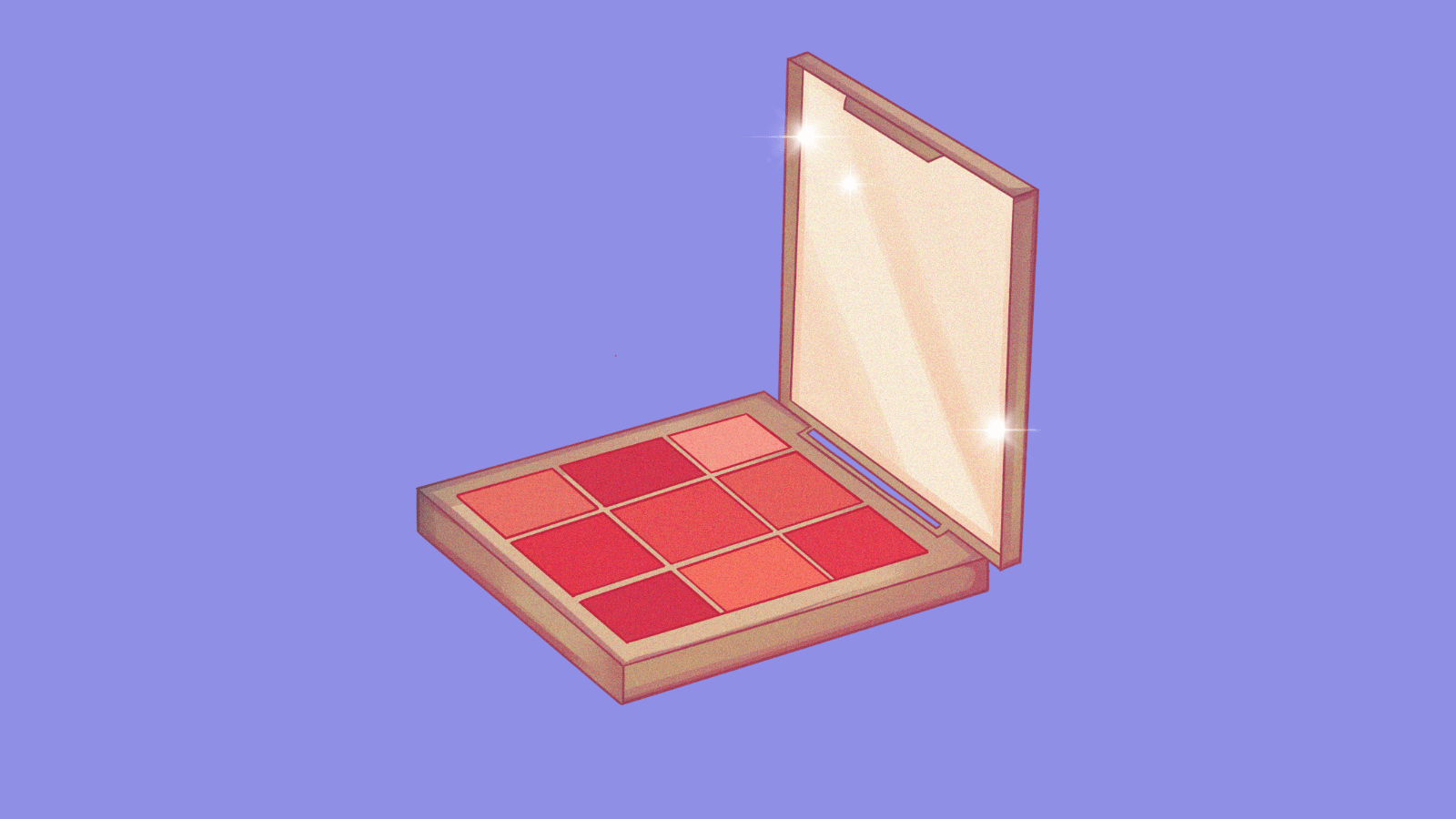 Fashion and Jewelry
Clothing, jewelry, and accessories are popular for online shopping in general and easy to dropship. If you're dropshipping clothing, it's important to pay attention to which styles are trending.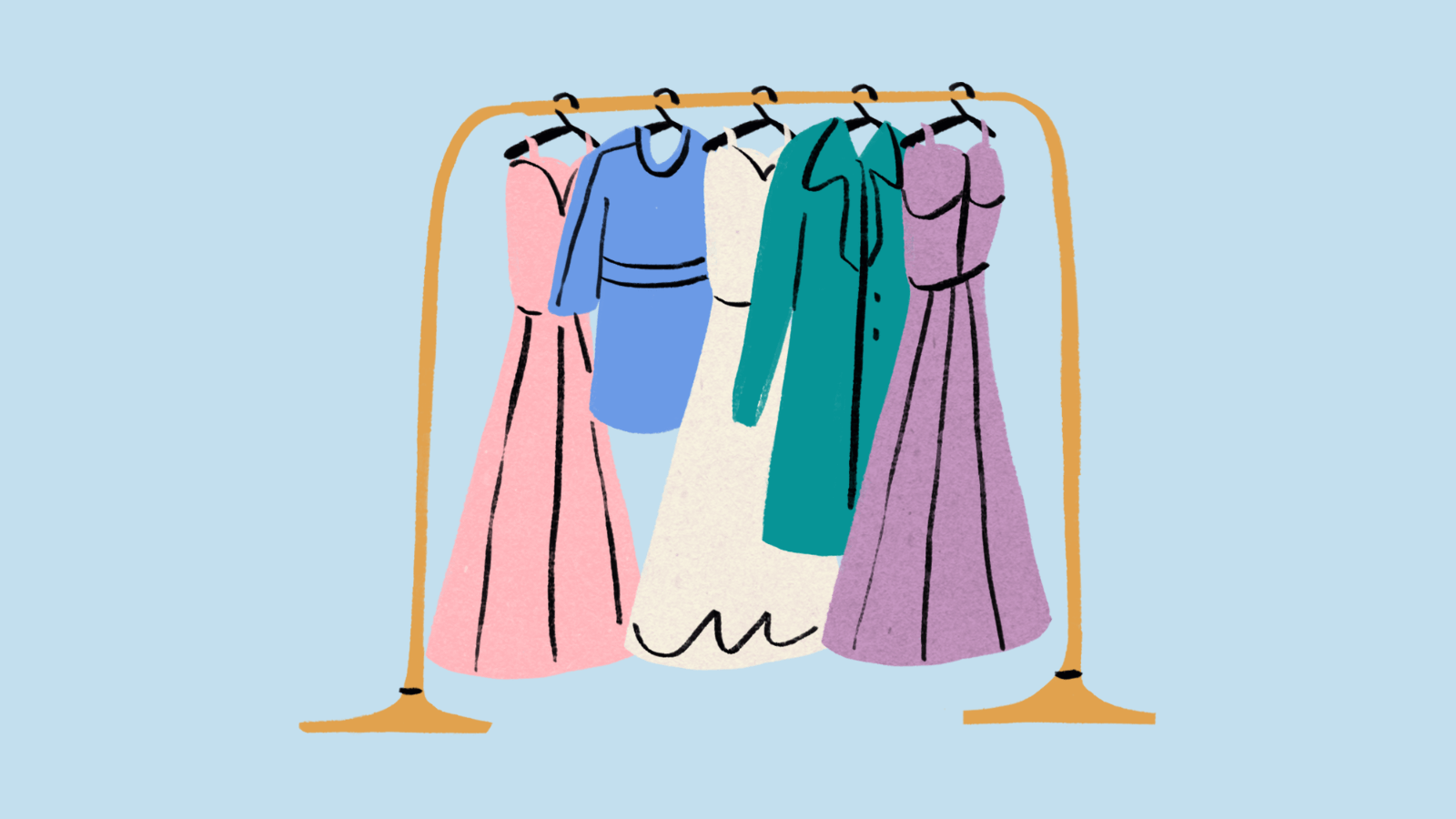 Home and Furniture
The home goods niche is great if you want to sell a variety of products while still sticking to a common theme. In this niche it's a good idea to focus on items that meet a specific need.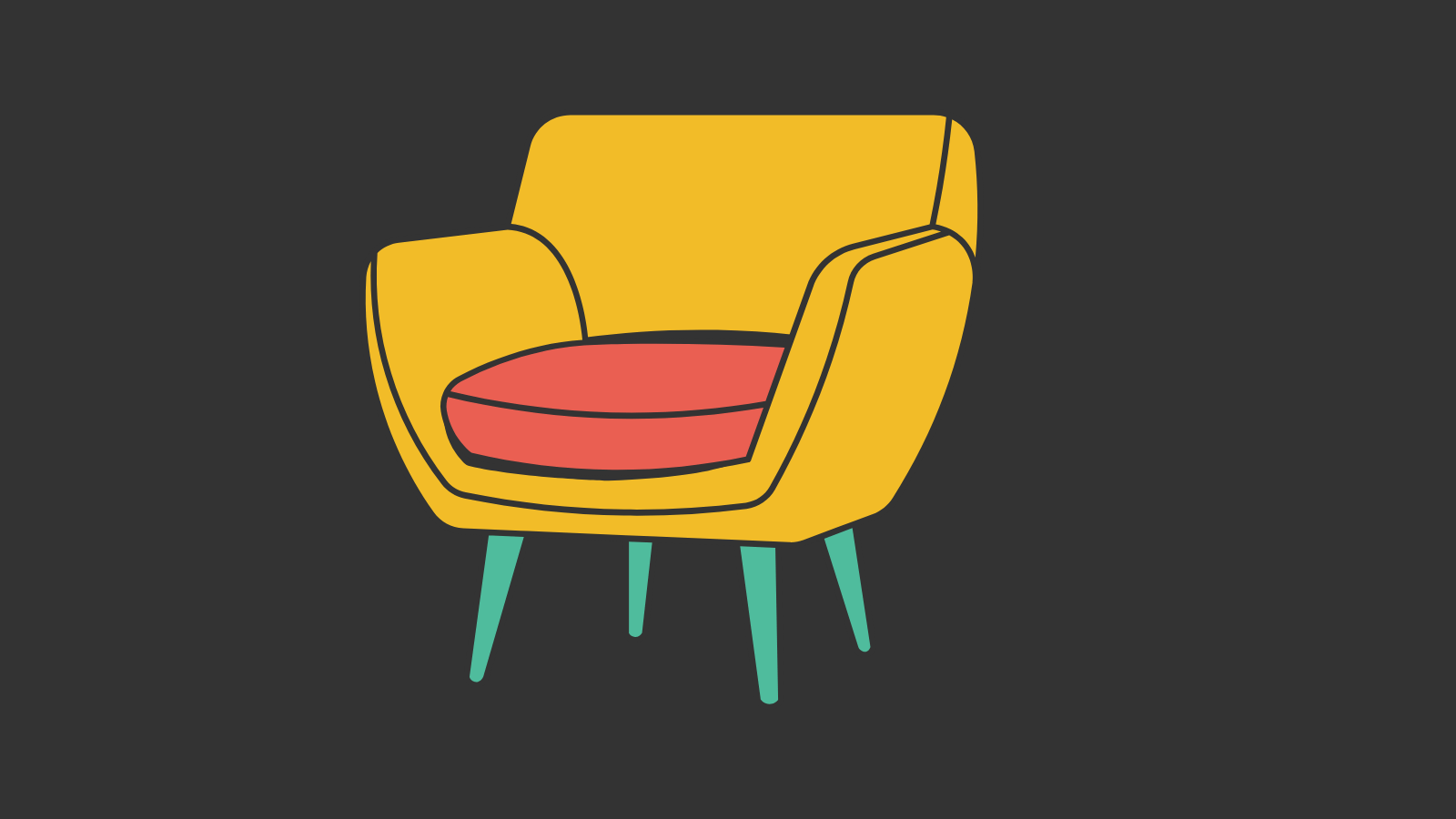 Pet Supplies
Pet care is a growing industry. People want the best for their furry companions. Collars, leashes, treats, beds, toys and other items for pets are great dropshipping material for animal lovers.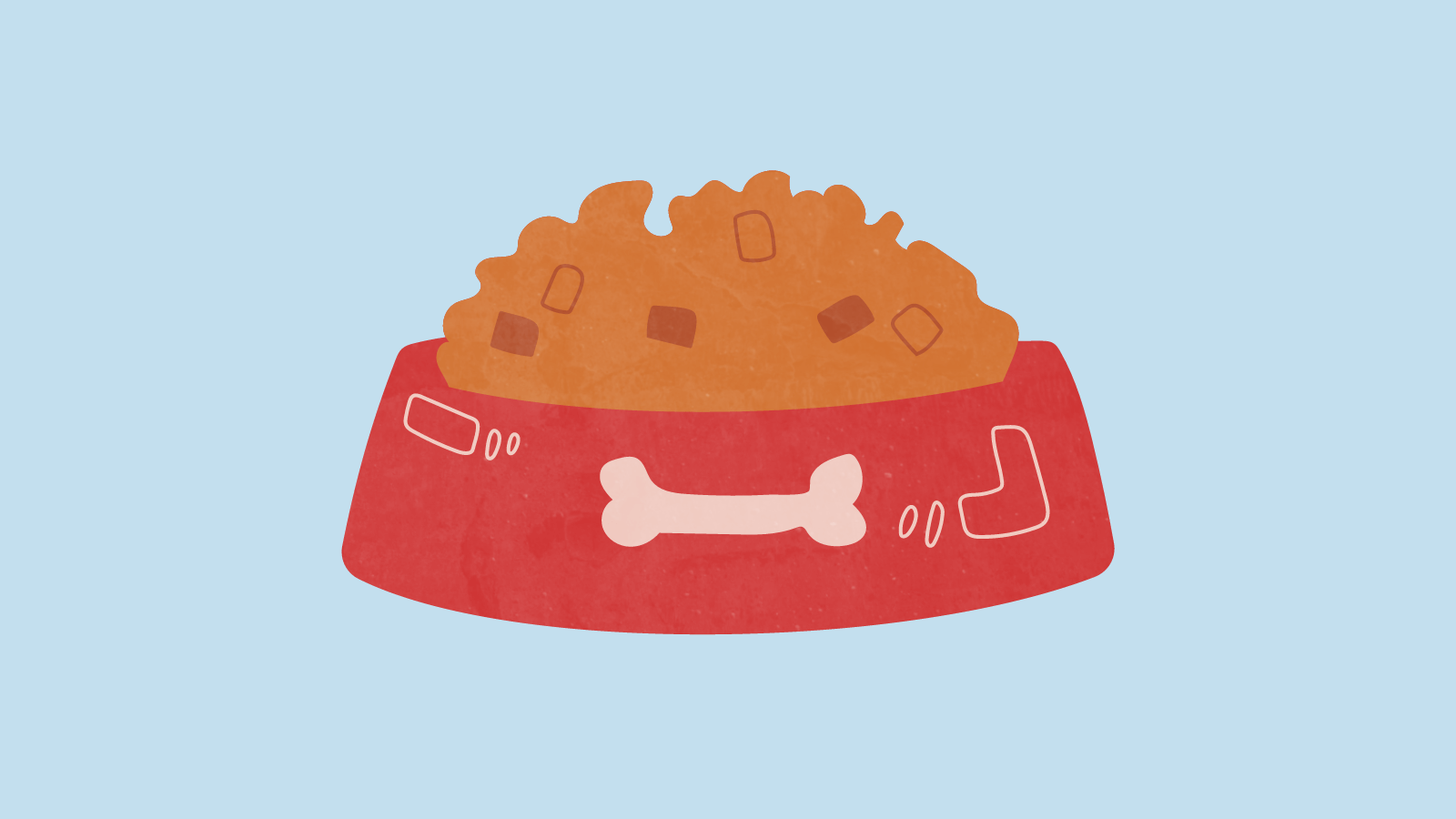 Electronics
Consumer electronics and accessories are items that most people need. That keeps them in demand for dropshipping and general ecommerce. Items like phone cases, wireless chargers, and gaming accessories also come in a lot of varieties, making them a great choice for selling a small number of items without it looking like you don't sell enough.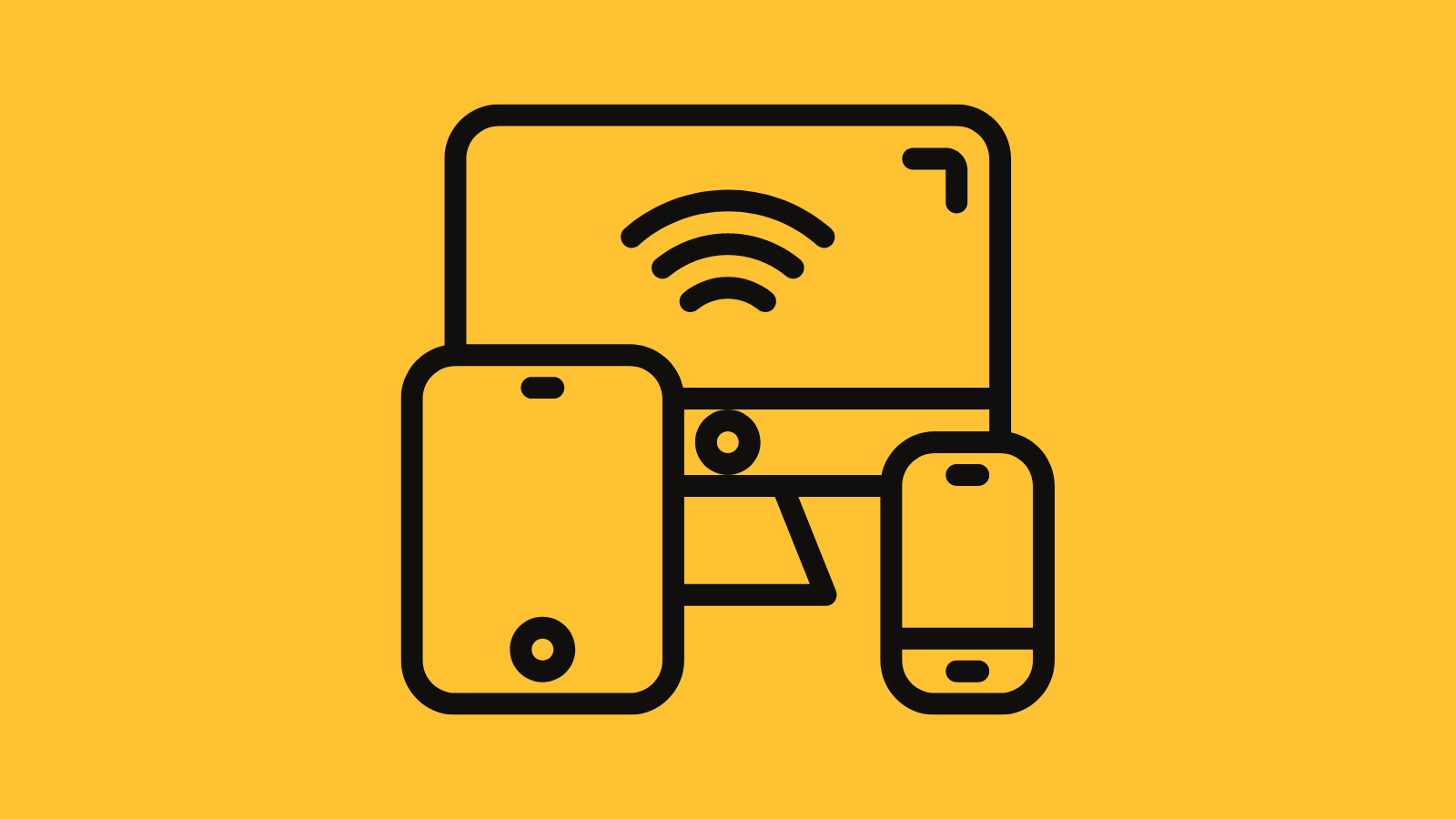 Why Use US Suppliers?
Some of the biggest names in dropshipping are located in China. You can't talk about dropshipping without mentioning Aliexpress. Though overseas suppliers can still be great fits for your business and every US-based supplier is high-quality, there are several benefits of choosing US dropshipping suppliers, including:
Fast shipping
Reliable tracking
Multiple shipping options
Higher product quality
"American-made" stamp of approval
Higher retail prices
Higher profit margins
Shorter supply chains
More convenient customer service
Easier return process
Benefits for shipping
When it comes to online shopping, shipping can make or break the experience. With Amazon's domination, people expect fast, free or low-cost shipping when they order something online. Shipping times are one of the biggest drawbacks of using an overseas dropshipping supplier, simply because it takes a long time for packages to get to the US from China. When you work with US-based dropshippers, you can get:
Fast shipping
Reliable tracking
Multiple shipping options
Fast shipping
Within the continental US, shipping typically takes 1-3 days. Your customer could place an order and get their items the next day. This goes a long way for customer satisfaction.
Reliable tracking
Similarly, US courier companies like UPS, FedEx, and DHL all make it easy for customers to track the status of their packages.
Multiple shipping options
US courier services also usually allow customers to pay for faster shipping. This is nice for customers who need to get their products right away.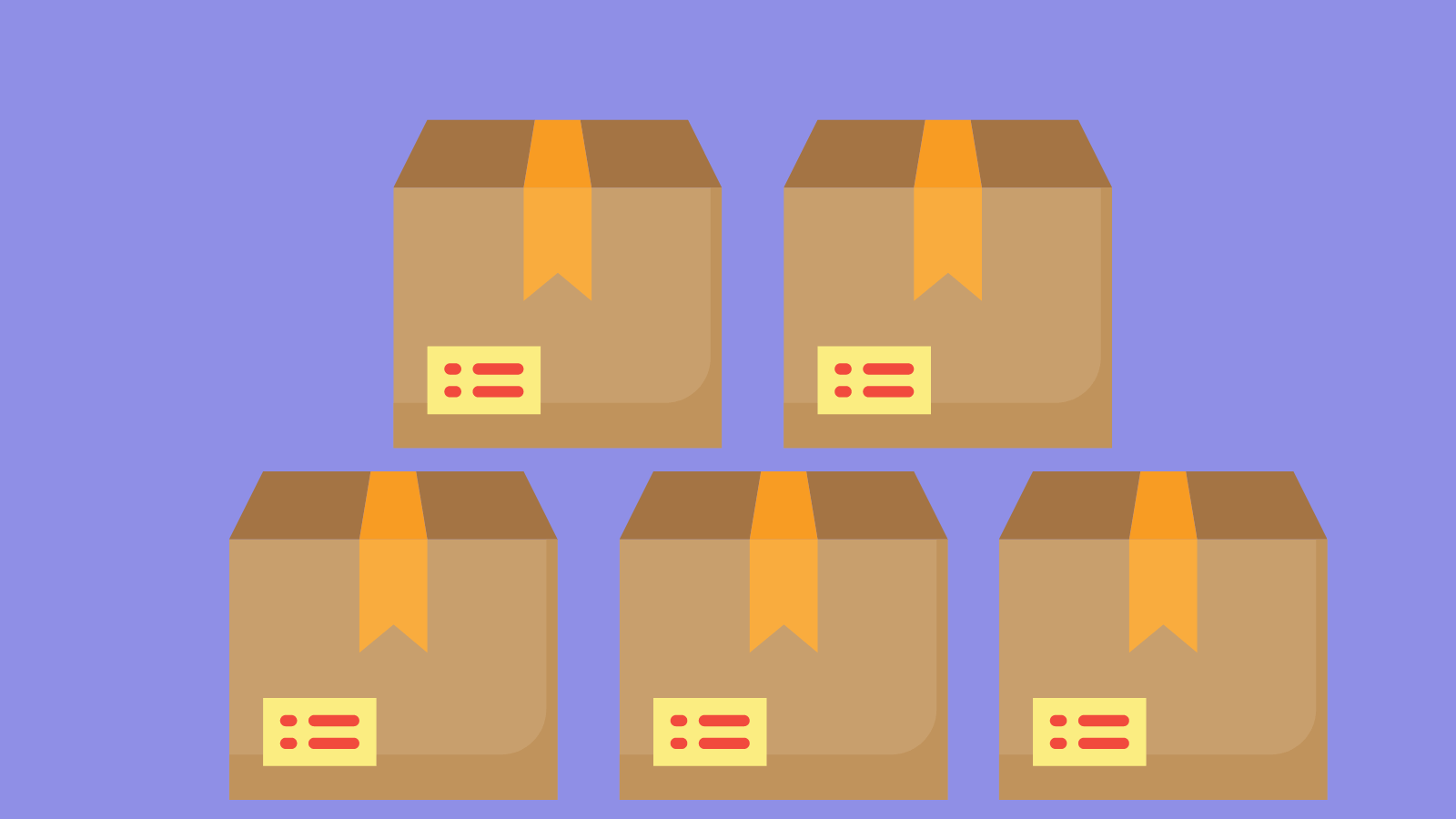 Benefits for Products
US dropshipping suppliers are usually more expensive than Asian suppliers due to the higher costs of labor, rent, materials, and other factors. Those higher costs also come with benefits including:
Higher product quality
"Made in the USA" stamp of approval
Higher retail prices
Higher product quality
US-made products have a reputation for higher quality than products made elsewhere. Higher quality products mean you can be proud of what you sell and customers are willing to pay more.
"Made in the USA" stamp of approval
Getting to stamp "Made in the USA '' on your products and listings can be an effective selling point and set you apart from the majority of dropshipped products and Amazon and eBay sellers.
Higher retail prices
Customers being willing to pay more for American-made products means you can comfortably charge more. That way paying more for the wholesale products doesn't have to mean lower profit margins.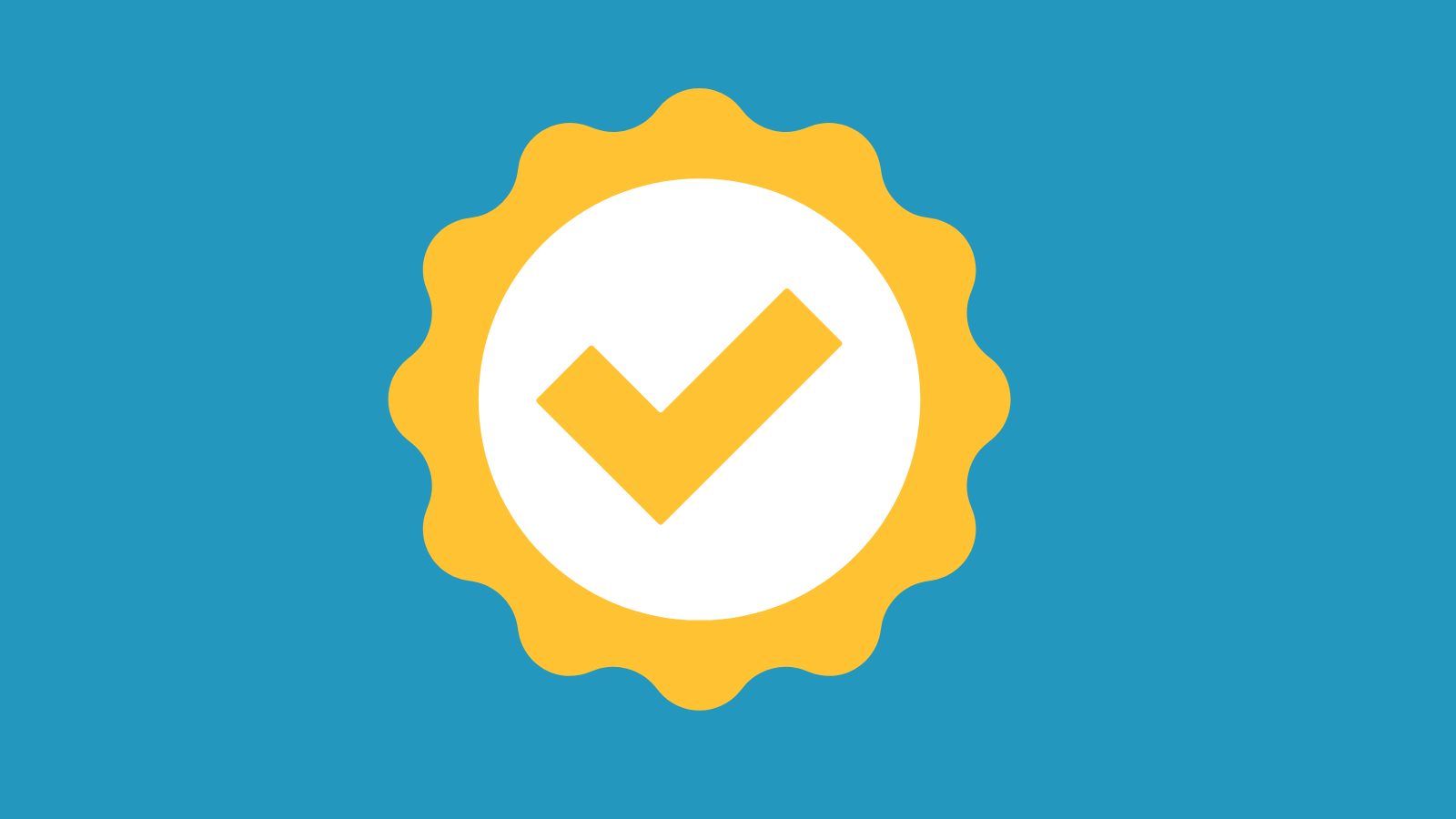 Shorter supply chains
By using suppliers in the USA, your products have shorter travel distances and are more likely to arrive safely. That way you can more confidently dropship perishable and fragile items.
More convenient customer service
Being in the same or nearby time zones as your suppliers makes it easier to contact them when you have questions. That way you and your customers can get issues resolved quickly and efficiently. Language barriers can also sometimes be a problem with overseas suppliers.
Easier return process
Similarly to the faster shipping times, returns are much faster and easier when the supplier is located in the United States. Suppliers in the USA often have better return policies than those located in other countries for that reason.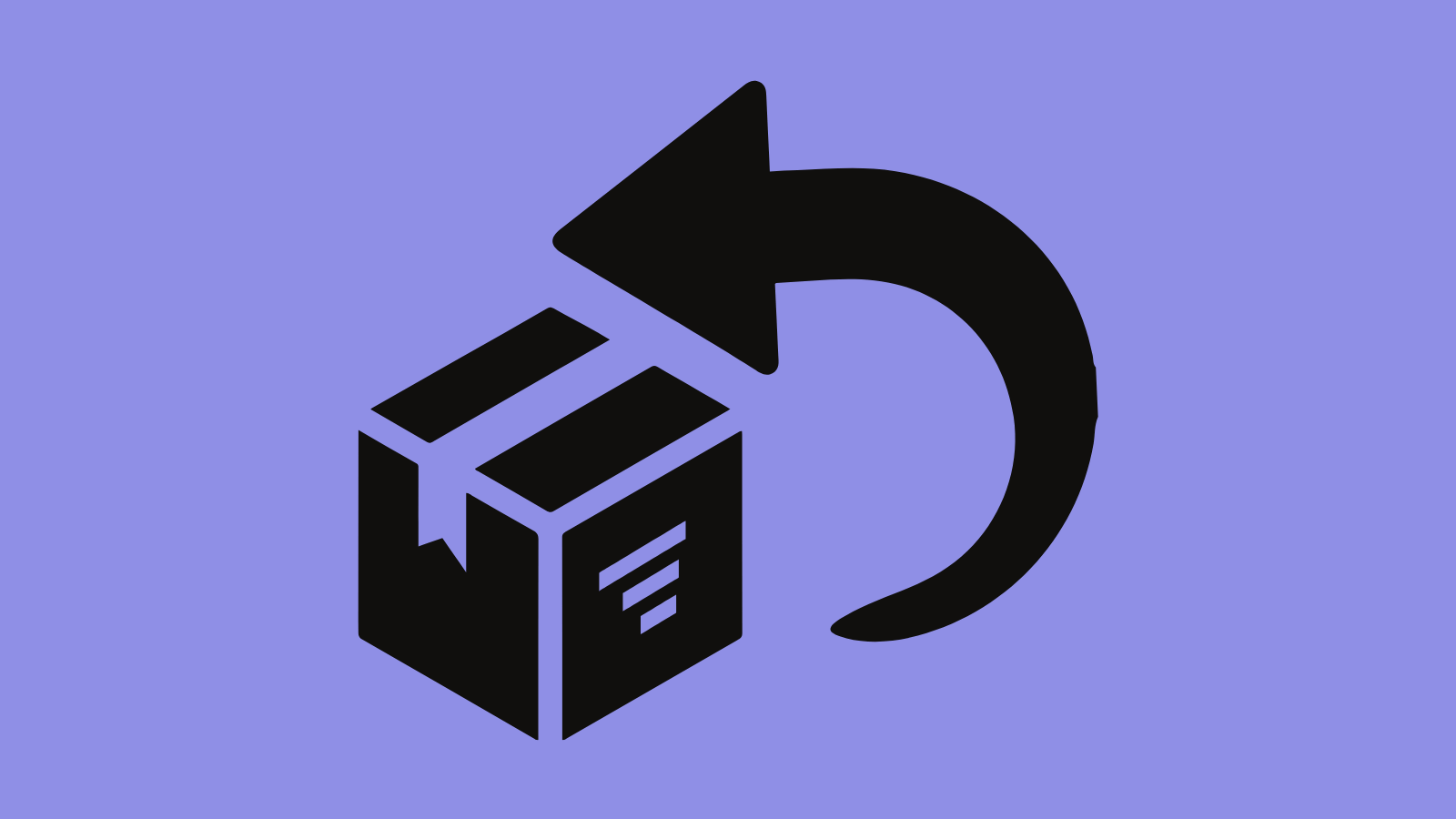 What to Look for When Choosing a USA Dropshipping Supplier
Being based in the United States doesn't guarantee that the supplier will be good. It's important to do your due diligence to vet any supplier before you commit to them.
Be sure to check any supplier for:
Product quality
Experience
Pricing plans
Shipping details
Customer service
Product Quality
Before you start selling a new product, check on the quality. You can get a good idea from customer reviews on-site and on external websites like Trustpilot, but if you can try to get free samples so you can try the products out for yourself before you commit to selling them.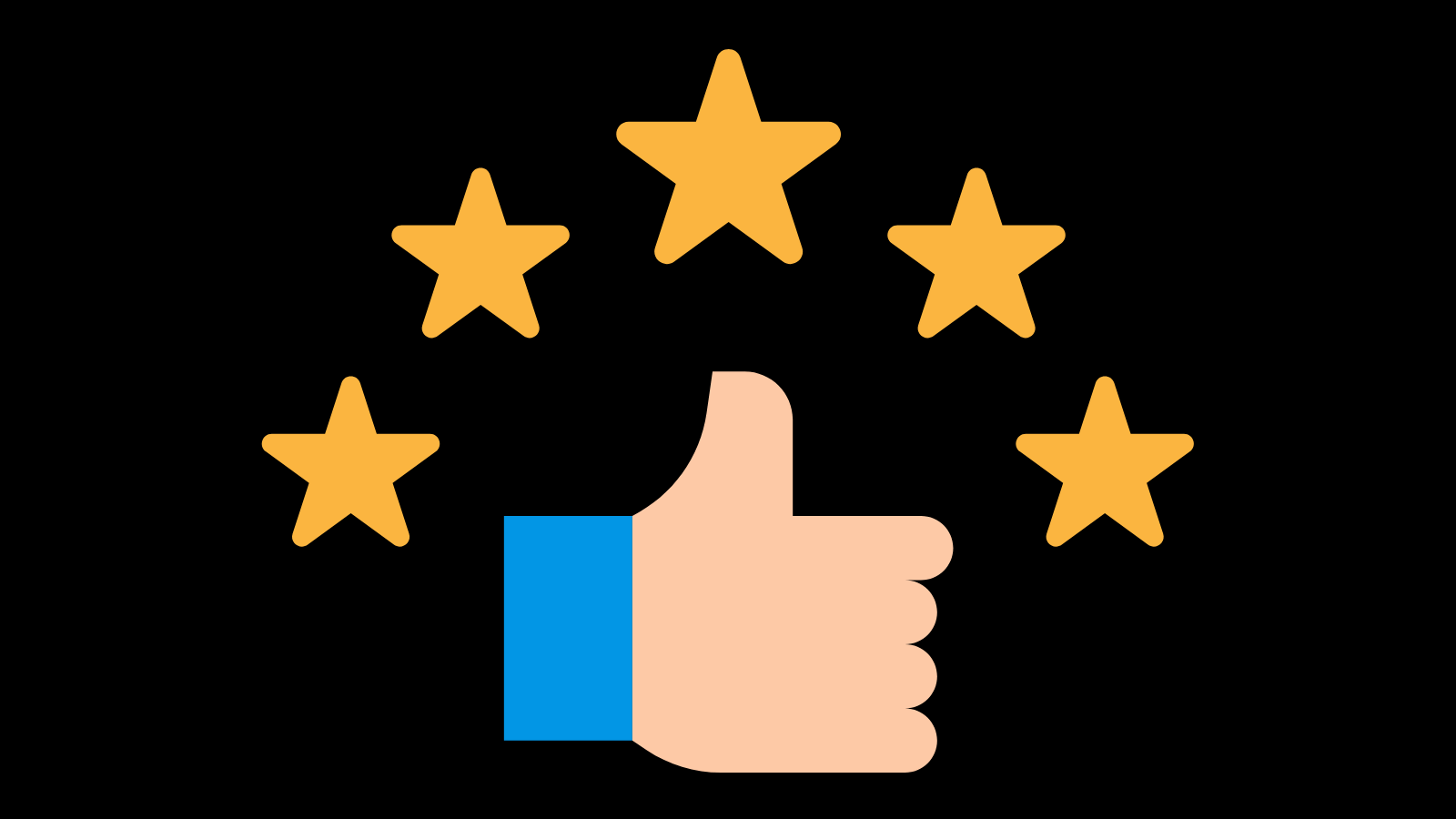 Experience
New businesses start all the time. Dropshipping suppliers are no exception. However, dropshipping beginners should stick to suppliers that have been around for at least two years for the sake of stability.
Pricing Plans
Pricing plans can vary quite a bit between dropshipping suppliers. Some don't charge membership fees at all while others charge over $100 per month. Those charges can really add up. Before you commit to a supplier, compare the pricing points and what you get for your money.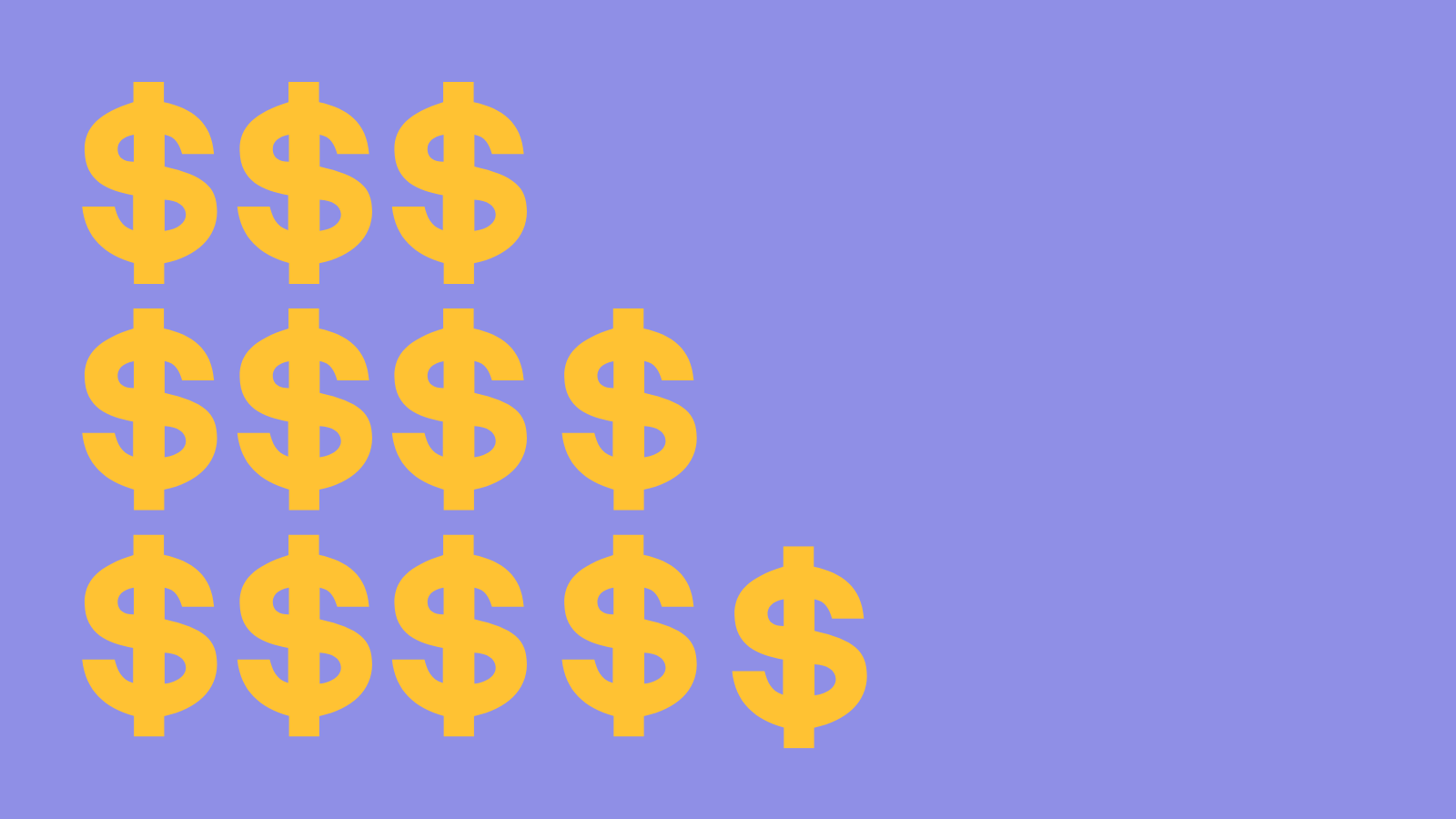 Shipping Details
Shipping times, costs, and providers are huge in the dropshipping experience. Ideally, you want the fastest shipping times, lowest prices, and most provider options available, but you can't always get all three. For high-end products you can often justify high shipping costs by passing them off to your customers.
Customer Service
It's best to evaluate the quality of a supplier's customer support before an issue comes up. No matter how good your supplier is, you're sure to run into problems at some point. Products get damaged in transit. Customers are dissatisfied with the products. These things happen. When they do, you'll be better off if your supplier has a dedicated customer support team, ideally available 24/7.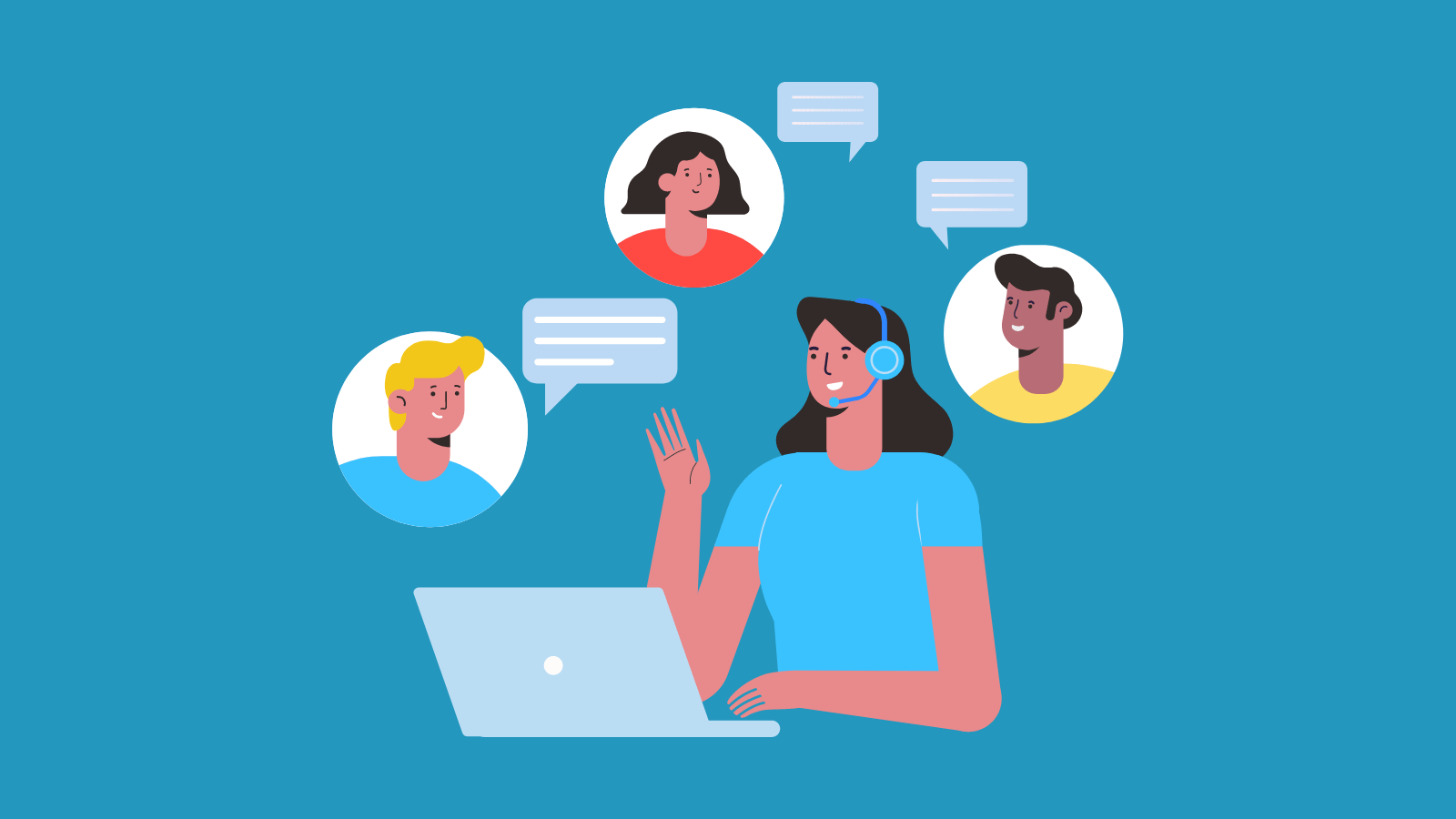 Policies
Refund and return policies can vary quite a bit with dropshipping suppliers. Some accept returns within 14-30 days of the package's arrival and give refunds if you can prove a defect came from the manufacturer level.
What to Watch Out For When Choosing a Supplier
Similarly, here are some things you want to avoid when you're choosing a dropshipping supplier:
Hidden fees

Slow communication

No returns

Bad reviews

No warranty
Additional fees
A reputable supplier will be upfront about the fees associated with using their service. But not all suppliers are reputable. Check for any hidden fees before you commit to a supplier.
Slow communication
Being in nearby time zones is one of the biggest benefits of using a US-based supplier. Make good use of the advantage by using one that has a dedicated customer support team that responds to requests quickly.
No returns
If a supplier doesn't have a return policy, run the other way.
Bad reviews
Any company can make promises about shipping times and product quality. That doesn't mean they follow through on them. Read through the customer reviews of any supplier you're considering working with. If they're bad, don't use that supplier.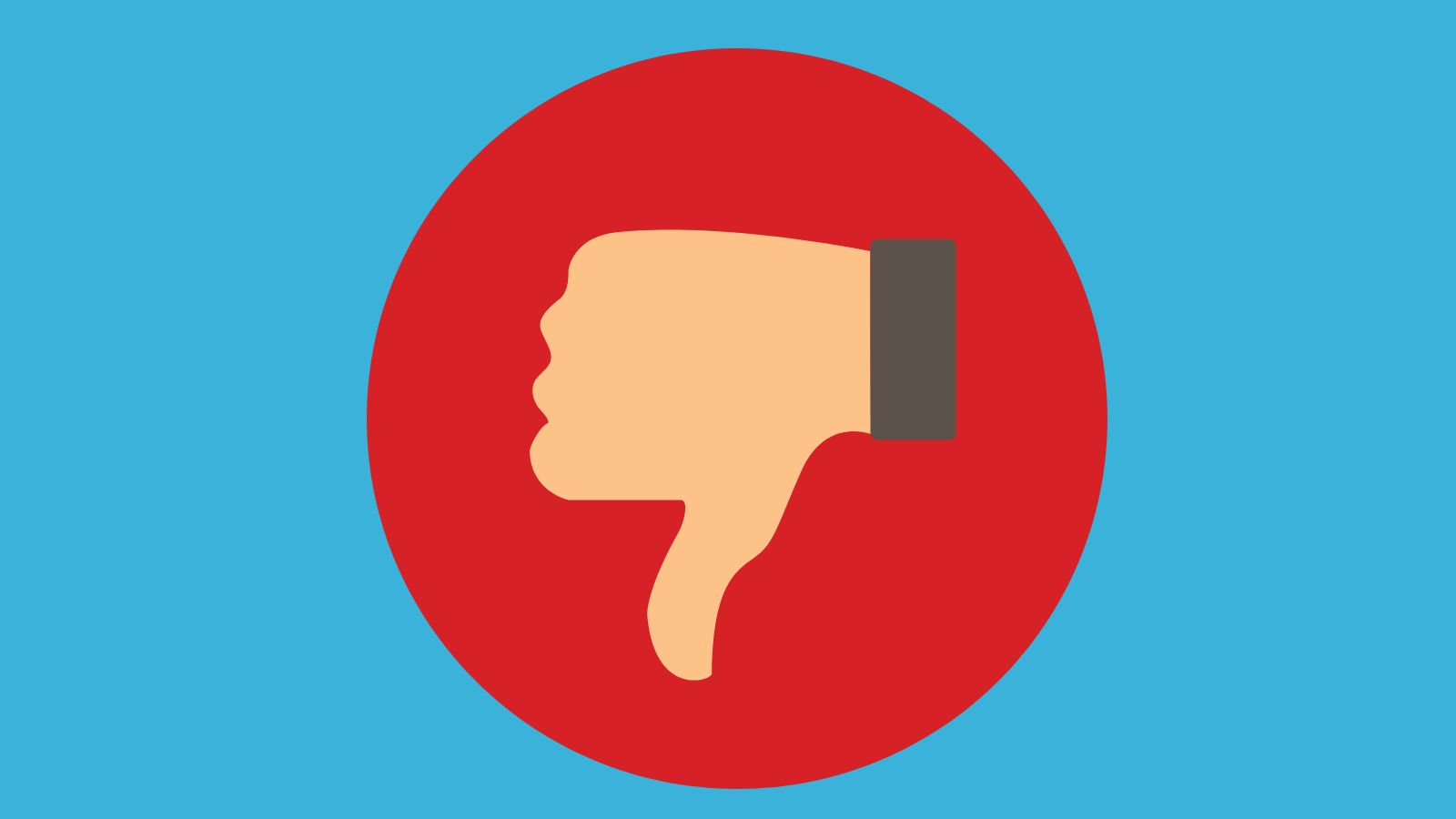 No warranty
If you're planning to dropship high-end products, only use suppliers that have a warranty. You don't want to eat those costs in the case of a manufacturing defect.
The Best General Dropshipping Suppliers in the USA
Sellvia's California warehouse gives them a 1-3 day delivery time across the country. Their product catalog includes
Fashion
Gadgets
Pet products
Kids and baby
Sports
Home
Health
Crafted
Auto
Their in-house dropship experts who can help with niche research, product selection, SEO, and more make them a great choice for dropshipping beginners who need a little guidance.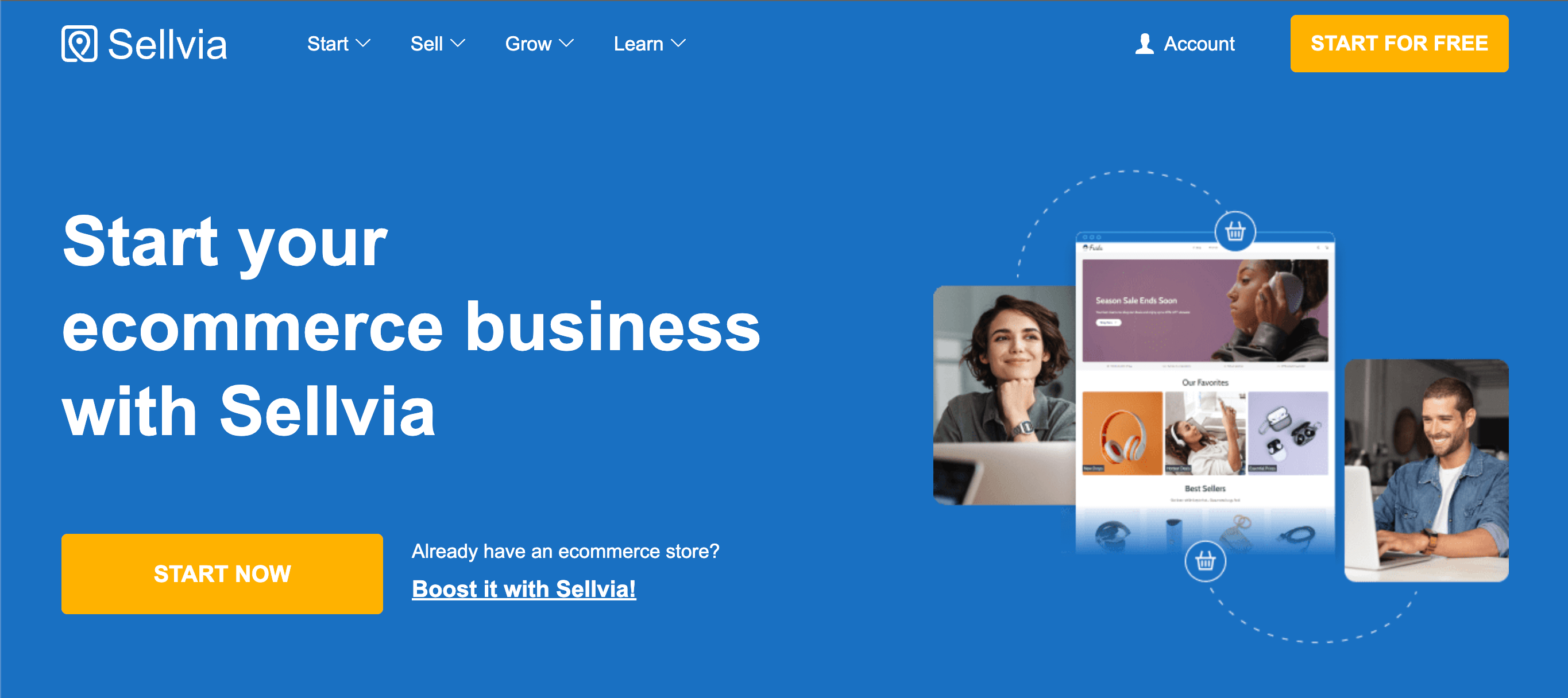 Wholesale2B boasts over a million dropship products from clothing to electronics. They integrate with ecommerce platforms like Shopify, Woocommerce, Magento, Google, Facebook, and Weebly to make it easy to seamlessly sell products. Their product data includes Amazon and eBay prices for comparison and you can sign up for notifications of pricing changes.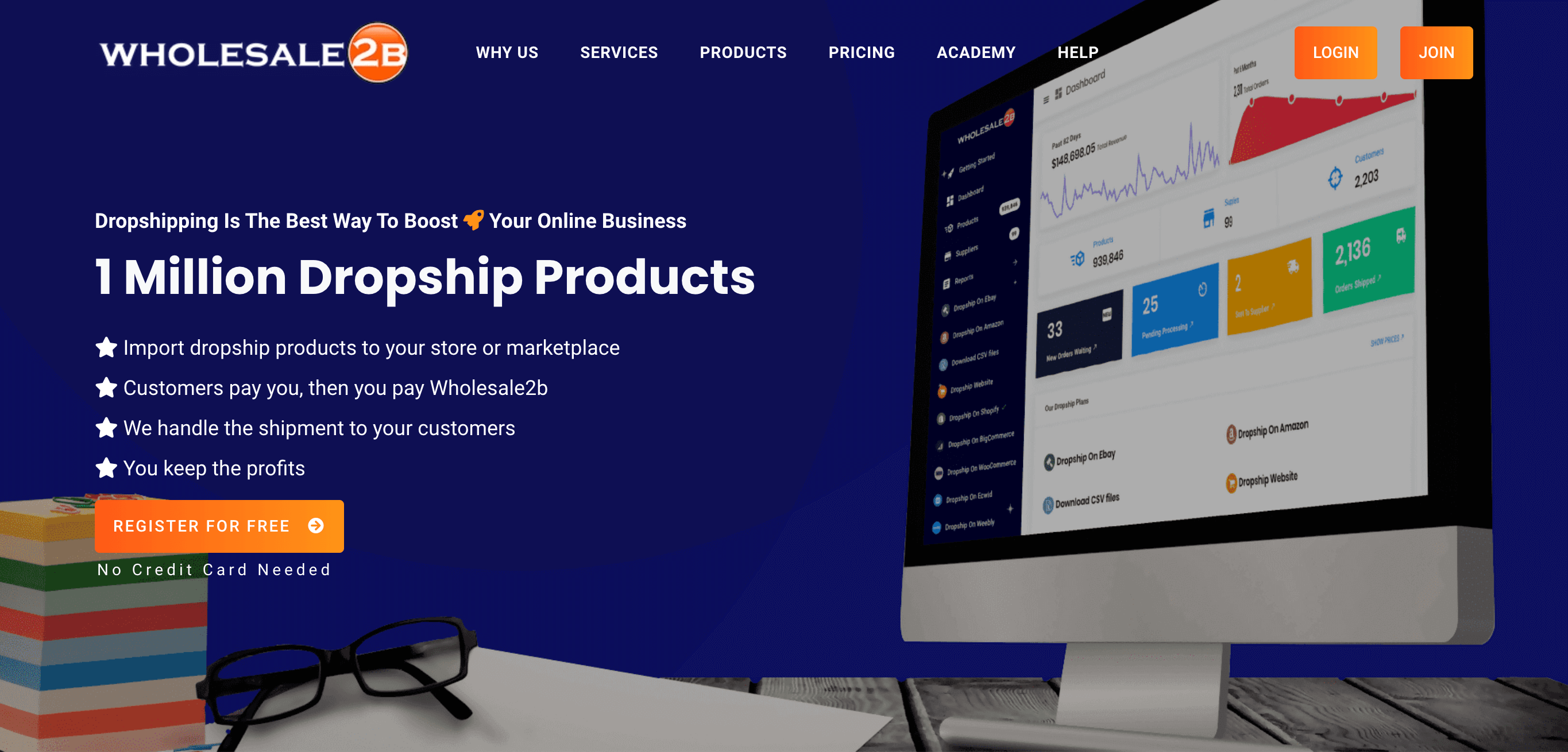 Spocket offers products from the following categories:
Women's clothing
Health and beauty
Kids and babies
Pet care
Home and garden
At 30 to 60% cheaper than retail prices. Their product importing process is completely automated and they integrate with most ecommerce platforms including Shopify, Woocommerce, Wix, Alibaba, Bigcommerce, Squarespace, and more. Sprocket's user-friendly inventory feed and upfront display of listing costs and retailer prices also make them a convenient choice.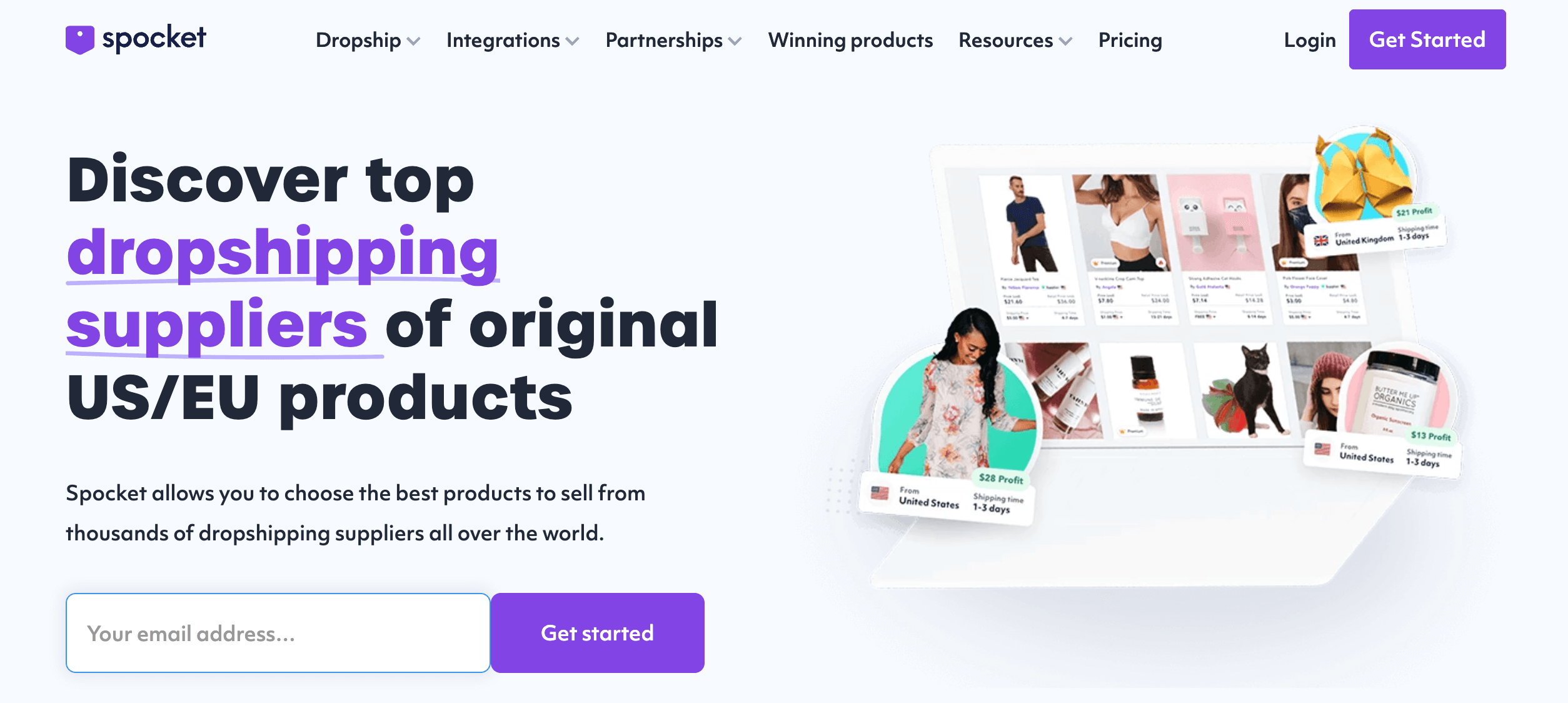 Modalyst boasts a product catalog of millions of products with a focus on designer brands, eco-friendly products, and private label manufacturers. Their automation makes it easy to process orders and their regular inventory and product updates make it easy to stay on top of which products to promote.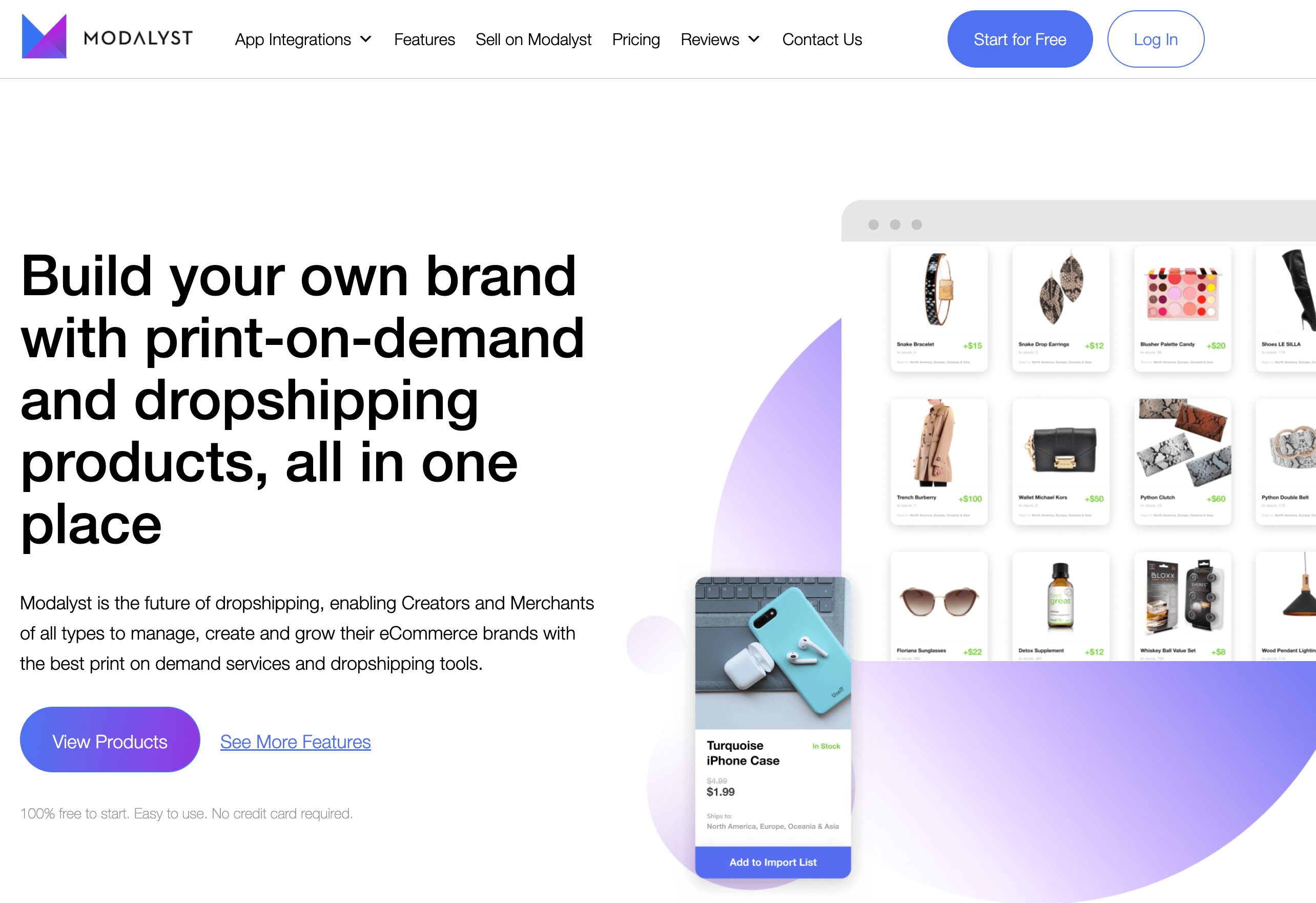 Salehoo is a supplier directory of over 8000 dropship and wholesale suppliers that sell everything from books to clothing to beauty products. Their lab tool can help you find the most popular and highest profit margin items. Retailers can also directly negotiate prices with suppliers. They also have a great refund policy. If you're not happy with their service for any reason, they'll give you your money back within 60 days of your order.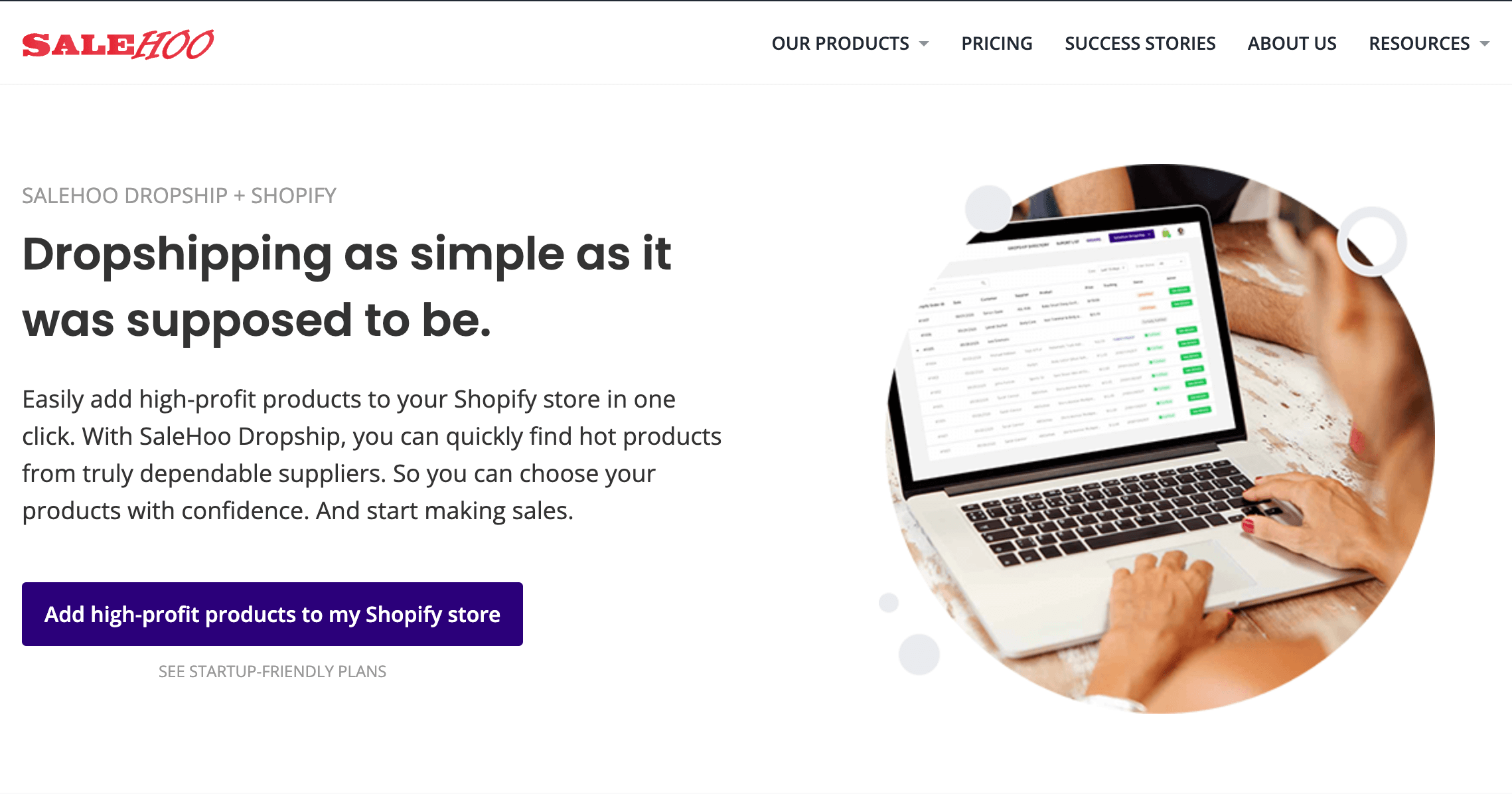 Dropified lets you source products from both the US and China. Their tools allow you to fulfill orders with one click, do product research on-platform, directly import customer reviews, and more. Dropified also has a Private Label on Demand collection, including FDA-approved health and beauty products.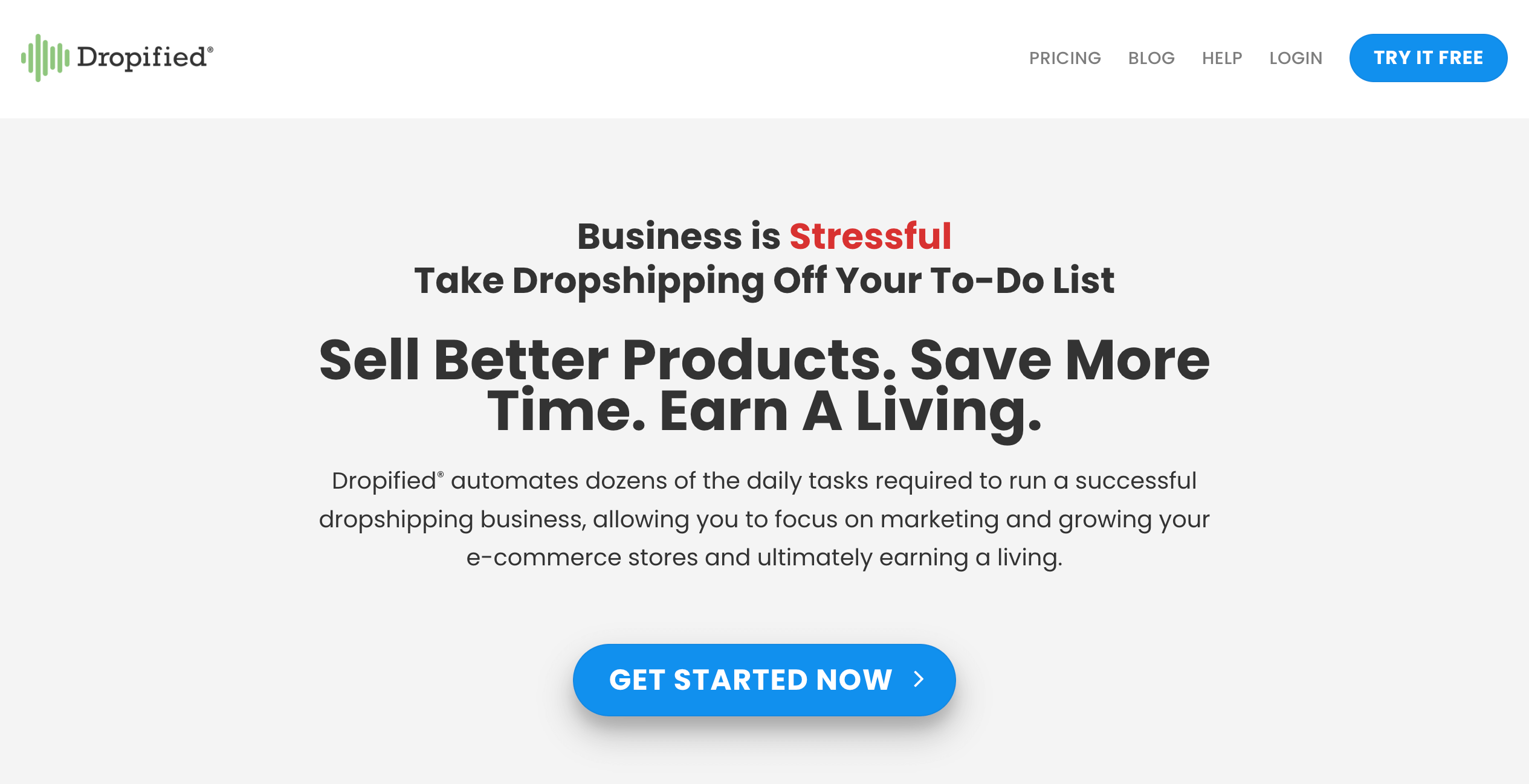 DropCommerce's hand-picked product catalog boasts over 8500 brands based in the US and Canada. Their product categories include clothing, food, home decor, sports, and more. Their notable features include integrations with ecommerce stores, stock updates, product samples, and customizable invoicing so customers will see your brand name on their packages.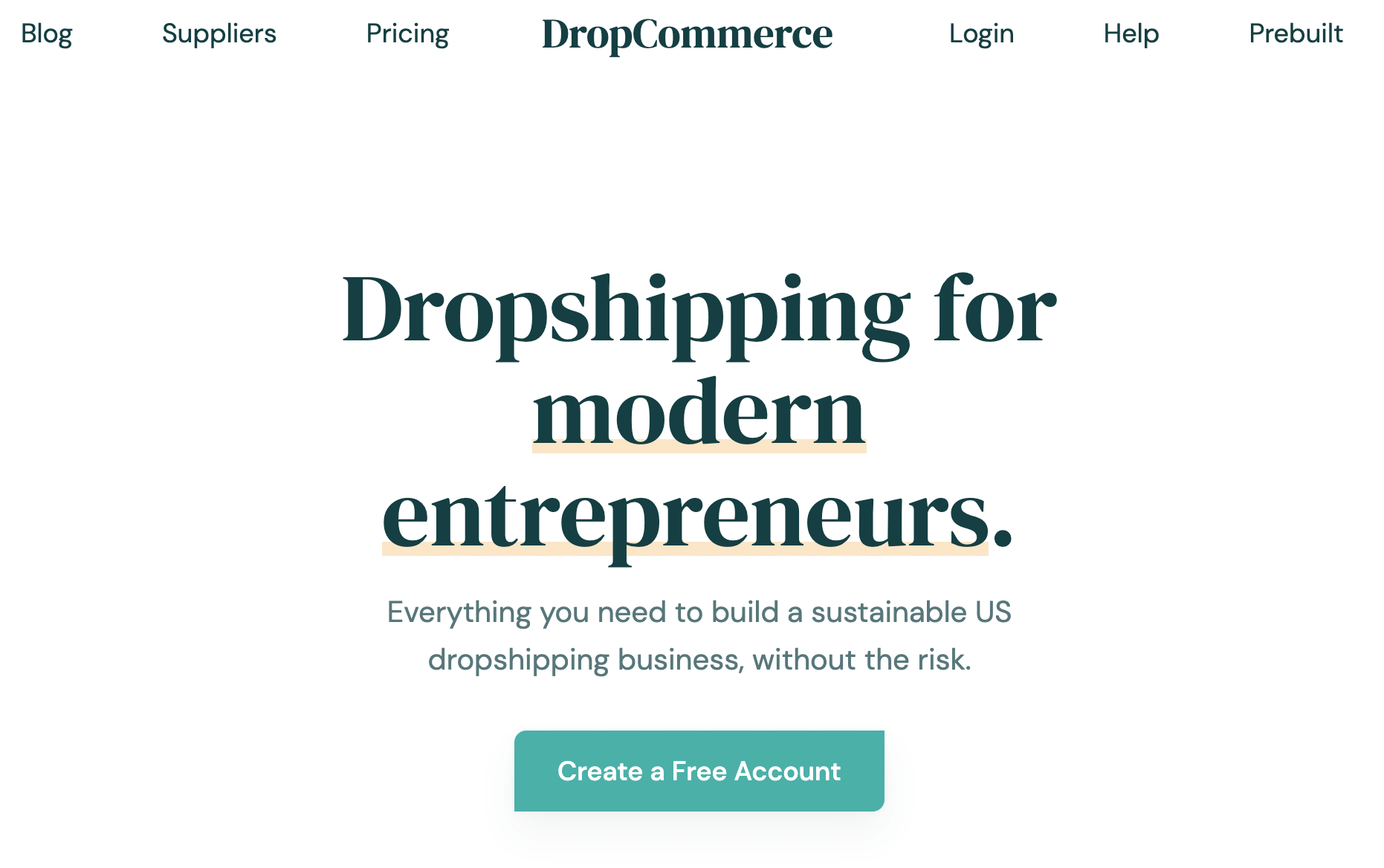 Sunrise Wholesale's offers over 30,000 products in 20-plus categories. Depending on the ecommerce platform you integrate with, you may be able to automate the entire dropshipping process. Their user-friendly interface makes it easy to research products, create listings, track orders, and more.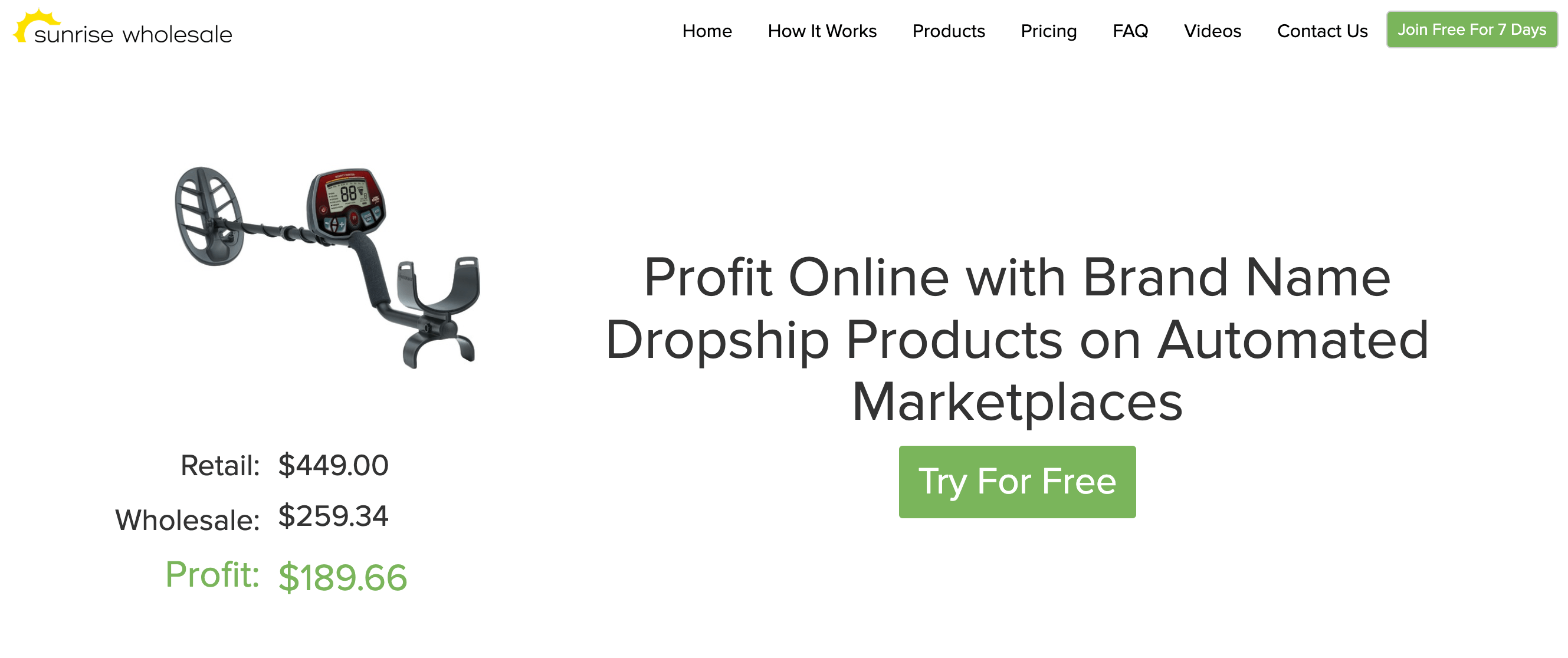 Worldwide Brands is a wholesale curator with millions of products that they go the extra mile to certify. Customers pay a lifetime fee to access their list of suppliers who they can contact on their own. Users can trust that every supplier on the platform is reputable, but the downside is that you have to do everything manually. That makes Worldwide Brands a more difficult option for beginners.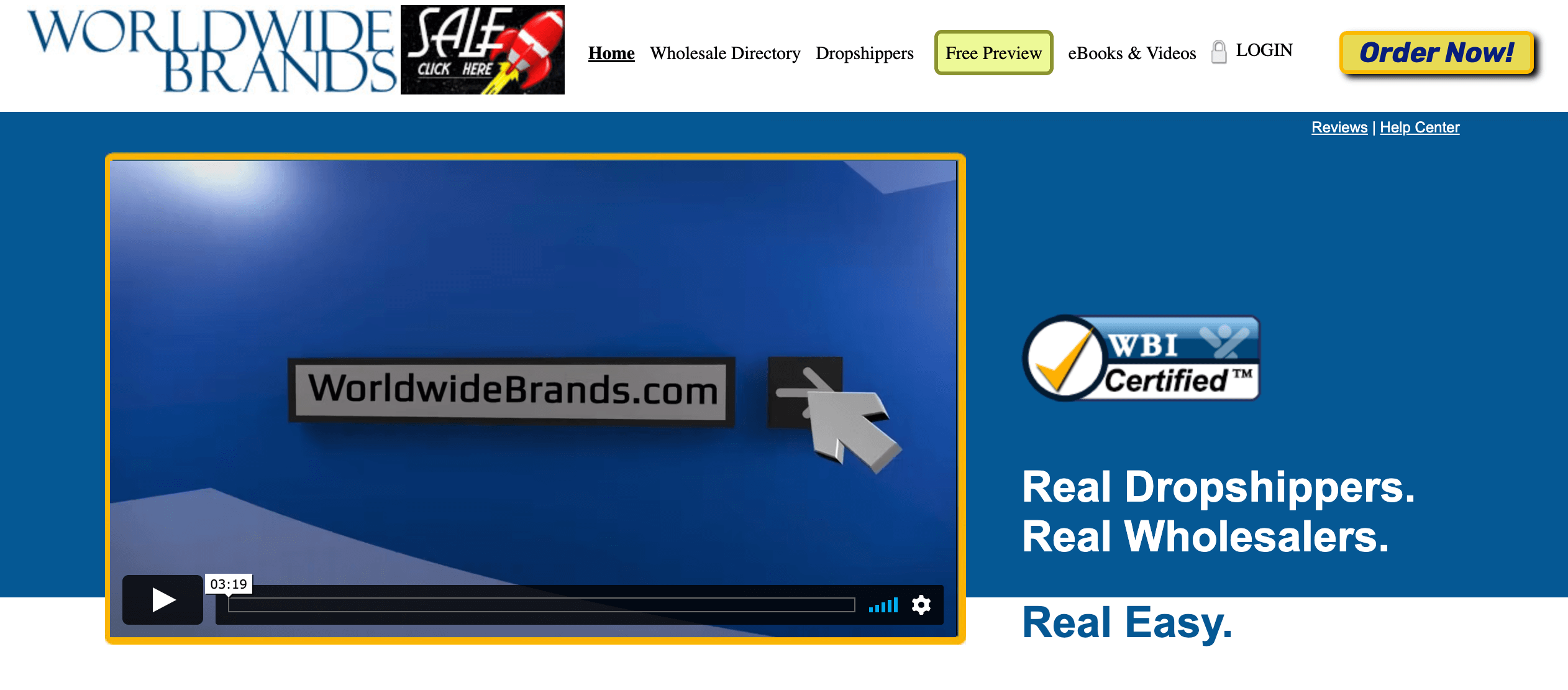 Doba is a directory of manufacturers and wholesalers that allows users to grab the products they want from multiple suppliers on one interface. The platform contacts the supplier and sends the product to the customer. Doba also offers automation services and data export tools for exporting products in bulk.

Inventory Source stands out against other dropshipping platforms for its full automation service. The feature lets you sync suppliers and products to your ecommerce store, automatically place orders, receive tracking notifications for you and your customers, and more. Access to their supplier directory of over 4000 dropshippers and wholesalers is completely free.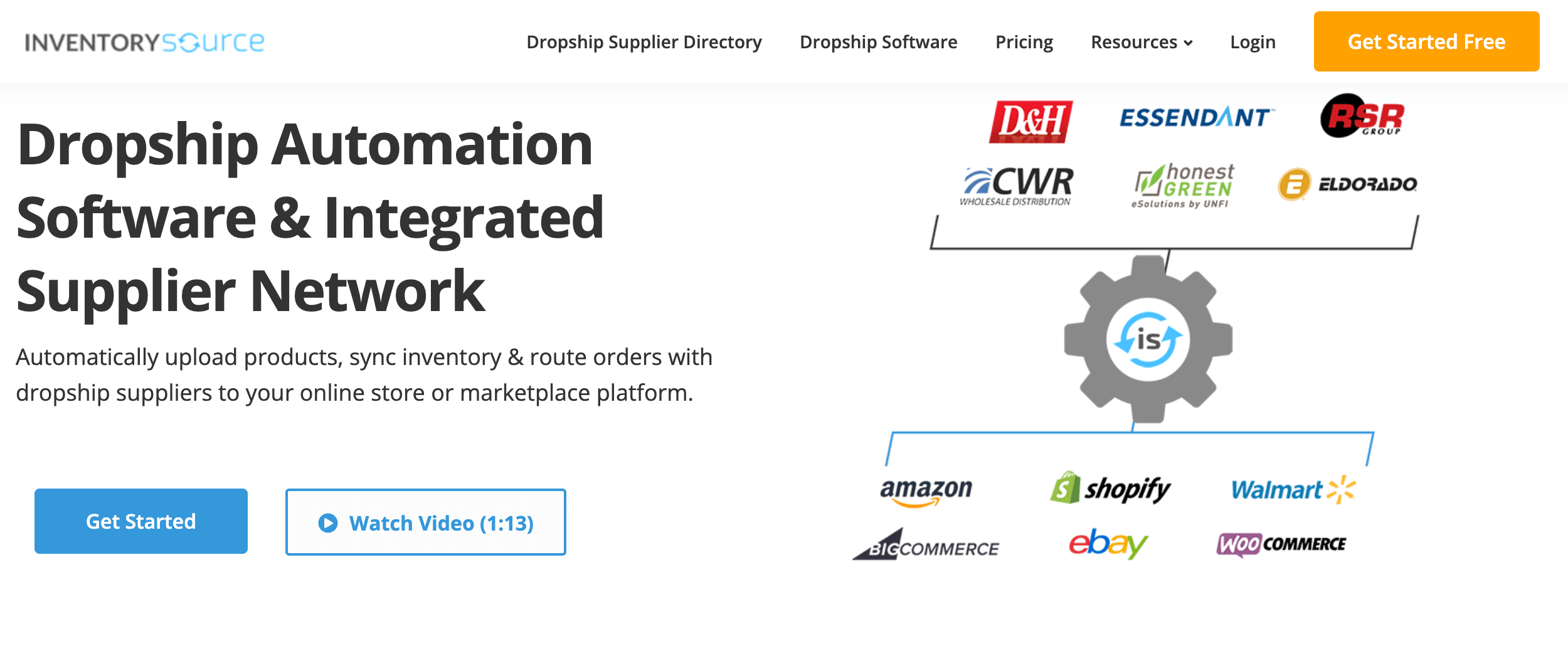 The Best Dropshipping Suppliers in the USA for Profitable Niches
If you're looking for a US supplier that specializes in your product niche, look no further than these providers for
Beauty, health, and personal care
Fashion and jewelry
Home and furniture
Pet supplies
Electronics
Beauty, Health and Personal Care
Beauty Joint supplies name brands like L'Oreal, Maybelline, E.L.F, Milani Cosmetics, and more in a straightforward dropshipping program. Dropshipping orders are shipped from Los Angeles in 1-3 days while wholesale orders are shipped in 2-4 days.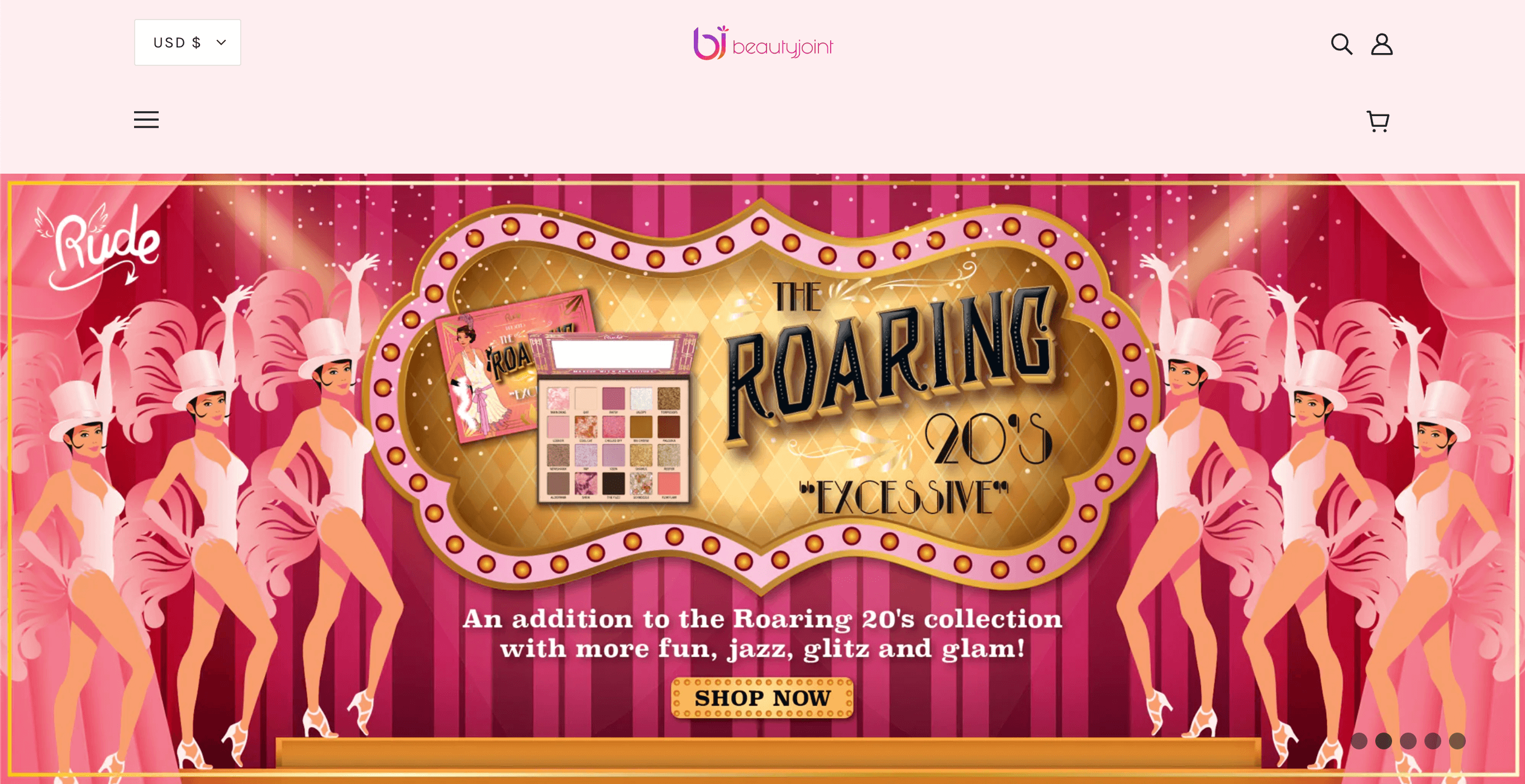 DRHC cosmetics produces organic and vegan beauty products in their small lab in California. They also offer white label shipping services and customizable invoicing. They also promise that all shipping and handling is done within 3 days.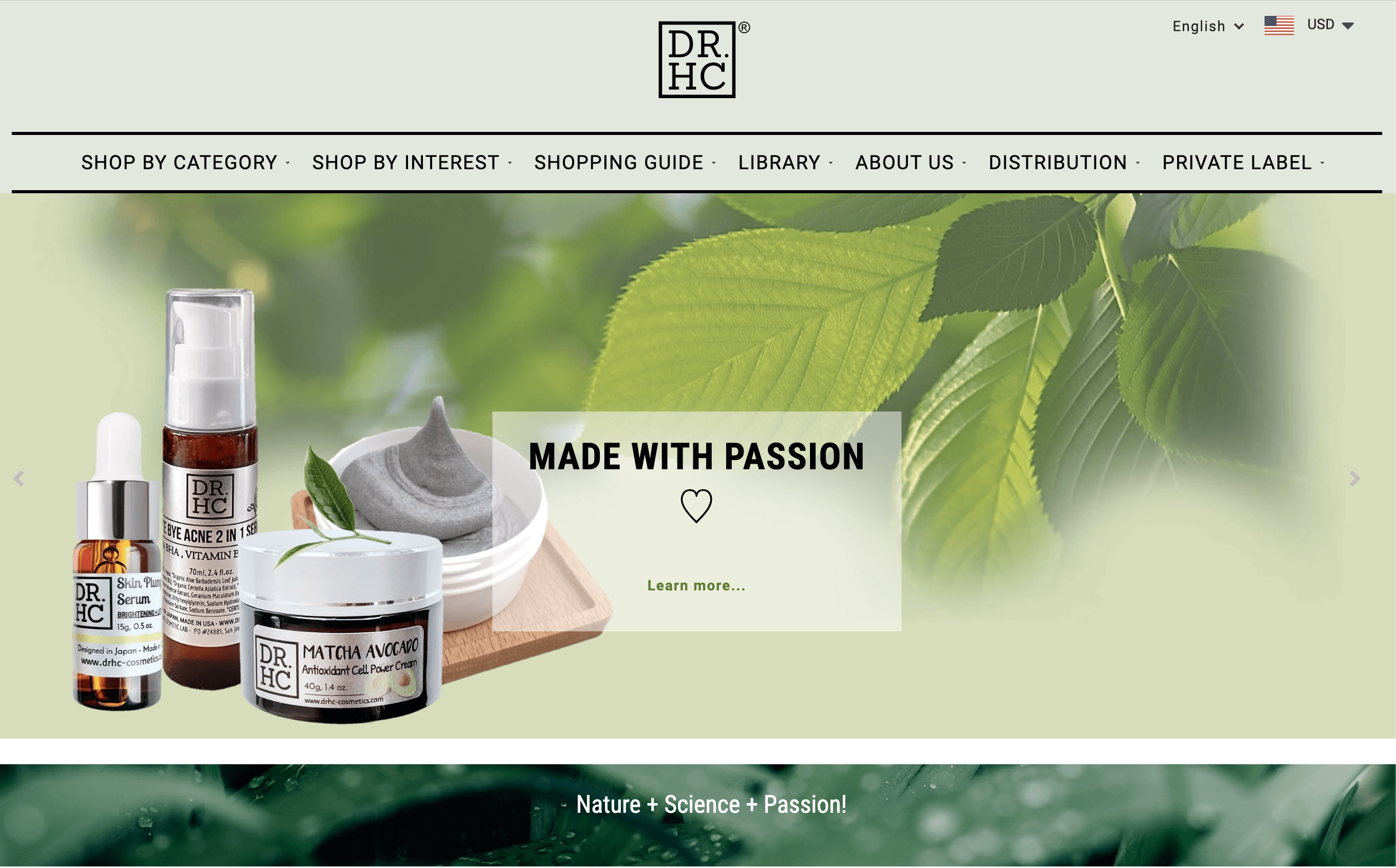 Fragrance net us a huge name in the beauty dropship market. They sell perfumes, skincare products, hair care products, aromatherapy and candles. Basically anything that can make you and your space smell good. Many of their 17000 + products come from high-end brands. Notably, they have no membership fee requirements.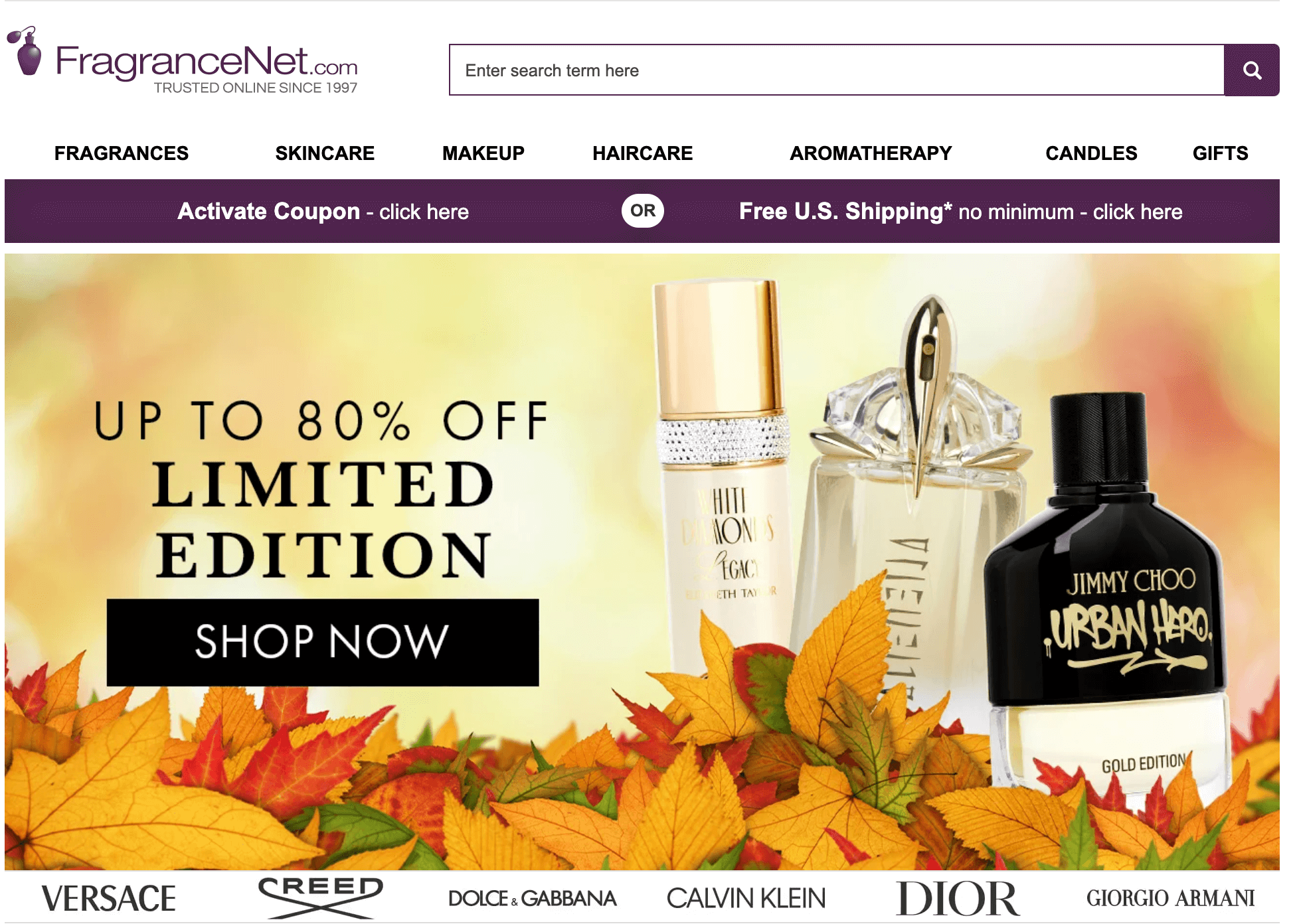 Greendropship has three warehouses across the United States where they ship more than 20,000 natural and organic beauty products. That way they can ship anywhere in the country within three days. If you use one of their many ecommerce platform integrations, you can use their inventory feed updates and auto-import feature.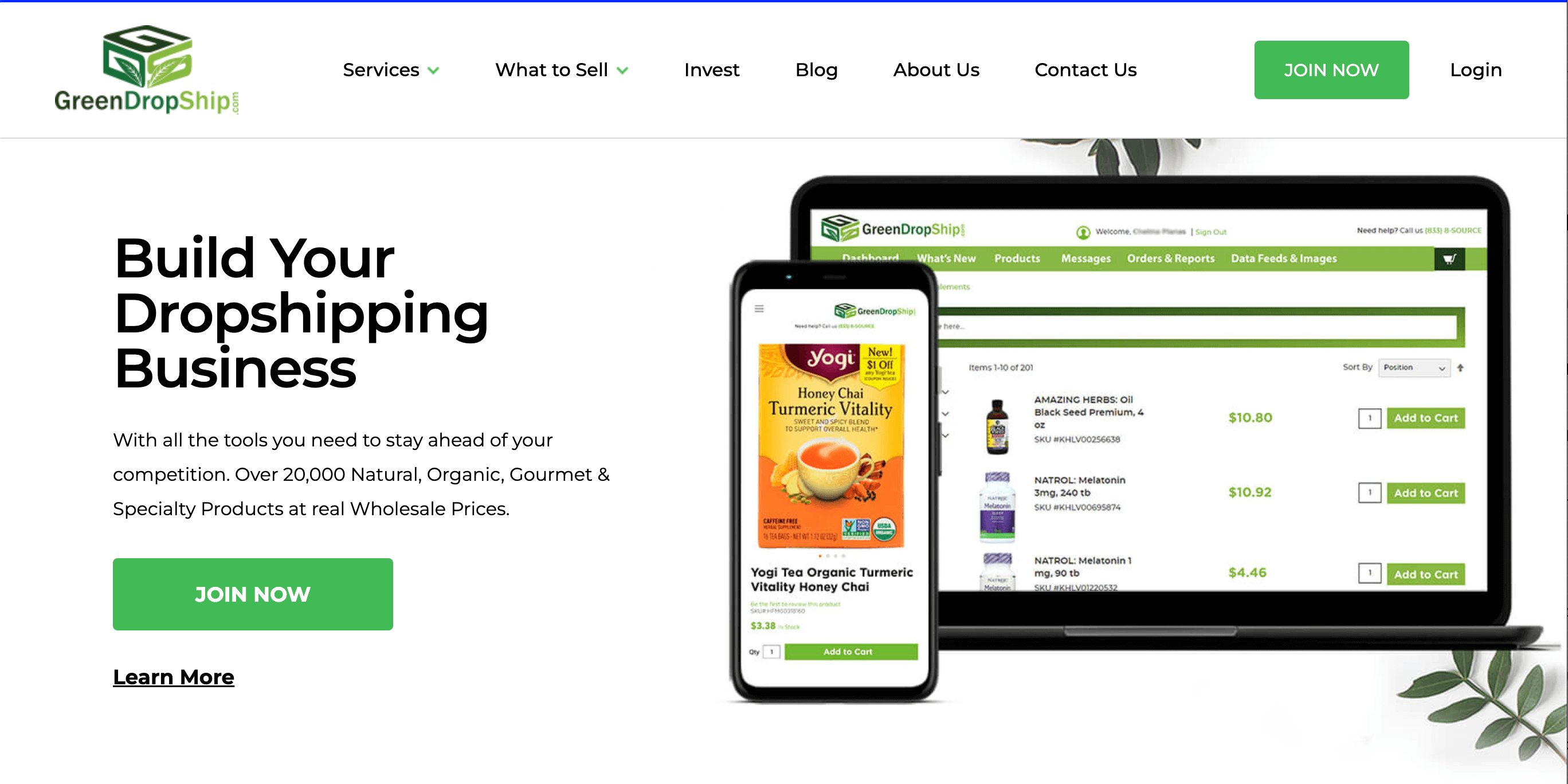 ISO beauty focuses on hair care products that they produce themselves in California. They offer product samples, no minimum order requirements, white label shipping, and international shipping without requiring any membership fees.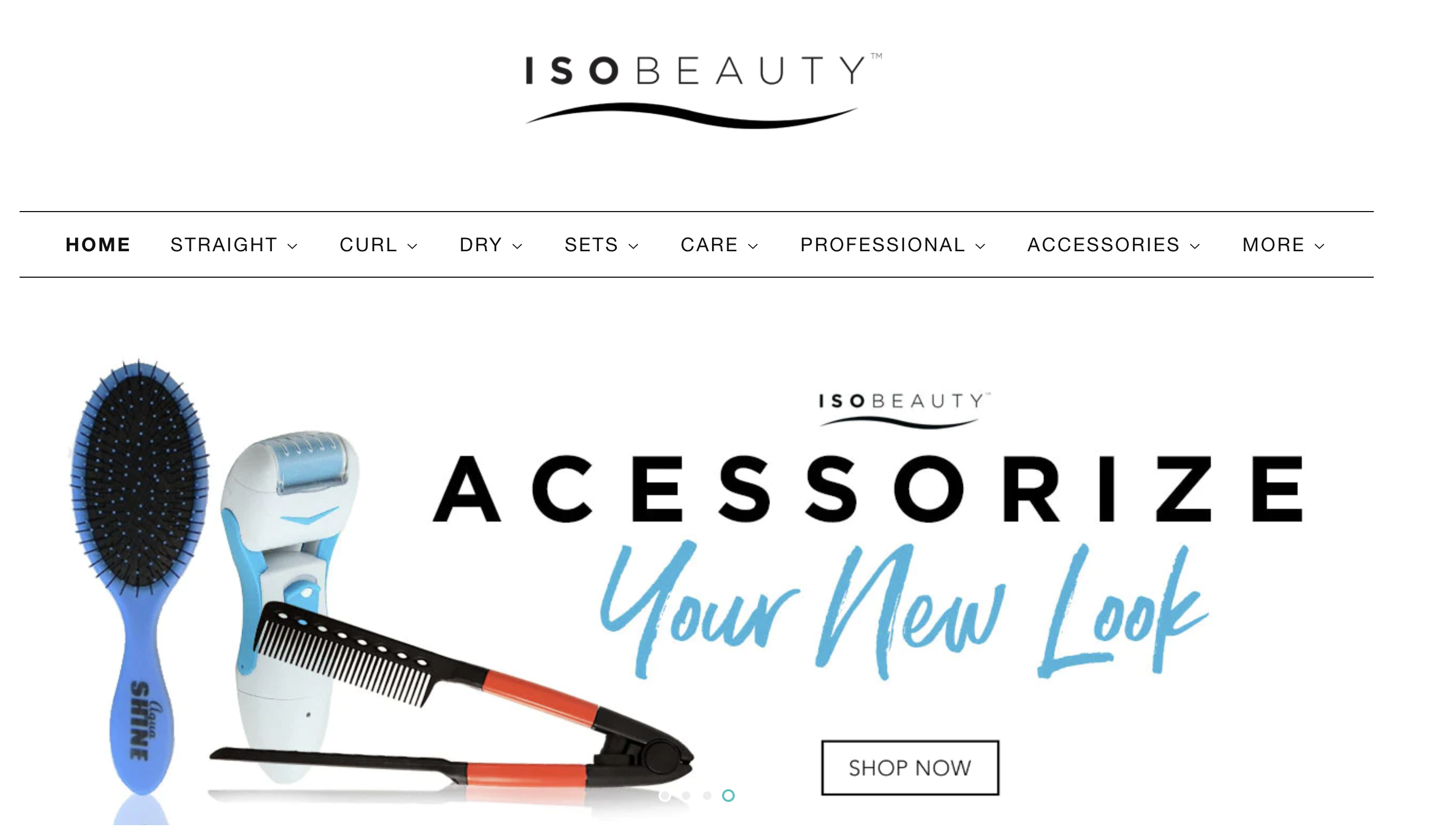 Esutras produces USDA certified organic botanical products from bath salts to oils and spices in Chicago. All wholesale orders above $450 are eligible for a 35% discount. There are no ongoing membership fees, but they do charge a on-time fee of $300. Esutras also offers worldwide shipping and a white label service.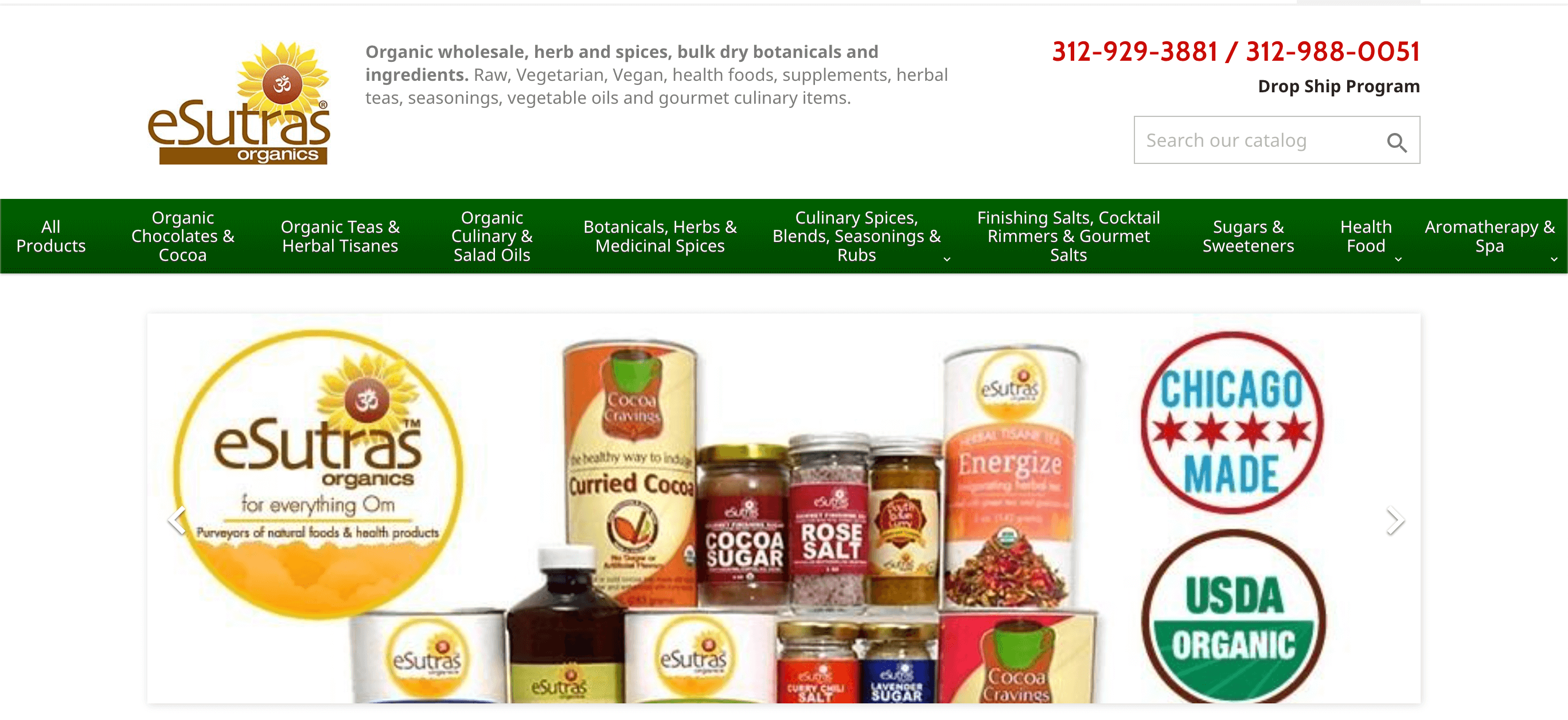 Fashion and Jewelry
Tashaapparel carries trendy, affordable women's clothing for wholesale and dropshipping. Shipping typically takes 4-7 business days. There are no fees to join their dropshipping program, but you do have to provide a business license to register.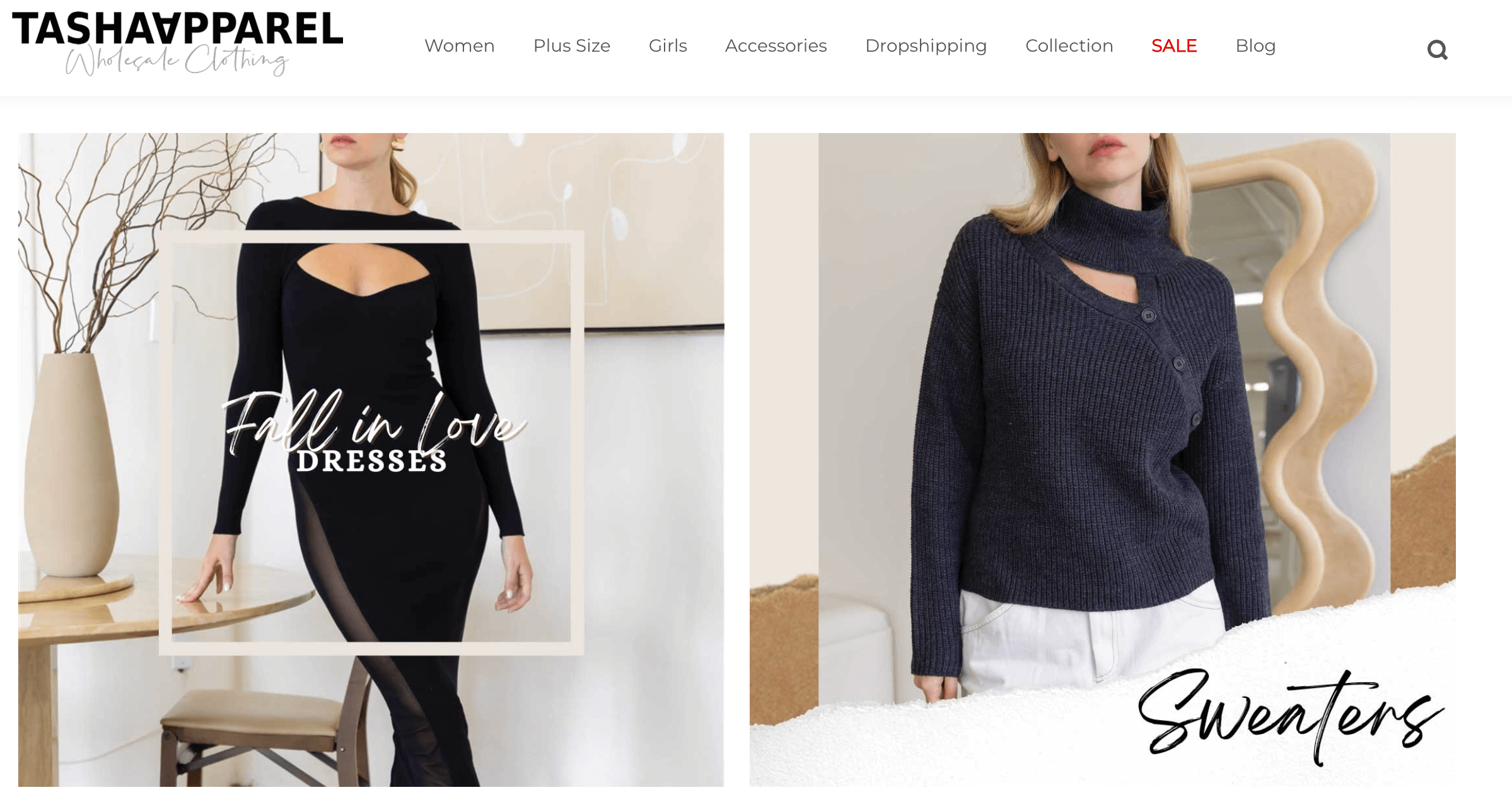 A4 is a wholesale supplier specializing in sportswear. You can browse products by sport. Their clothing is designed and cut at their Los Angeles headquarters and picked, packed and shipped at their warehouses in California and Missouri. This means they can ship anywhere in the country in 1-3 days.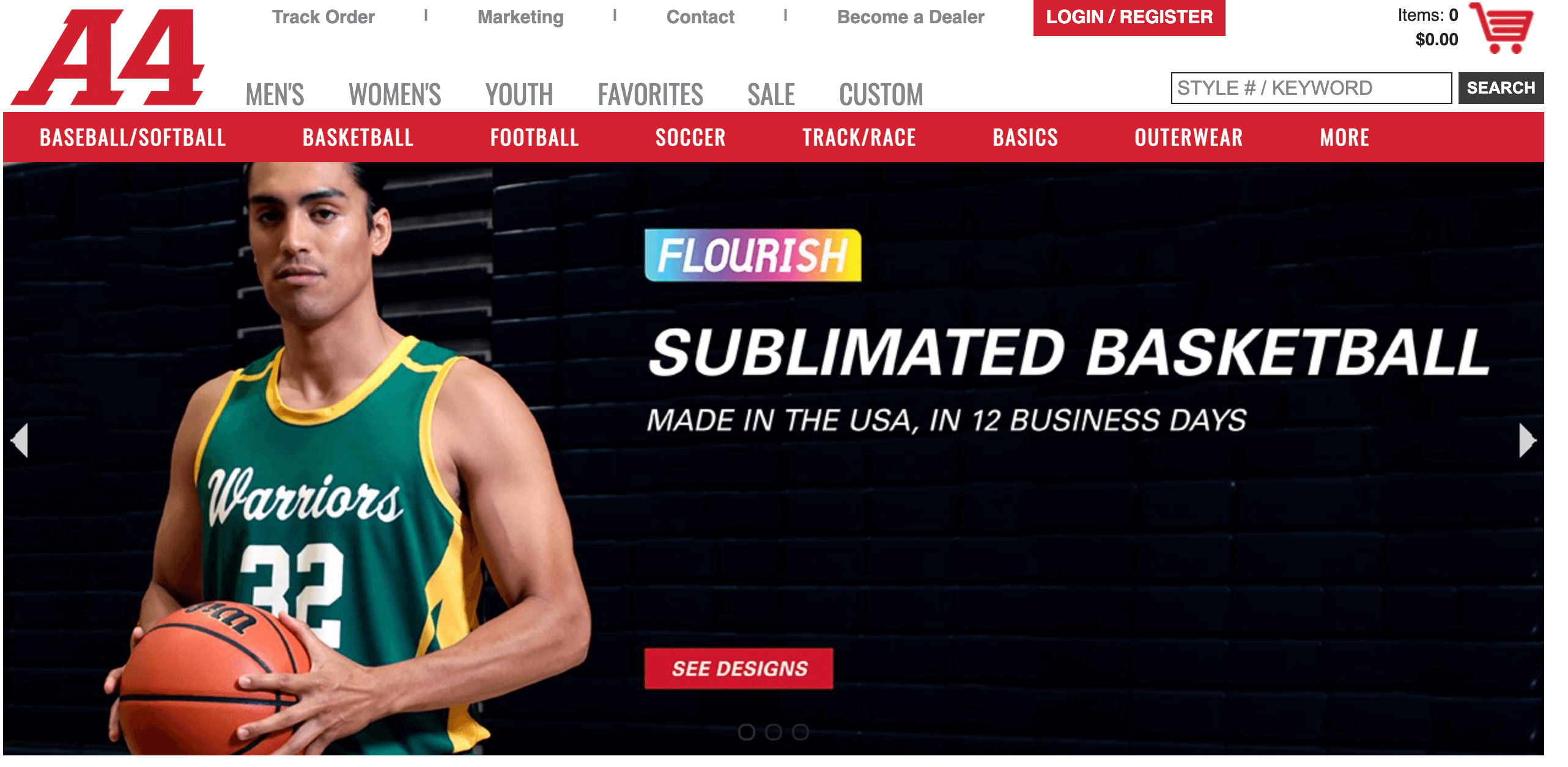 Brandsgateway is a dropshipper of over 100 high-end fashion brands including Dolce & Gabbana, Versace, Calvin Klein, and more. Every retailer who uses the platform is paired with a personal account manager to help with online store management, marketing, SEO, and more. You can visit their warehouse in-person to see the quality of their products yourself. However, all these benefits don't come cheap. Their membership fee is $341 per month.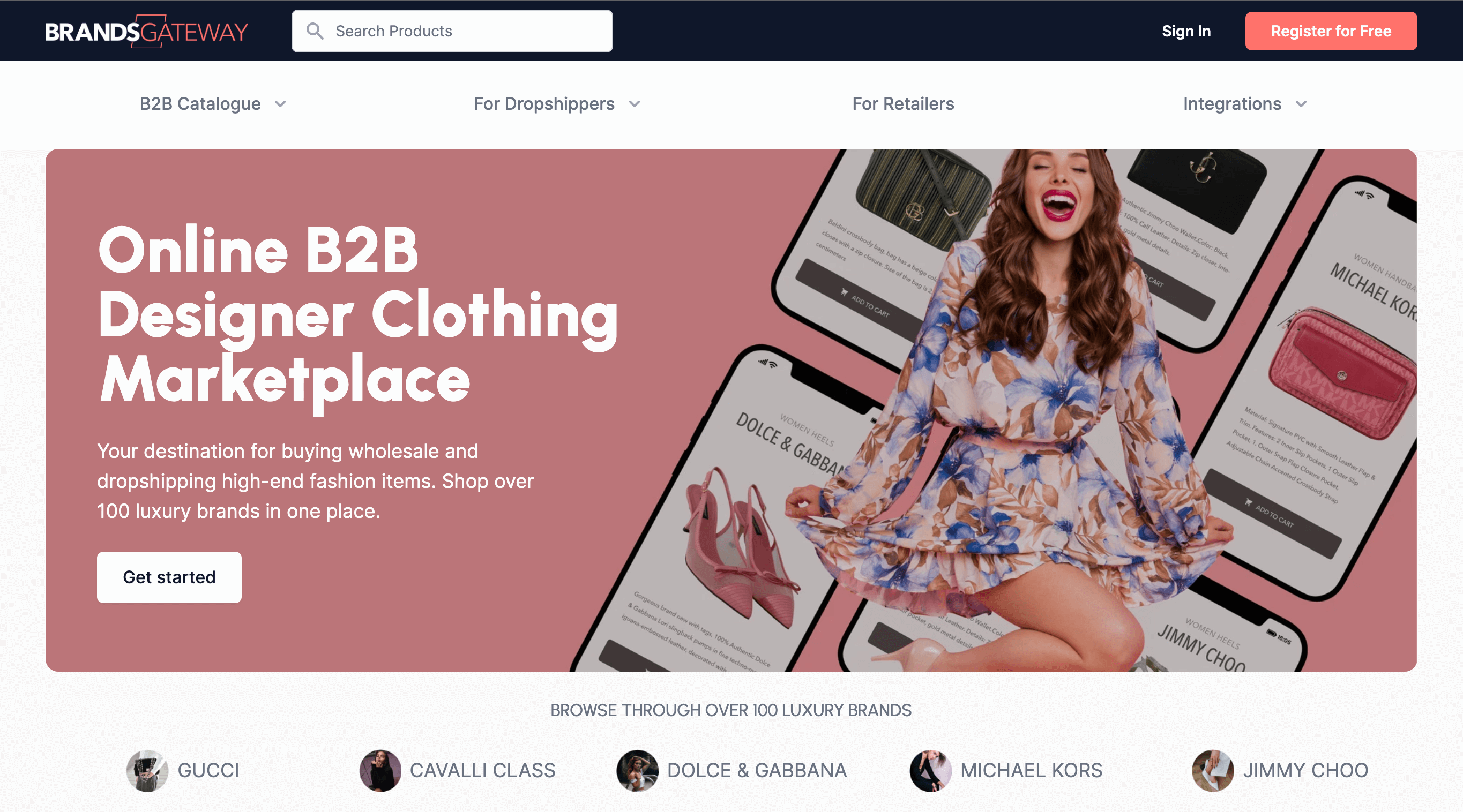 Brands Distribution is a huge name in US dropshippers of luxury clothing and accessories. The 120 brands they offer include names you know and love like Adidas, Nike, Armani, Fendi, and Dr. Martens. One of their tools lets users import products to your online store on one user-friendly dashboard.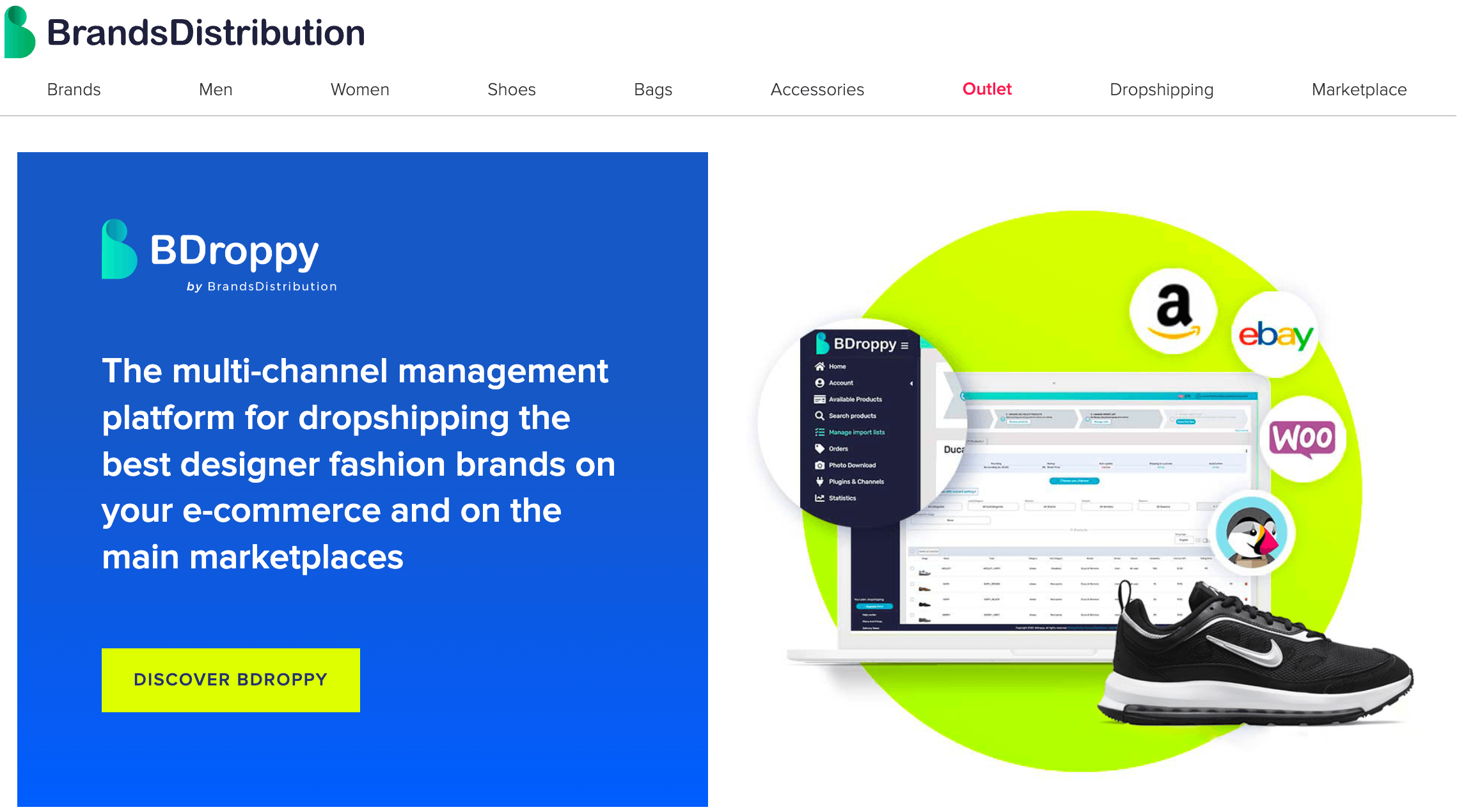 New York-based wholesaler Alpha Imports specializes in jewelry and gemstones. Their website may look dated, but it's easy to navigate to dropship diamonds, precious gems, semi-precious gems, jewelry, and watches. They ship all orders 24-48 hours after they're placed and have a 30 day refund period.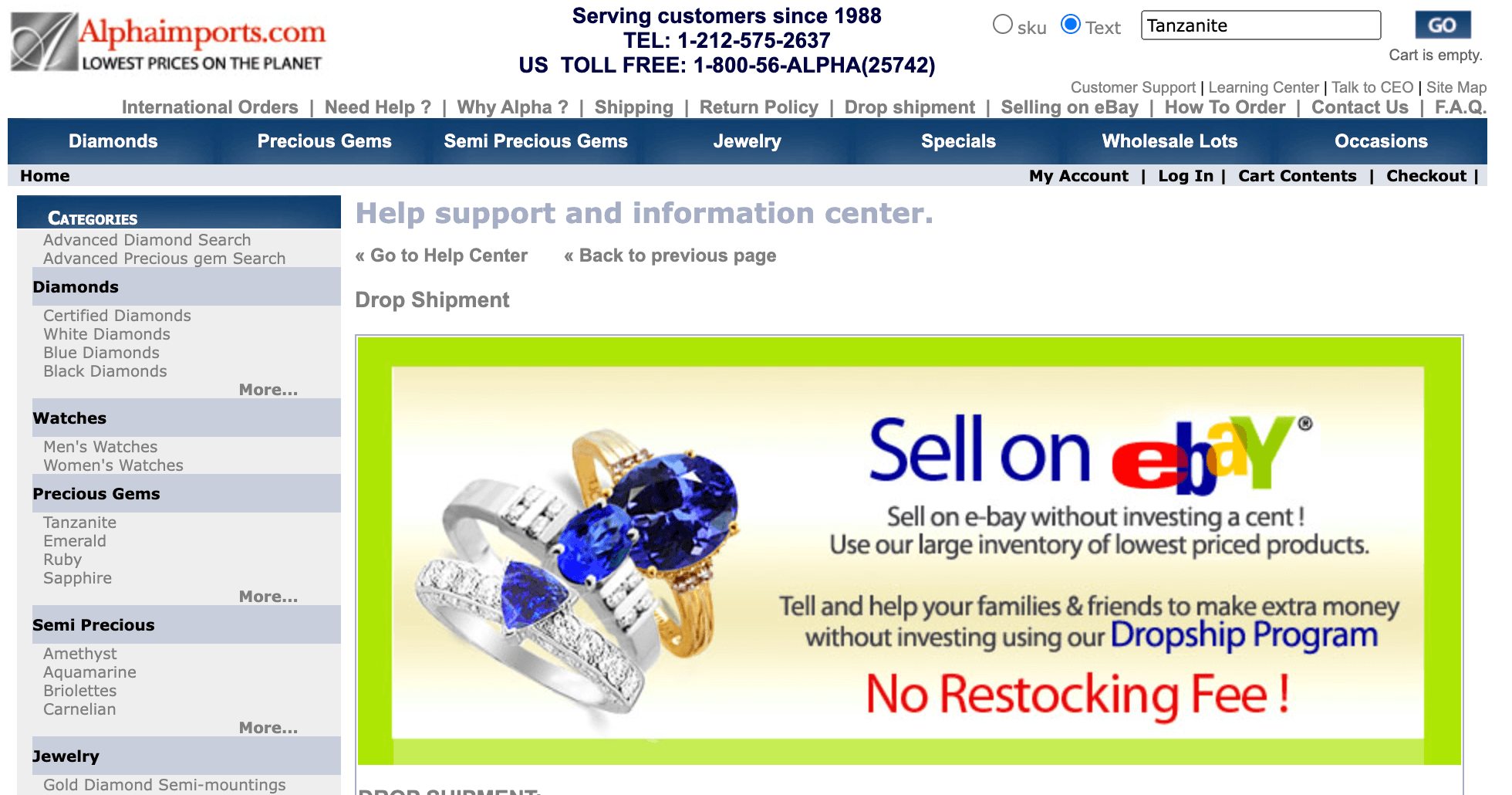 Cheap Wholesale Jewelry is, you guessed it, a huge wholesaler of jewelry. The site specializes in collecting closeouts from brands and designers, so you can find some seriously low prices in addition to their platform-wide 10% discount.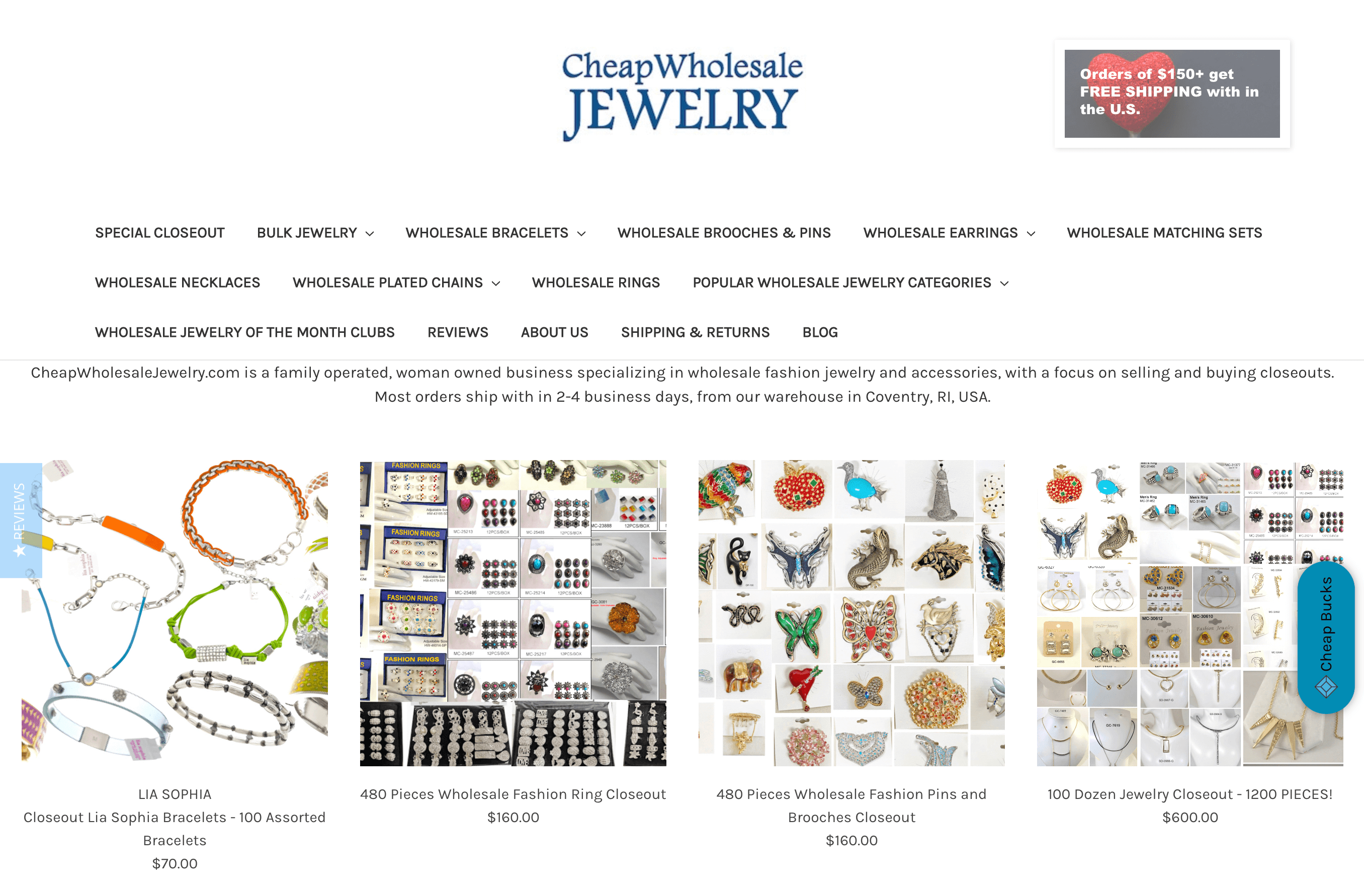 Home and Furniture
Furniture pipeline is known for their lightweight, eco-friendly furniture and their design studio where you can create your own furniture line. They don't charge membership fees or require minimum orders. Their SEO-friendly titles, descriptions, and attributes can save you a ton of copywriting work.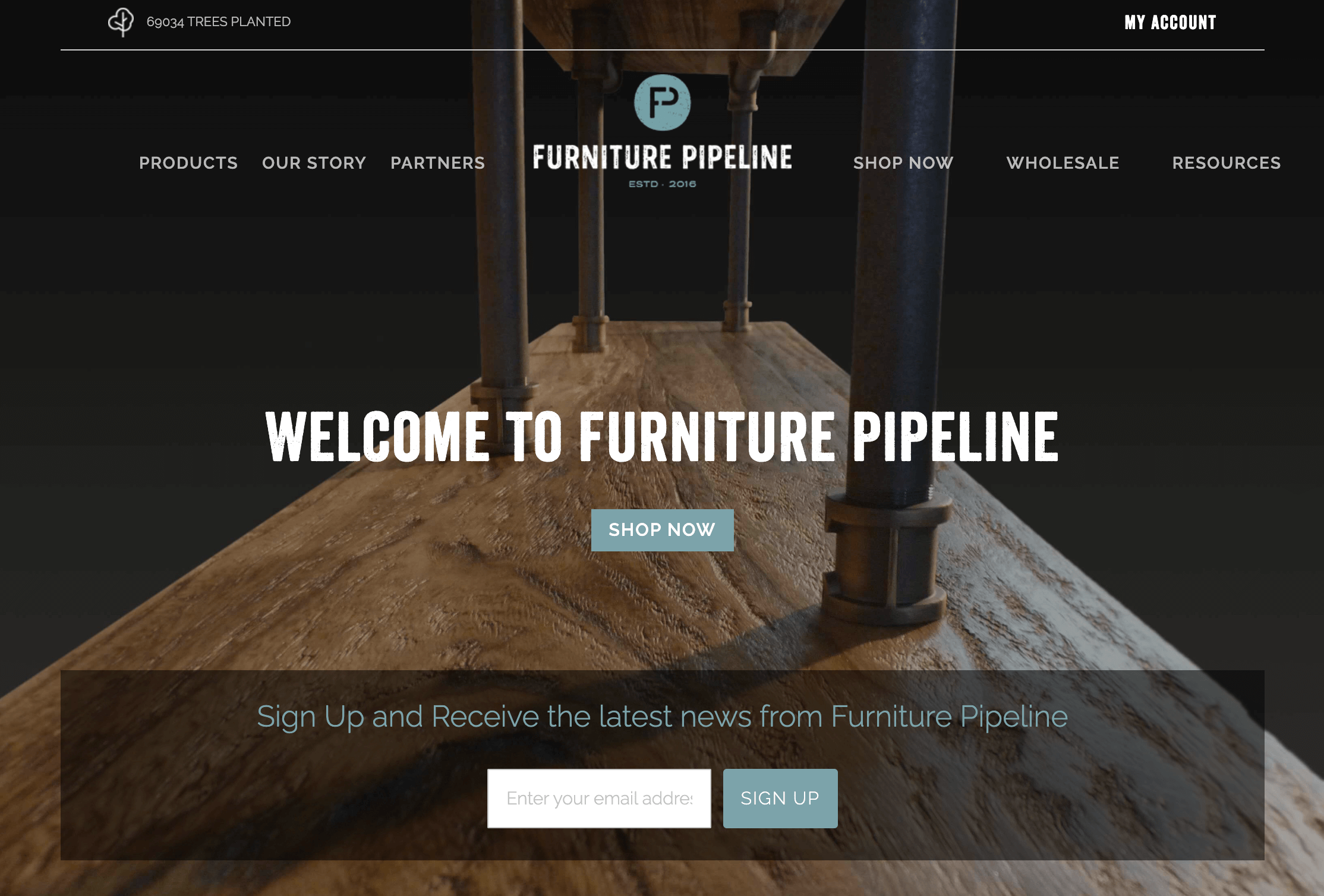 Sagebrook Home boasts a catalog of over 10,000 home decor products including lighting, home accessories, wall decor, and furniture. They don't charge membership fees, but they do require members to provide a functioning business website and only deliver within the United States.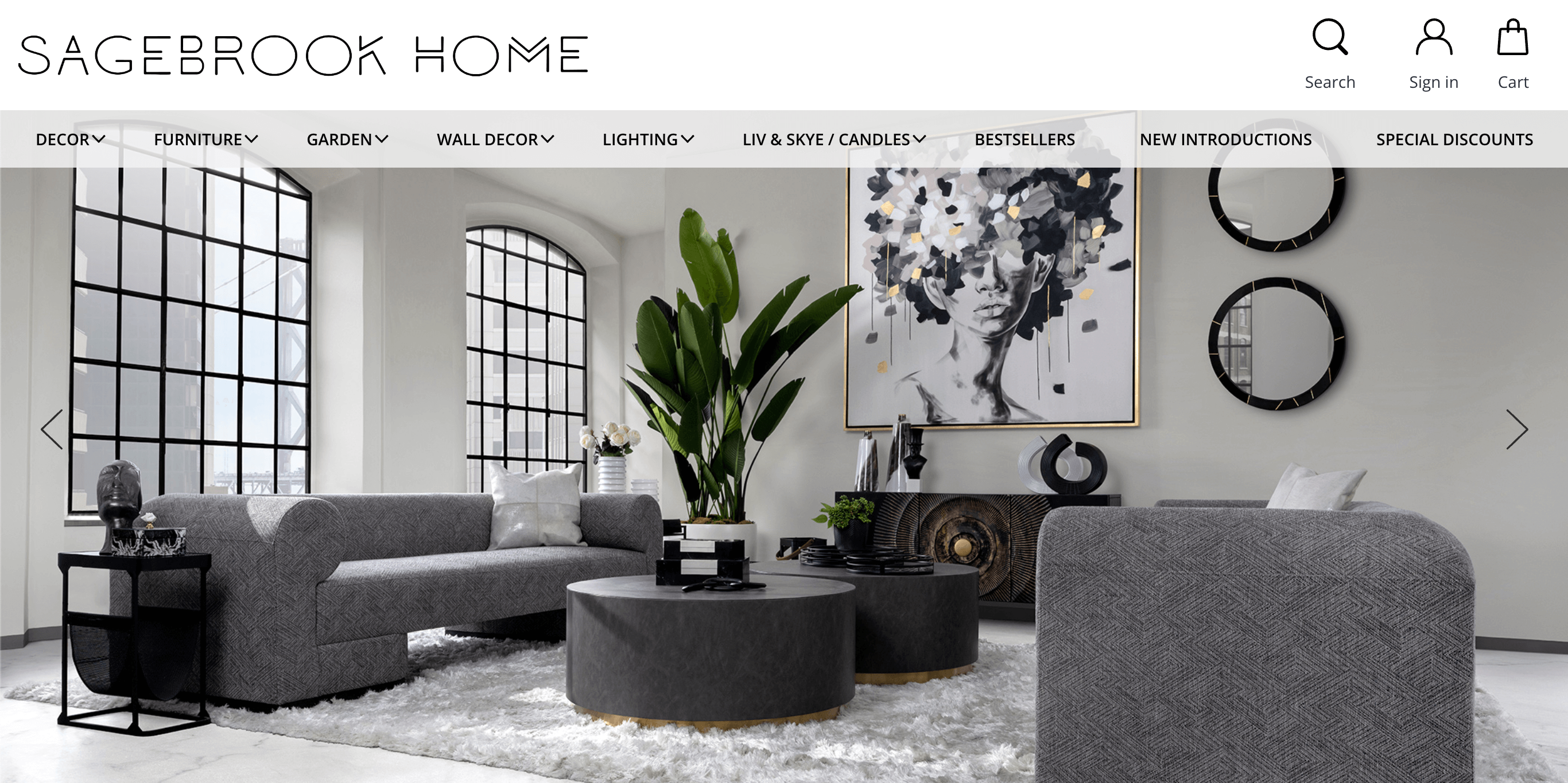 Pet Supplies
Essential Pet Products only carries brands that are produced in the United States and Canada. They offer product collections for cats, dogs, birds, and fish, many of which are hard to find elsewhere. Their only membership requirement is proof of residence in the United States or Canada.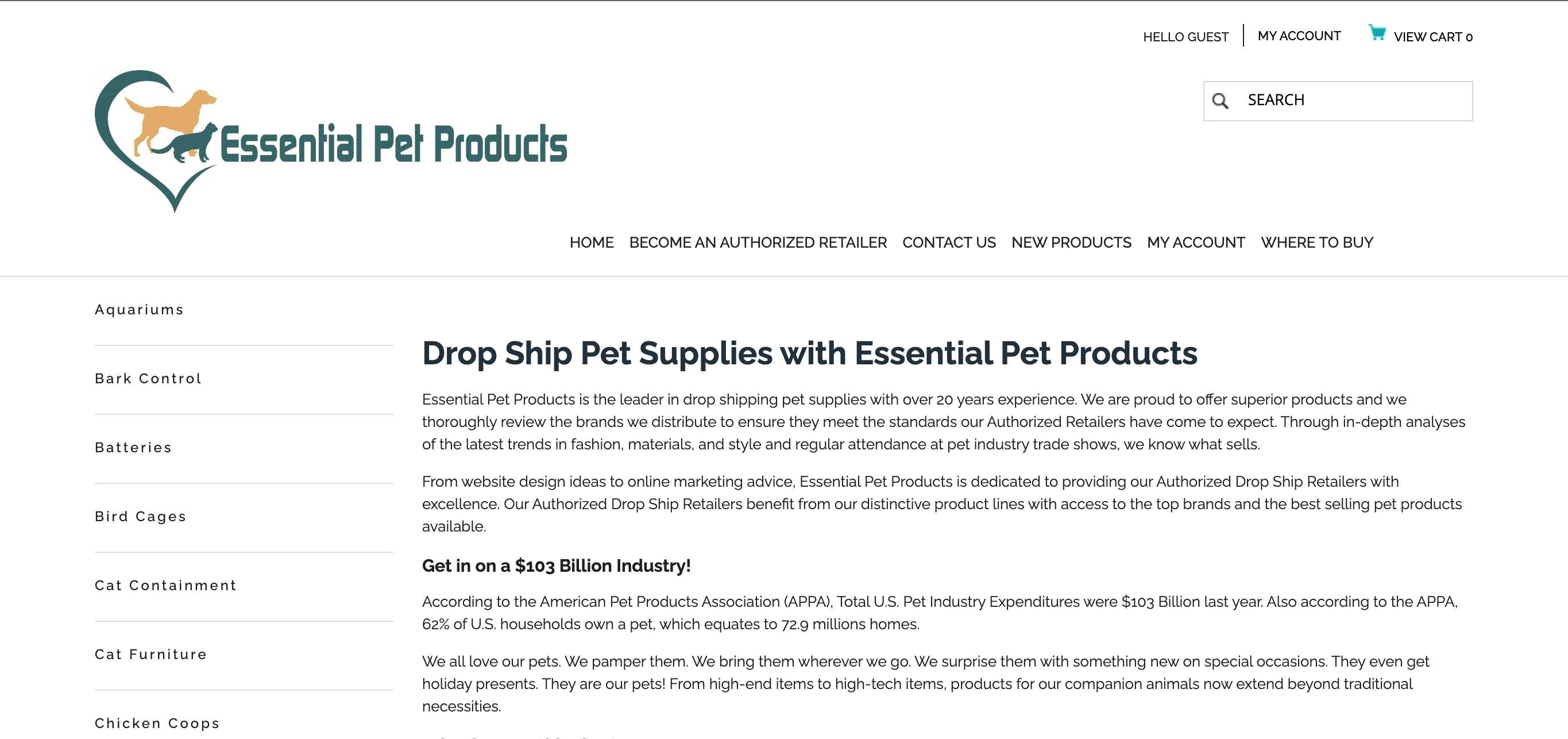 Ohio-based pet supplies wholesaler Pet Stores USA offers over 2500 items for cats, dogs, and small animals. Every product is made in the USA and comes from a reputable brand.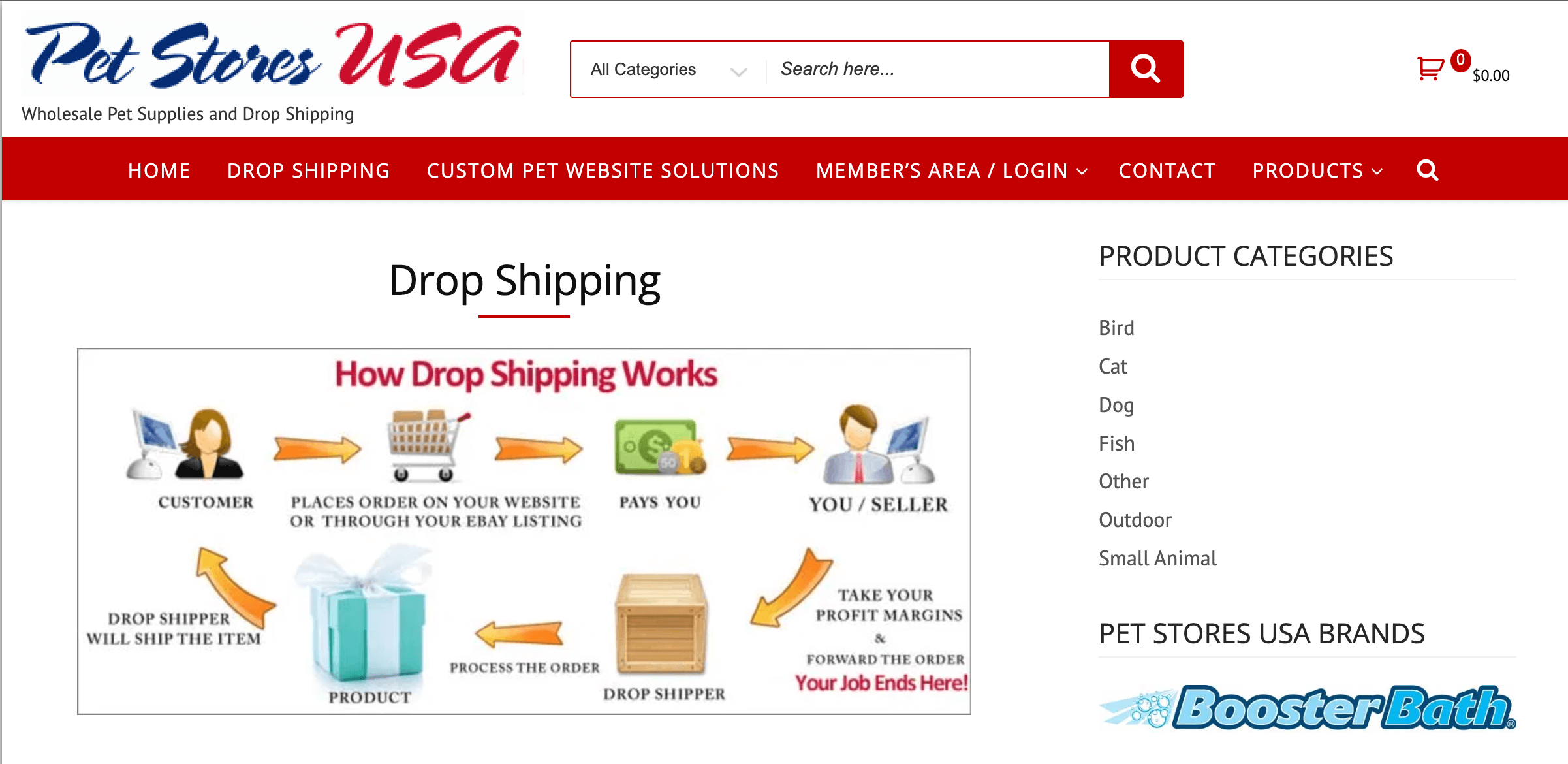 Electronics
Megagoods is a dropshipping provider focused on electronics and video games from a variety of well-known brands. Their most notable features are their white label shipping and 1-2 day shipping times. They also provide a 30-day guarantee after the delivery date in case of manufacturer defects.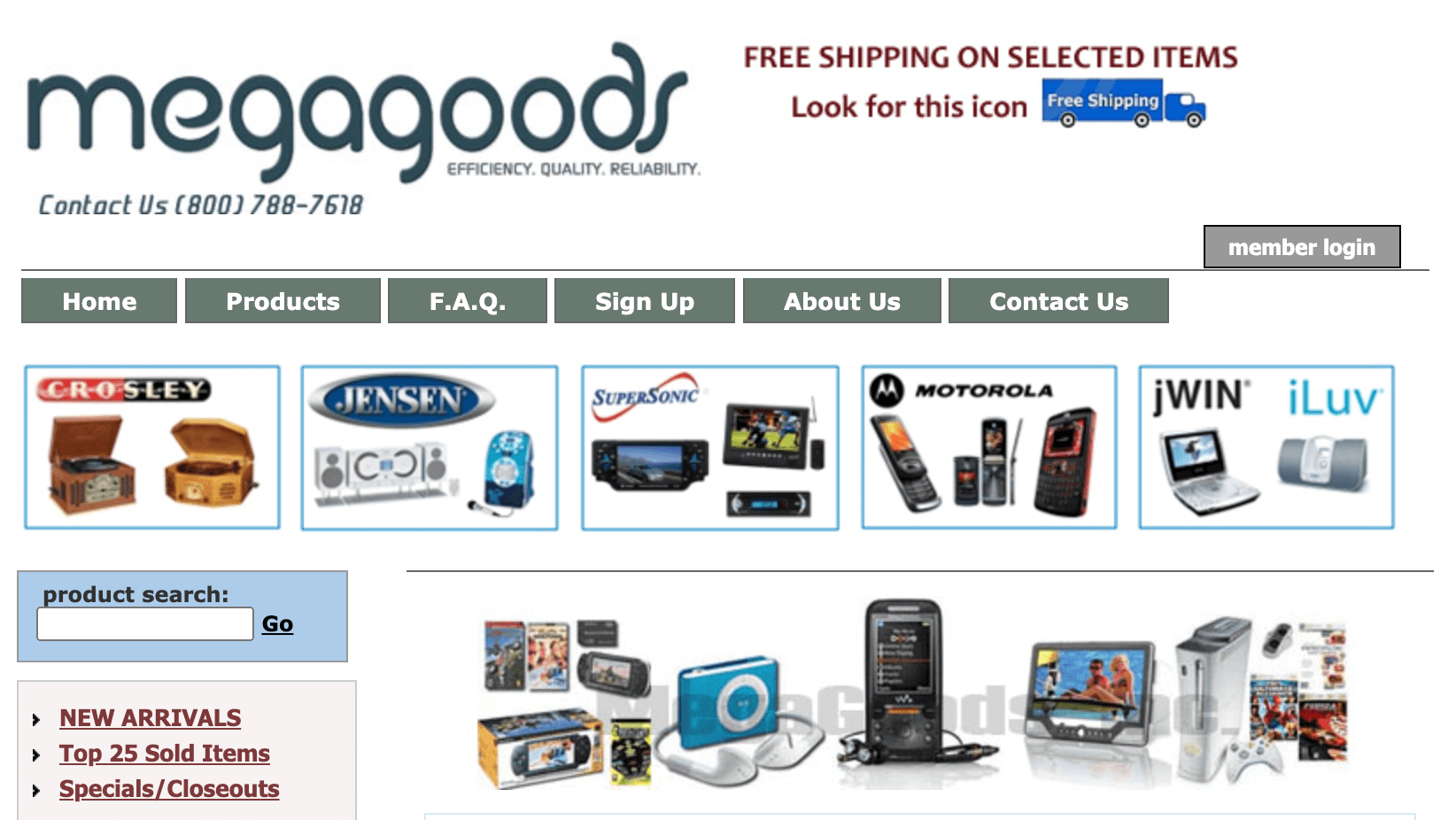 After 30 years in business, California-based ASI partners is a leader in electronic dropshipping. Not only do they sell everything from servers to gaming accessories, but they also offer webinars and other resources to help beginner dropshippers succeed.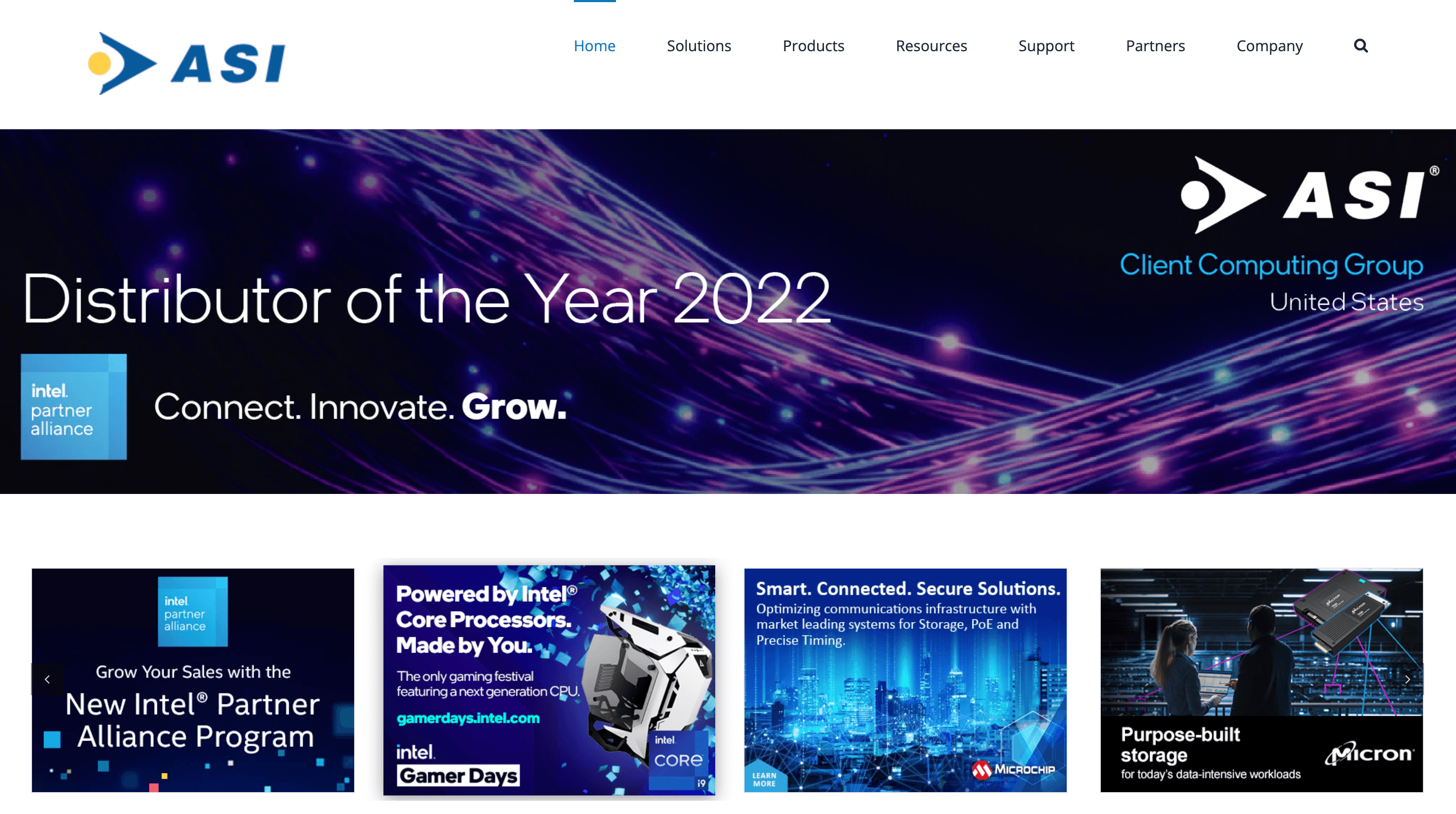 Tips for vetting dropshipping suppliers and wholesalers
Follow these tips to find dropshipping suppliers and separate the legitimate suppliers from the frauds:
Contact the manufacturer
Do some Google searches
Go to a trade show
Contact the manufacturer
If you know which products you want to dropship, call the manufacturer and ask for their wholesale dropshippers list. Then you can contact these suppliers and inquire about starting a partnership. Not only does this method help you find suppliers of the specific products you want to sell, but it's also a surefire way to make sure you're not selling knockoffs. It won't take too many phone calls to find out who the major providers are in that market.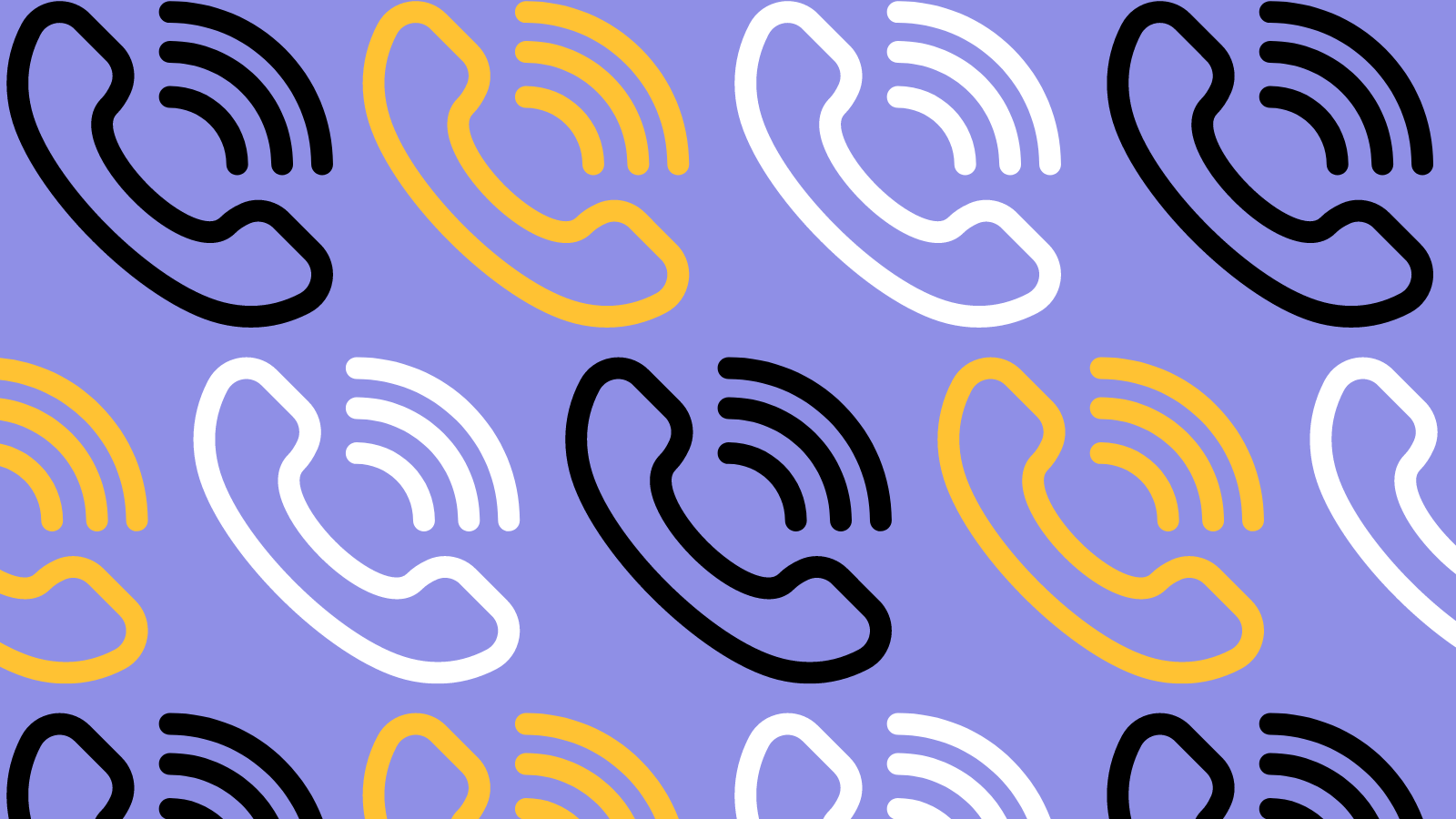 Do Some Google Searches
"Just Google it" isn't usually helpful advice. Here are some ways you can search smart for reputable dropshipping companies:
Dig through the search results
Don't judge by their website
Use keyword modifiers
Dig through the search results
These types of suppliers aren't always adept at marketing and SEO. You're unlikely to find many of them on the first page of search results for "wholesale suppliers of [product
]." Don't hesitate to dig deep through the pages to find what you're looking for.
Don't judge by their website
Usually, the design of a business' website can tell you if they're legitimate or not. However, wholesalers are notorious for dated, low-effort website design. Don't let this scare you off.
Use keyword modifiers
Try different search queries to get different results. Wholesalers aren't the best at SEO, so don't stop at just "[product] wholesaler." Words like "distributor," "reseller," "bulk," "warehouse," and "supplier" can also help you find what you're looking for.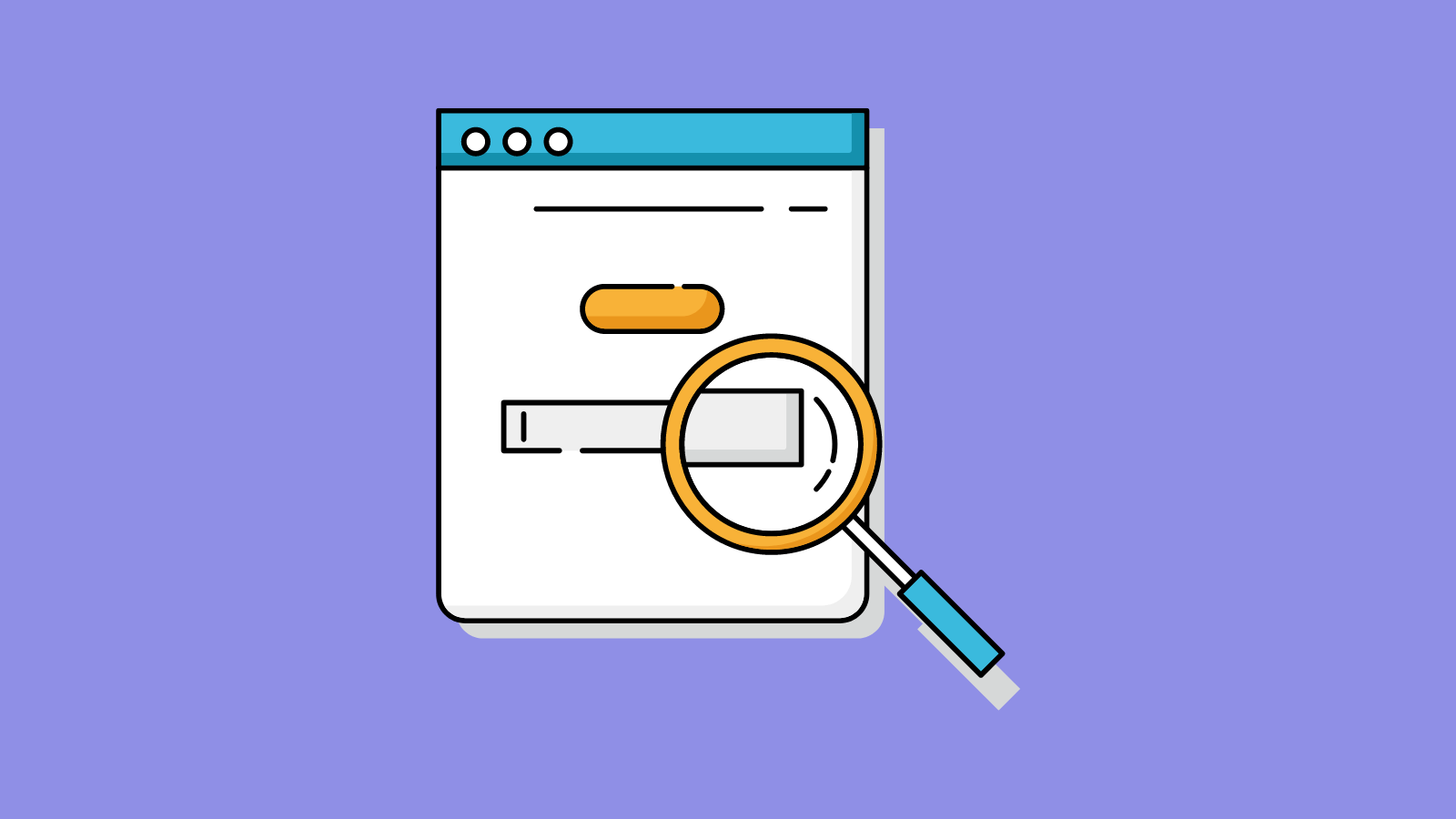 Go to a trade show
Trade shows allow you to connect with all of the major manufacturers and wholesalers in your niche. Checking them out is a great way to network with suppliers all in one spot. It's best to attend them after you've already decided on a product niche and they won't necessarily be available to everyone. If you have the time and money to attend a trade show, it's a great way to get familiar with the manufacturers in your market. Dropshipping in the United States FAQs
Is dropshipping legal in the USA?
Yes, dropshipping is legal in the United States. It's not a scheme, just a form of order fulfillment where the supplier handles the inventory and shipping, while the seller takes care of the marketing.
How do you start dropshipping in the USA?
Getting started with dropshipping starts with finding a niche and suppliers. Any of the dropshipping suppliers in this article are great places to start. You can also look up any wholesaler directory. Once you source your products, you'll need to build your website, set up your business and finances, and market your dropshipping store.
Is dropshipping still profitable in 2022?
Dropshipping is still a profitable business model in 2022. The low barrier to entry and low risk make it a good choice for many new entrepreneurs. However, many niches are highly saturated and success is not guaranteed.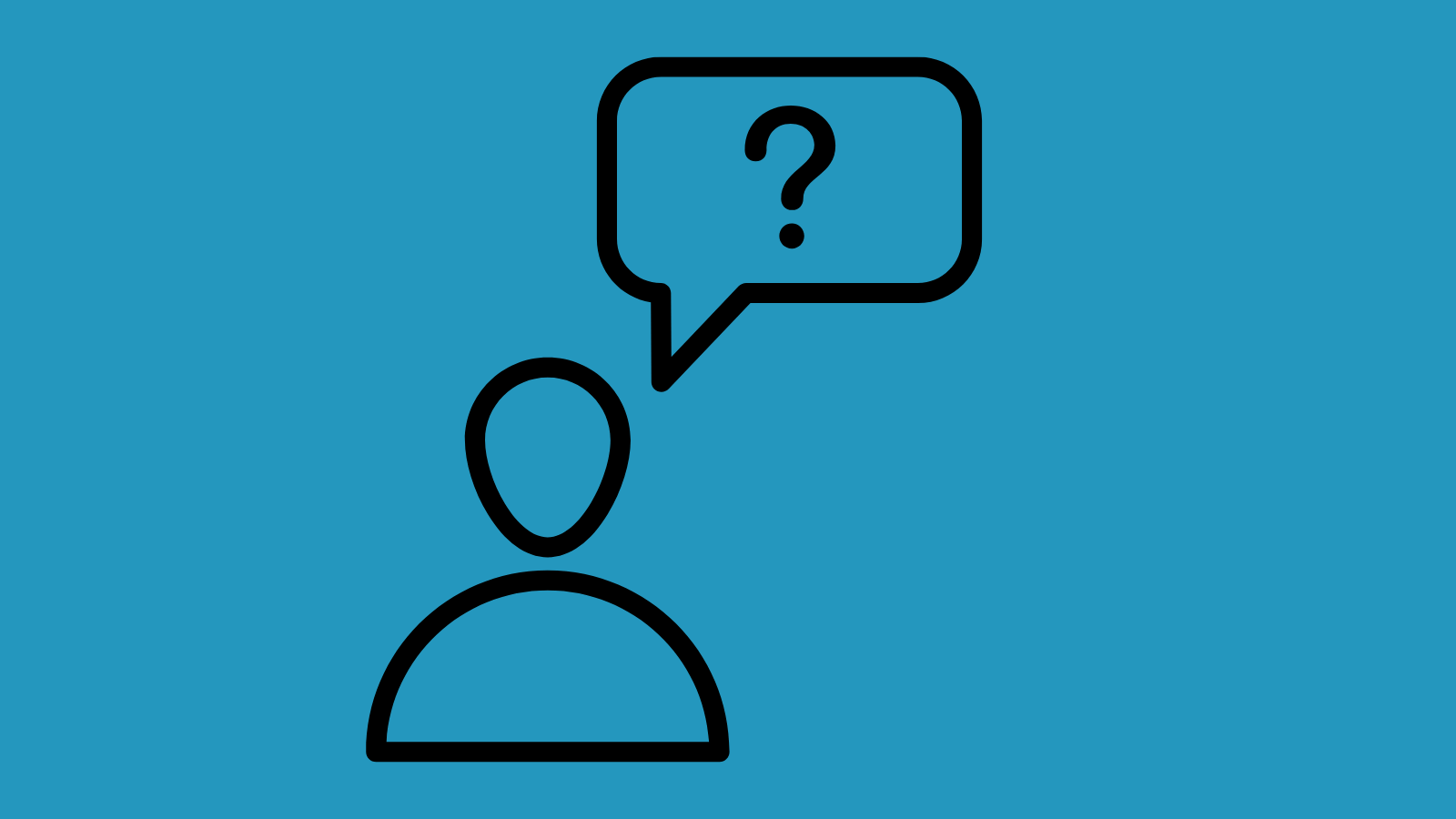 How Sav Can Help
Here at Sav, we're dedicated to helping dropshippers and any other types of entrepreneurs and small business owners elevate their passion online. That starts with a custom domain name and your own beautiful, professional website. No matter what types of products you sell, which supplier you choose, or who your audience is, we make it easy to build and manage your website. Find out how today!