The life of a restaurant owner is busy and complicated. Building and managing a website for your restaurant shouldn't be. With a user-friendly website builder and a little guidance on what it needs, your restaurant can reach new customers and compete with the big dogs in no time.
Why Your Restaurant Needs a Website
Reach Potential Customers
In our increasingly digital world, if a business doesn't have a website it might as well not exist. 90% of diners do research online before they decide where they want to eat. If you don't have a website, that's a lot of people who are missing out on your delicious food.
Share Business Information and Updates
A website makes it easy for customers to find information about your business in one place. Whether visitors want to look at the menu, see how late you're open, place an order, make a reservation, follow your social media profiles, or call the restaurant, they should be able to do that based on the information on your website. Similarly, an announcements page can allow customers to find updates and news about your business in one centralized place.
Brand Awareness
Everyone loves a local restaurant, but the marketing responsibility of owners is much higher than that of national chains. A website is a cost-effective way to show potential customers how cool you are. You know better than anyone how competitive the restaurant business is. Let the people know why they should choose your restaurant over the hundreds of others that could be demanding their attention and use your website as a hub for all of your digital marketing efforts.
What Are the Main Things to Consider When Making a Restaurant Website?
Websites have a lot of moving parts. The most important things to think about right away are:
We can tell you what content every restaurant website needs. When you choose your website builder plan, it's important to have an idea of what features matter to you and what you can afford. Most website builders have a tiered pricing structure that allows you to choose based on those factors.
How to Create a Website for Your Restaurant
Choose a Website Builder
You don't necessarily HAVE to use a website builder, but if you don't you're just making your life harder for no reason. With a website builder, anyone can create a site that looks and functions like it was made by a team of professionals.
The subscription fees will save you money compared to hiring a web developer and designer to build a website from scratch. The best website builders for restaurants allow users to connect a custom domain, have a variety of templates to choose from, and make managing a website easy so you can focus on running your business.
Restaurant Website Templates
With our professionally designed, fully customizable templates, you don't need to know a thing about web design to make your site as mouth-watering as your food. No matter your tastes, you'll find a template to match.
Get a Custom Domain
A domain is the name of a website, including both the web address and the TLD. The right domain is a crucial part of marketing your business. The best domain name would be the name or your restaurant with a keyword like the cuisine you sell or the city you're located in. Keep it short, memorable, and free of punctuation.
Sav's world-class domain marketplace makes it easy with our wide selection and industry low prices. All domains purchased from Sav come with a free 30-day website builder trial, a free SSL certificate, mobile friendly optimization, SEO optimization, Google Analytics integration, and unlimited storage.
Everything Your Restaurant Website Needs
Once you've decided to make a website, bought a domain, and chosen a website builder, it's time to figure out what to put on it. Here are the pages that every restaurant website needs.
Home Page
The home page is the first thing your site visitors will see. Roll out the welcome mat and make a good first impression. Introduce your restaurant with the name and tagline front and center and some clean, appealing visuals. Keep it concise. Giving too much information right off the bat can be off putting and visually cluttered.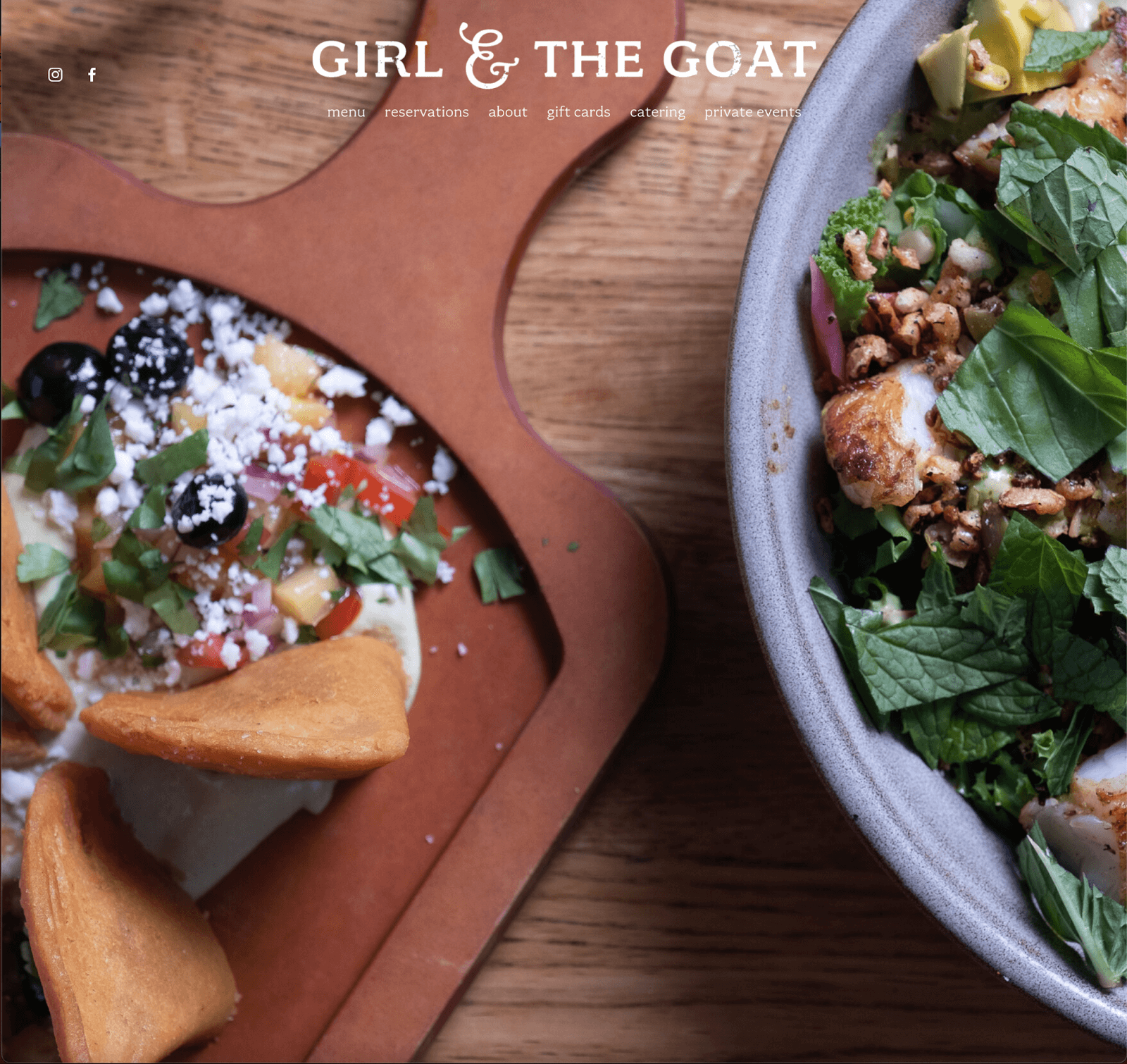 Girl and the Goat limits the words on their homepage to their name and page titles and lets a slideshow of food photos do the talking.
Restaurant Menu
For any restaurant, your menu should be the focal point of your website. Having a full menu on your site and easy to find allows people to plan ahead. This is especially valuable for people with food allergies or any other dietary needs. It can also allow any menu item to serve as a search keyword, which would increase your search engine visibility.
Your menu page should be complete, easy to find, mobile-friendly, and visually appealing. Consider dividing it up by sections and including photos of popular dishes. Be sure to mention prices and highlight the specials.
Le Bernardin's menu page is as classy as their food. It has a minimalistic look and sections for easy navigation.
Contact Information
An essential part of succeeding online as a business is being easy to contact.Make sure to include the following in a contact page or at the footer of your website.:
your location
mailing address
business hours
business phone number
all relevant email addresses
all social media links
It also might be a good idea to include a contact form so visitors can email you with questions or to express interest in a service without leaving the site.

Amsterdam Brewing Company keeps the contact information for all of their locations in the footer of their website. The information is complete and the footer doesn't look cluttered.
Photo Gallery
A photo gallery is a great way to sell your dining experience before the people visiting your site set foot inside. This is your chance to draw people in with photos of your most mouth-watering meals, inside of the restaurant, and your customers enjoying themselves. You could even offer a peek behind the scenes with some photos of the kitchen and the staff hard at work. All of these enticing visuals will get visitors' mouths watering.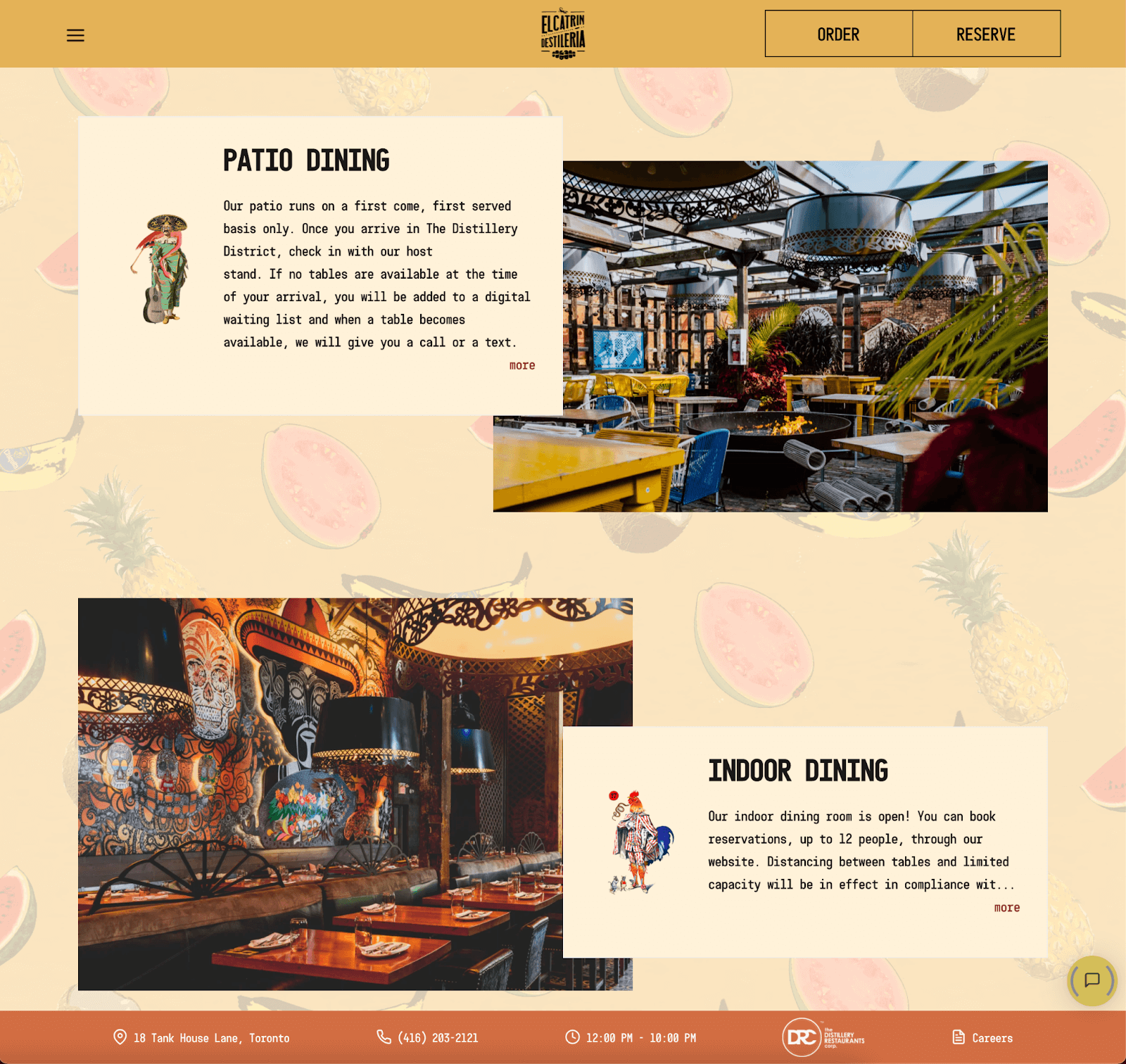 El Catrin uses beautiful images of their space to attract customers.
About Us
The About Us page is the place to tell your restaurant's story. What makes it unique? What's your expertise? What values drive you to do what you do? Allow your site visitors to emotionally connect to your brand in a way that they can't connect with faceless corporations.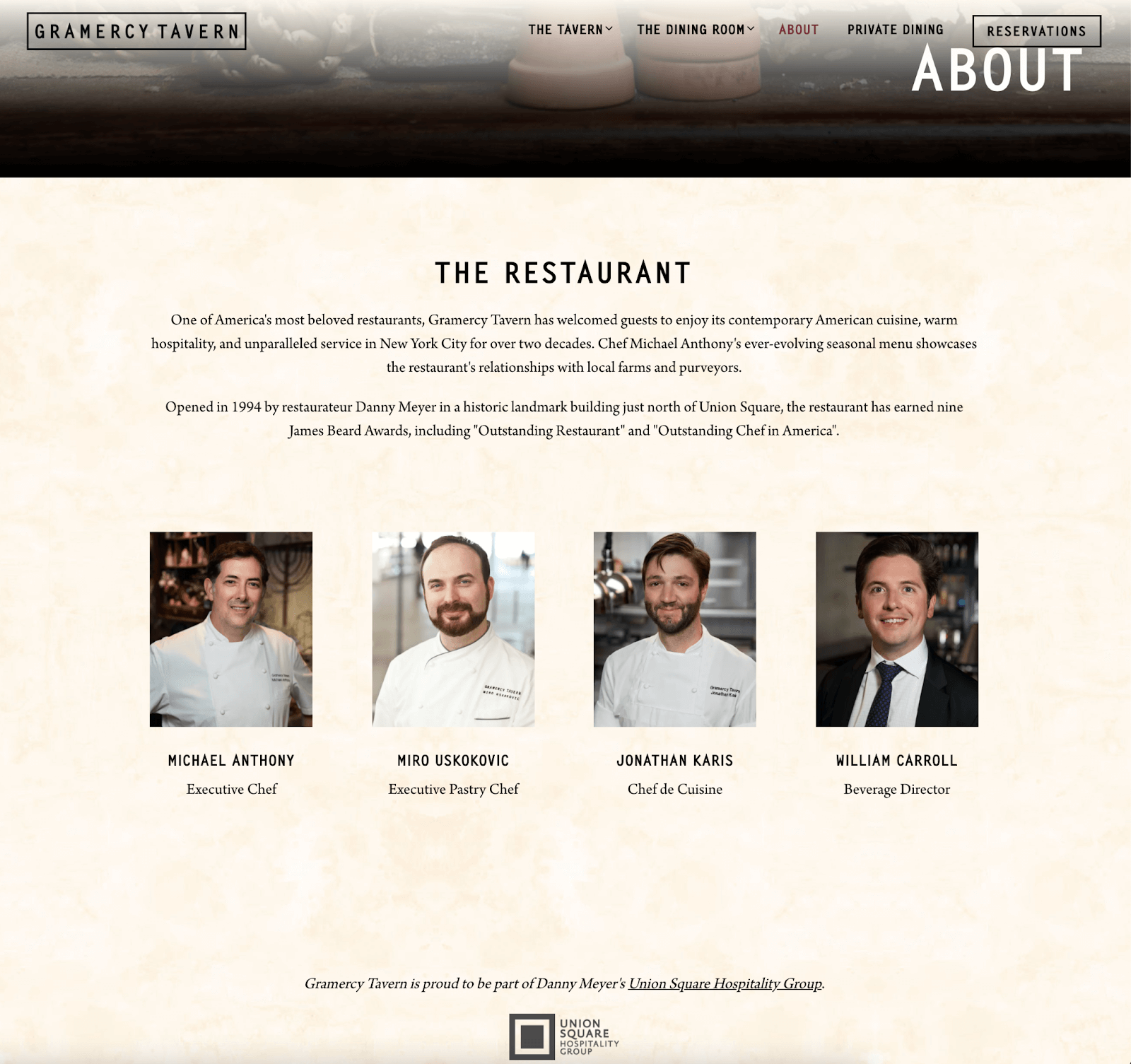 Gramercy Tavern keeps their bio short, but includes the important stuff. The photos of the team add a personal touch.
Online Ordering
In the past two years, to-go orders have become the unexpected backbone of the food service industry. This is why a user-friendly online ordering system can make a huge difference in your sales.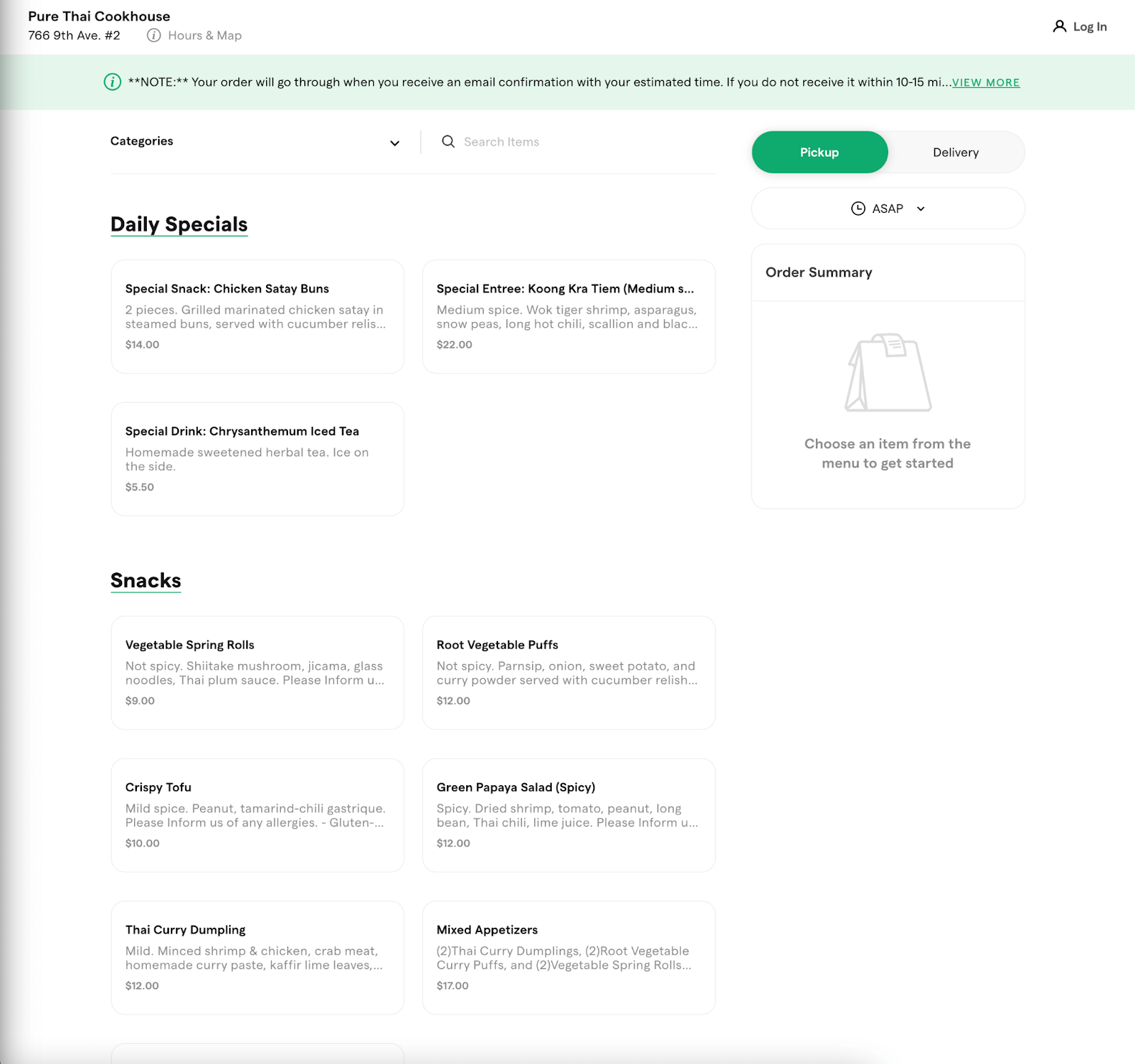 This online ordering page powered by ChowNow is a great example of a user-friendly online ordering integration.
Reviews and Testimonials
Reviews make the service industry go 'round. It only makes sense to highlight yours. In the age of Yelp, people trust customer reviews now more than ever. With a simple plugin, you can connect your website to Yelp and other review sites. Including positive press coverage of your restaurant is another great way to offer social proof of your food's quality.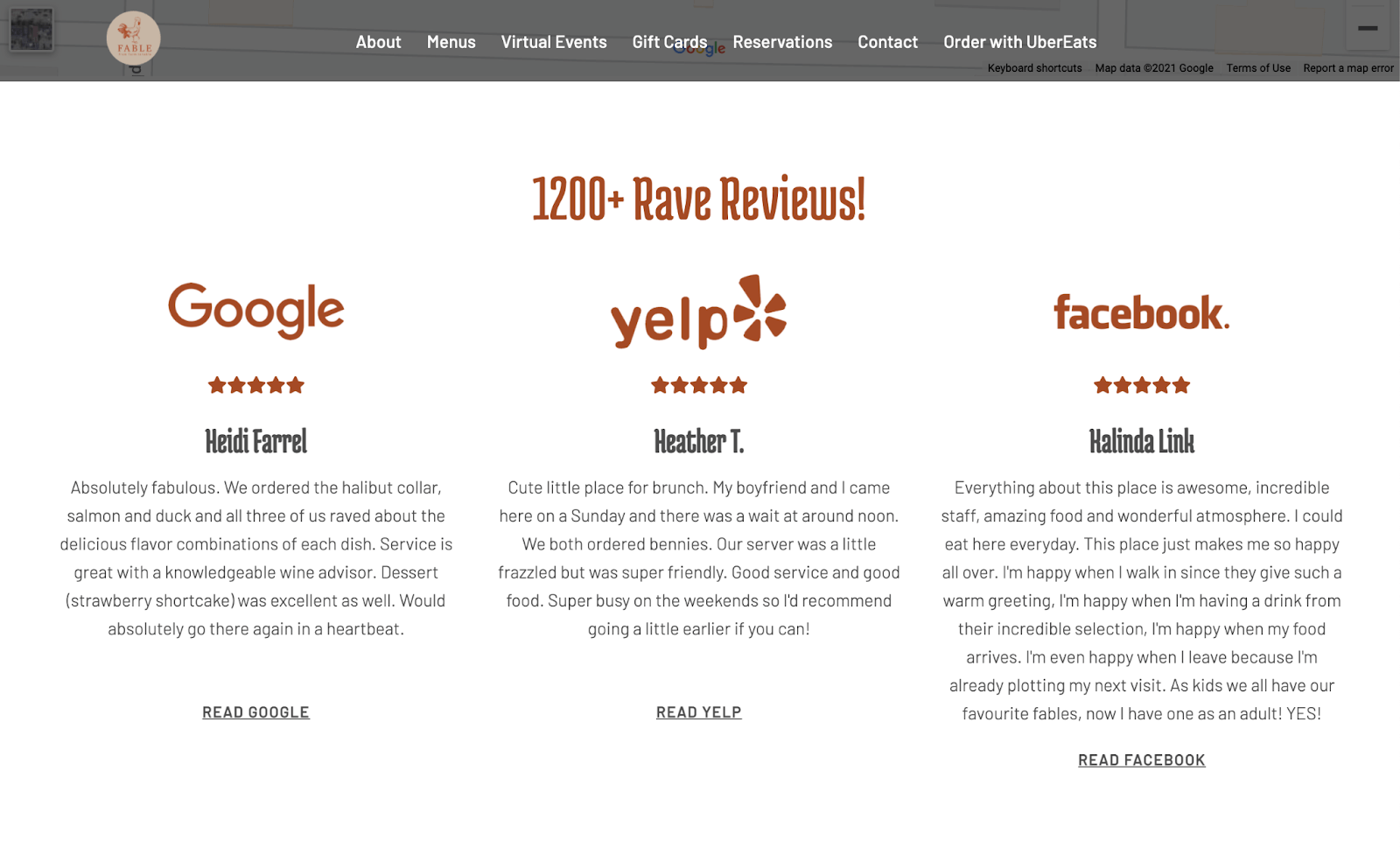 Fable Kitchen highlights one great review from each source, then invites the viewer to read more.
Frequently Asked Questions
If your customers are asking the same questions over and over again, an FAQ page is a great way to cut down on the time and effort you spend on customer service. Some websites also call this a help center or a knowledge base.
To get started on this page, gather up the questions customers and prospective customers ask you frequently. Bonus points for ones that are not already answered elsewhere on your website. It may be sparse at first, especially if your current customer base is small, but that's all right. As more questions pour in, keep adding to the page. This way you'll never stop improving.
Reservations
An online reservation system will streamline the process between discovering your restaurant and making a reservation. With a reservation plugin, a website visitor can become a customer in no time.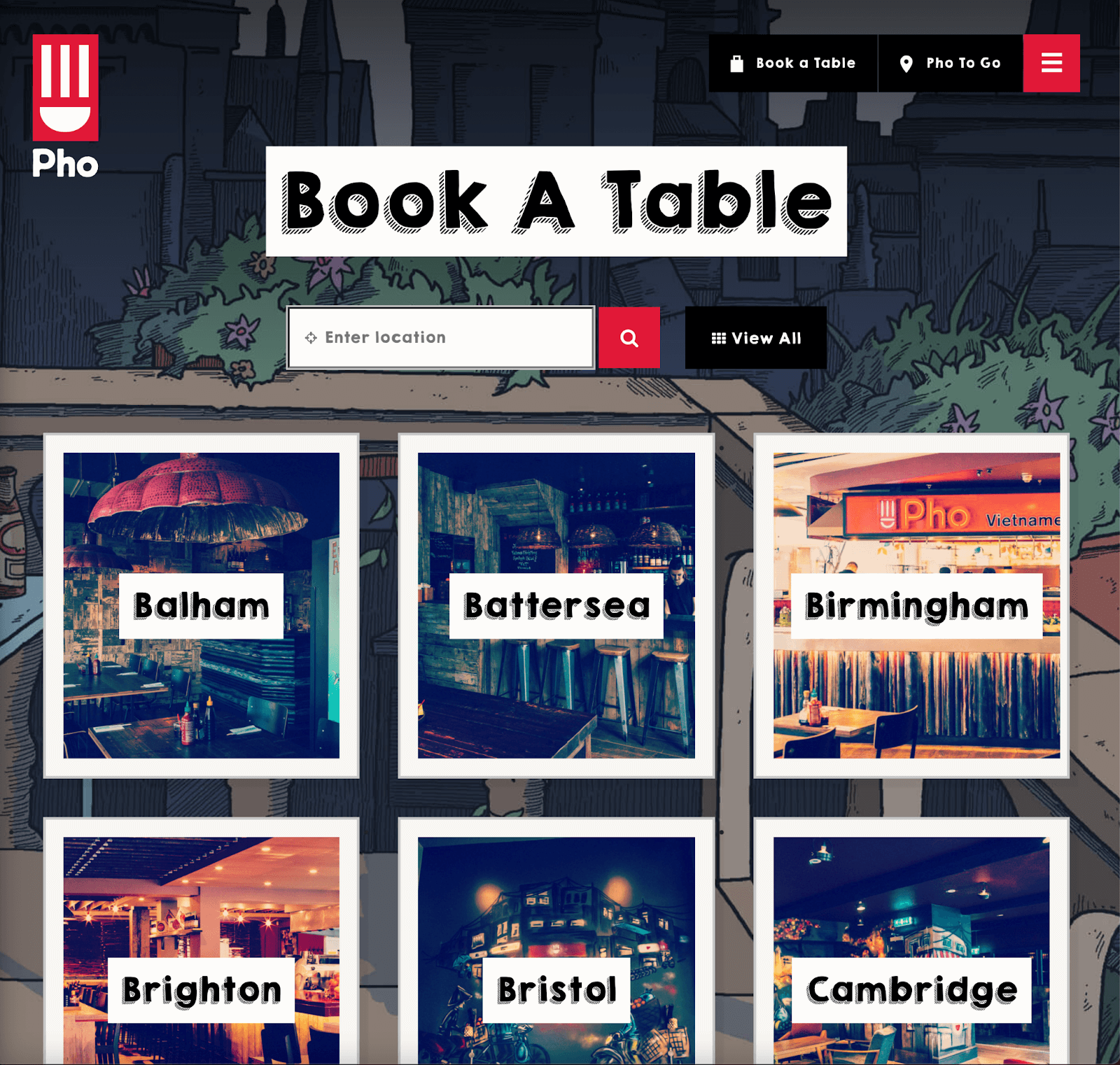 Pho's reservation page is not only easy to navigate but visually compelling.
Mobile-Friendly Content
How many times have you been out and about, gotten hungry, and looked up "food near me" on your mobile device? Or how many times have you looked up restaurants on your phone while on vacation. Other people are going to do the same. In fact, mobile users now account for more than half of global internet traffic. That's why it's extra important for any restaurant website to keep its mobile visitors in mind. All Sav websites include mobile-friendly design, but there are still a few things you can do to make your website fit well on a small screen.
Image size and resolution
Avoid large blocks of text
Design Simple Contact Forms
You can test the mobile-friendliness of your website for free with Google's mobile-friendly tool.
Build a Strong Online Presence
Email Newsletters
An email newsletter is a great way to engage with your most loyal customers and keep them coming back. You can include a sign-up form in your contact page and send updates to subscribers once a month or even once a week.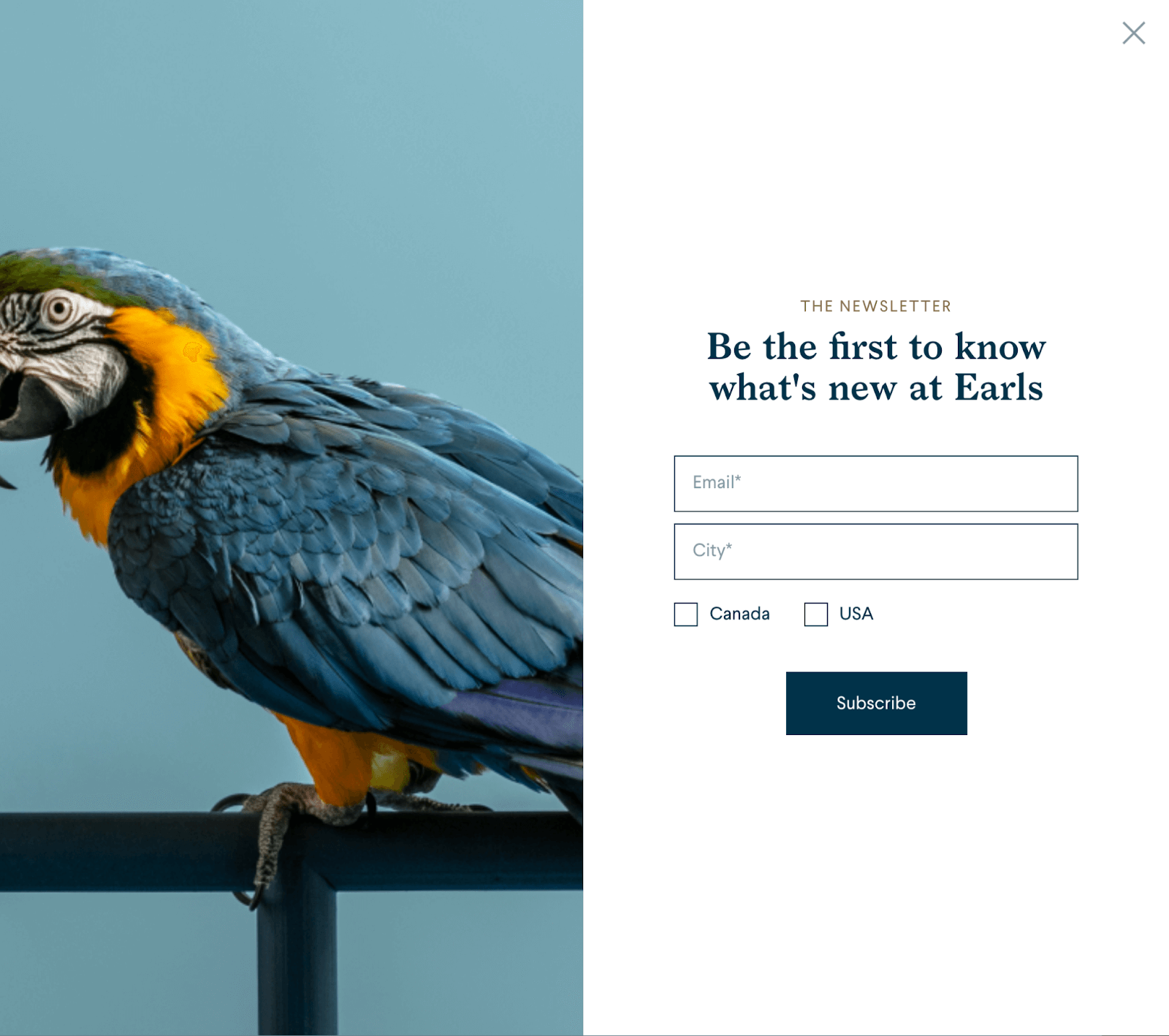 When you visit the website for Earls, this pop-up with a lovely picture of a parrot prompts you to subscribe to their email newsletter.
Event Calendar
An event calendar is a great way to get the word out about any special events at your restaurant as well as when you'll be closed for holidays, planned menu changes, or any other important dates.
Social Media
Active social media profiles are a low cost way for small businesses to advertise to the people who want to buy exactly what they're selling. Facebook and Instagram advertising algorithms are famously effective at targeting potential customers based on their interests. Twitter allows businesses to see the public's opinion of them and respond to customers' concerns. YouTube ads are great for a visual medium like food. If you want to be trendy, post
Search Engine Optimization
If you don't know what Search Optimization (SEO) is, it's the use of keywords to move your content further up the Google search results page. SEO allows small companies to stand a chance competing against big corporations despite the difference in funds and advertising reach.
It may seem tedious, but with the SEO features that come with many website builders, you don't have to be an expert to pull it off.
Blog
Blogging isn't just for expressive teenagers anymore. Now it's a key part of any content marketing strategy. With a little Search Engine Optimization (SEO) strategy branded blog posts bring people to your website who might not have otherwise found it. Fun fact, you're reading a branded blog post right now.
Blog posts can also beef up your social media calendar and establish you as an authority in your field. Food businesses have an advantage in the blogging space because everyone loves a food blog.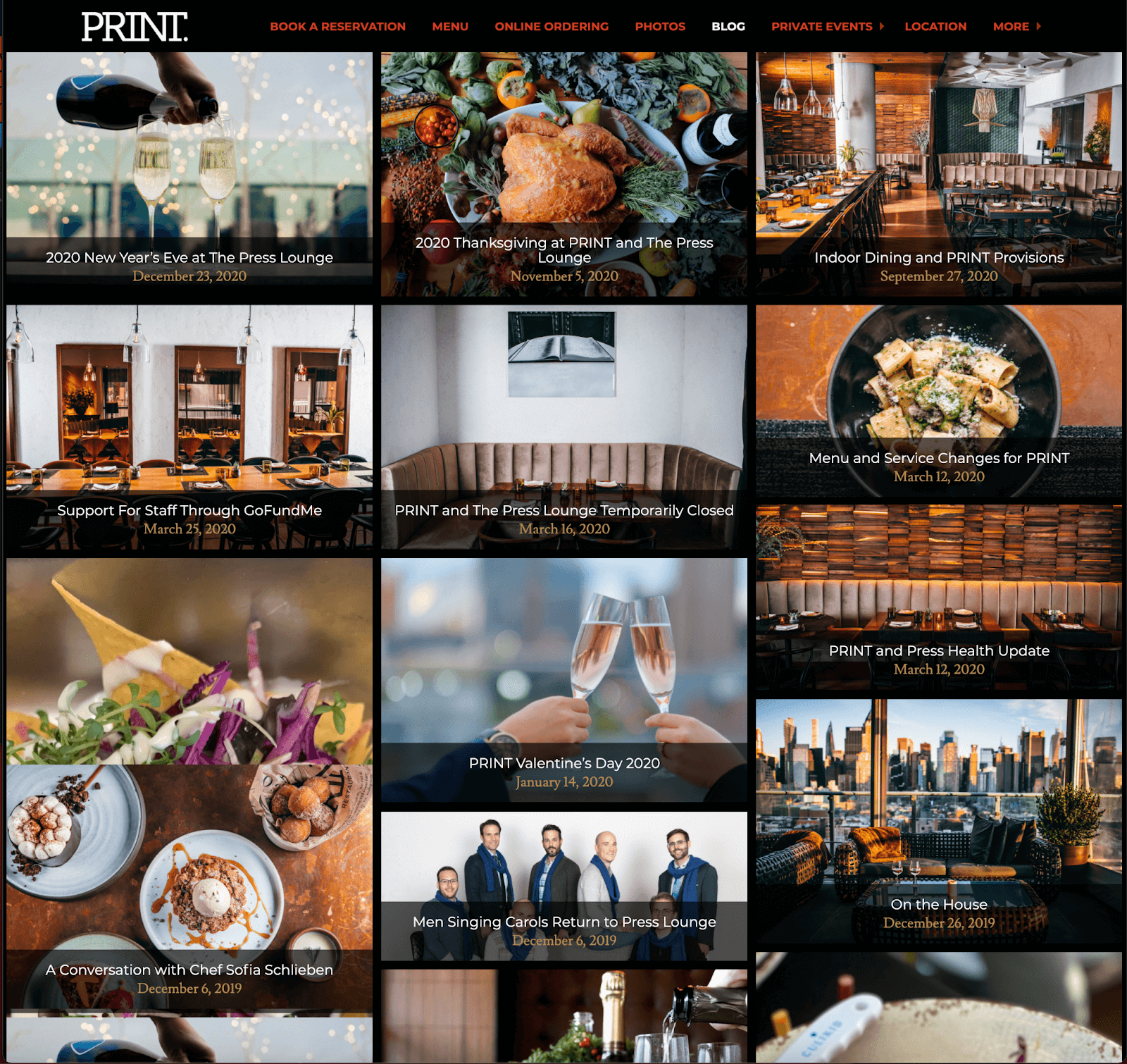 Print restaurant uses its blog to promote events, make announcements, interview restaurant professionals, and give readers a behind the scenes look at their business.
How Sav Can Help Your Restaurant Succeed Online
Sav's straightforward pricing and user-friendly interface, make it easy to choose a website builder plan that meets your needs and budget. Your business will grow in ways you never imagined in no time. What are you waiting for? Start building your website today!