What Is a Portfolio Website?
I'm sure you're familiar with the general concept of a portfolio. It's a collection of an artist's best work. A portfolio website takes that concept online and allows people to find you and see what you have to offer before deciding to hire you for a project.
An online portfolio can take you from a hobbyist to a genuine business in the eyes of internet denizens. It's also easier to set one up than you may think. We're here to help you show off your best work online.
Who Needs a Portfolio Website?
Here are a few examples of careers where a portfolio is a must-have:
Web design
Web development
Graphic design
Marketing
Visual art and design
Interior design
Modeling
Writing
Photography
Basically, anyone who has creative work that they can display to potential clients can benefit from a portfolio site. Putting your portfolio online also has the benefit of making you findable by Google search and social media. If you don't have an online presence, you're missing out on opportunities.
What Goes Into a Portfolio Website?
Now that you're convinced that you need to build an online portfolio, you need to know what goes on it. Here are the basics that every portfolio from a graphic designer to a model needs:
Why You Need a Custom Domain Name
Your domain is an important component to marketing your business. Be sure to pick one that is:
Short
Memorable
Easy to type
Relevant to your business and geographic area
Free of numbers and hyphens
Think about it. Which of the following sounds more like a legitimate business you'd want to use?
elliot-photos.randomwebsitebuilder.com
or
elliotphotos.com
Sav's domain marketplace makes buying a perfect domain easy by offering industry-low pricing with no hidden fees.
Choose a Website Template
Website builder templates make starting your own website easier than ever. Choosing a good one isn't just about looks, though. Every website has different needs. It wouldn't make sense to pick a template best suited for an ecommerce site for a photography portfolio or a template best suited for a dentist's office for a design portfolio.
To make your choice even easier, all of Sav's templates are responsive. That means the site adjusts to the size of the screen it's viewed on to give mobile and desktop visitors equivalent experiences. Sav has a wide selection of portfolios that can meet any need. Just choose one that catches your eye and drag and drop your content.
Homepage
The homepage is the first thing any new visitor sees. Make a good first impression with an uncluttered look and a short introduction to you and your work. Include a picture of yourself so visitors can put a human face to your work.
Once they have an idea who you are, tell them where to go next with a call to action. It could be a button to purchase your product, book an appointment for a service, or contact you for a collaboration.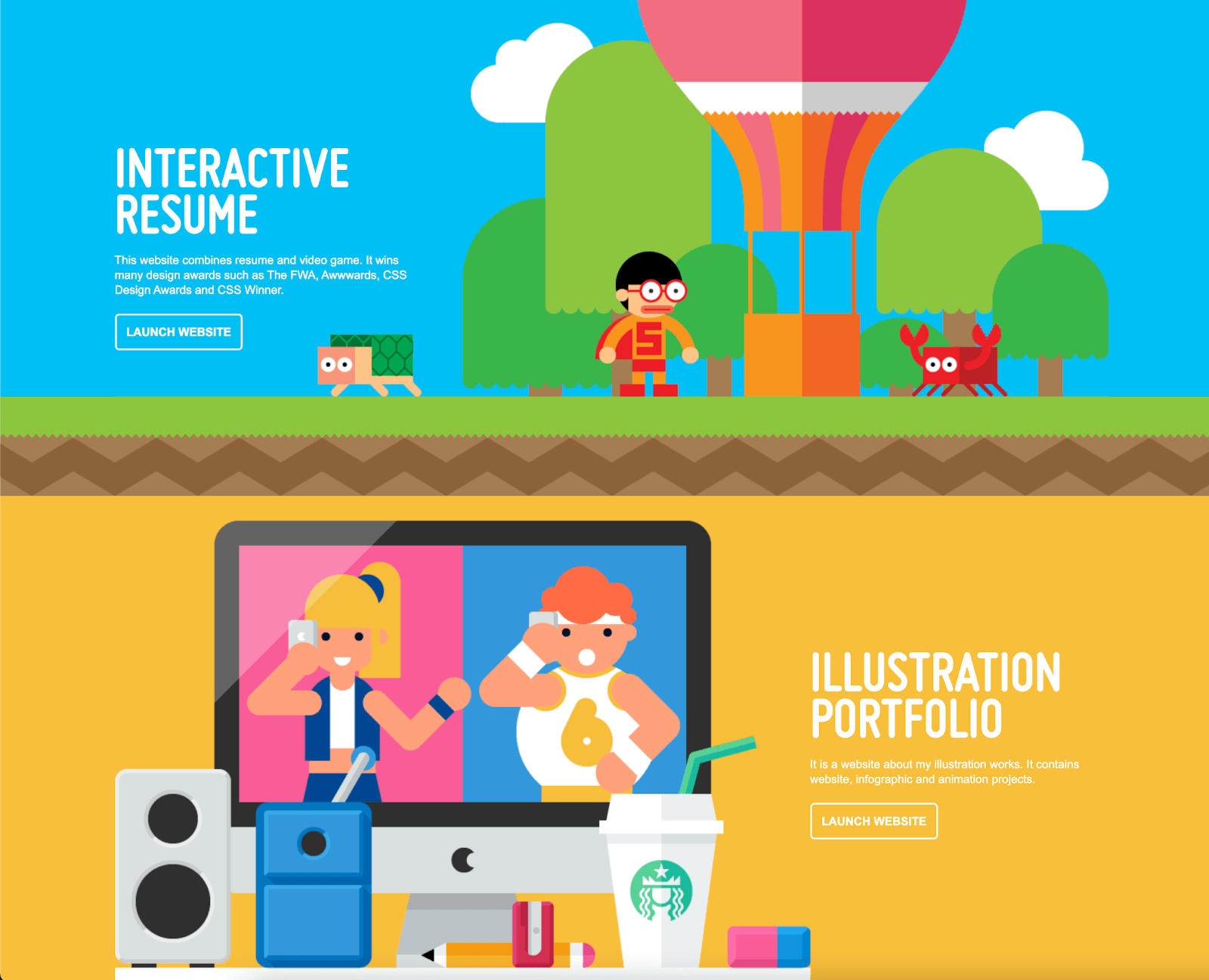 Animator and illustrator Robby Leonardi shows off his talent and creativity by making his portfolio homepage into a fun, playfully styled interactive game.
About Page
The About Page is where you get the chance to tell your story. A strong, poignant narrative can set you apart from your competitors. Be sure to highlight what makes your work unique, what type of work you want to do in the future, and your mission as an artist.
Write it in a style that feels true to you and your work. Whether you use humor, use an emotional story to pull visitors in, or stick to concise and simple language, your About Page should tell visitors who you are and why they should work with you.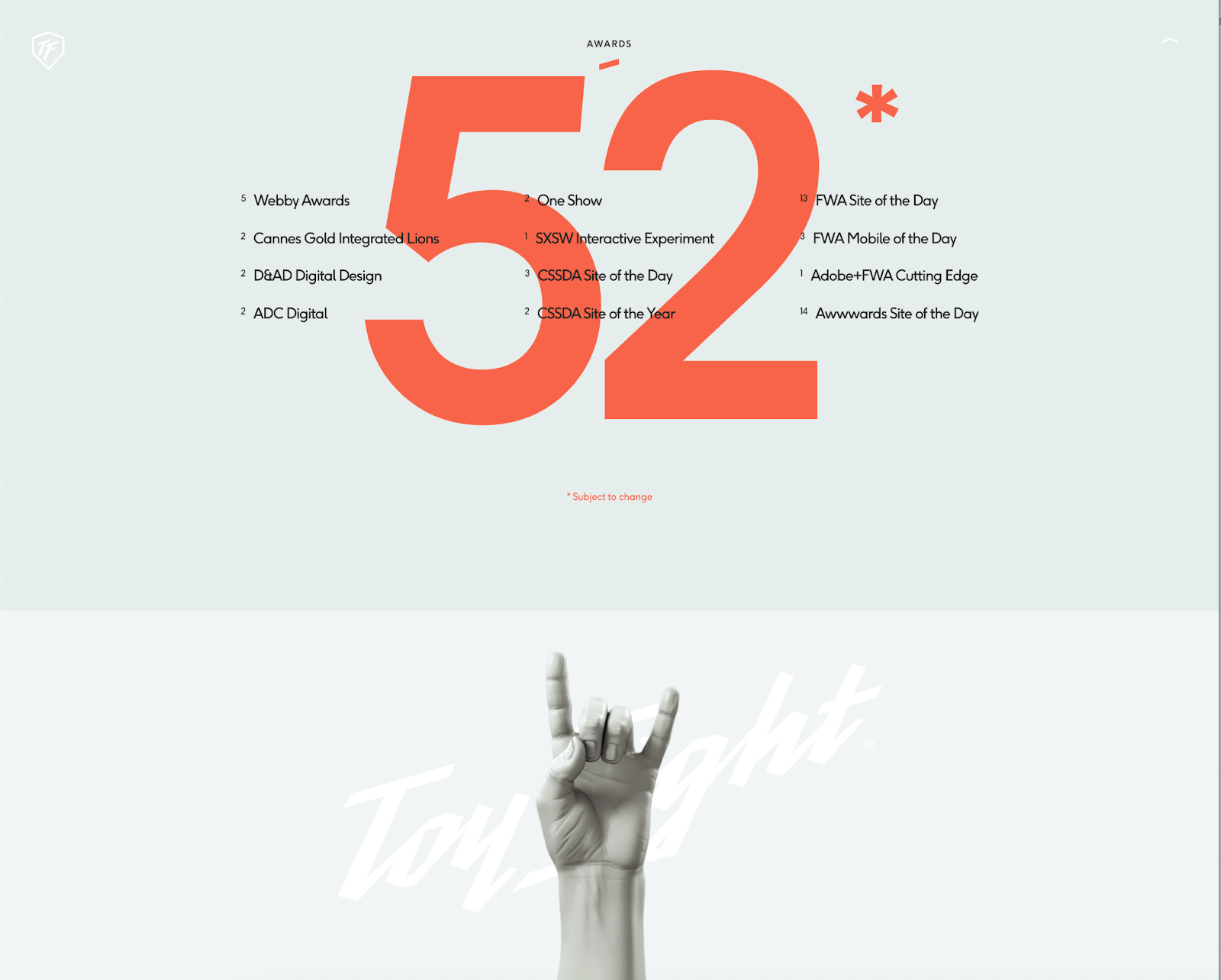 Advertising agency Toy Fight tells viewers what they're all about with eye-popping visuals and concise, yet upbeat copy.
Contact Information
What good does an online portfolio do for your potential clients if they can't get in touch with you once they see how great your work is? Make sure your portfolio website includes:
your location
mailing address
business hours
business phone number
all relevant email addresses
all social media links
You can accomplish this by making a dedicated contact page, making it a part of your main menu, or including it in the site footer. A contact form is an even better way to encourage visitors to your site to reach out without having to leave the site to do so.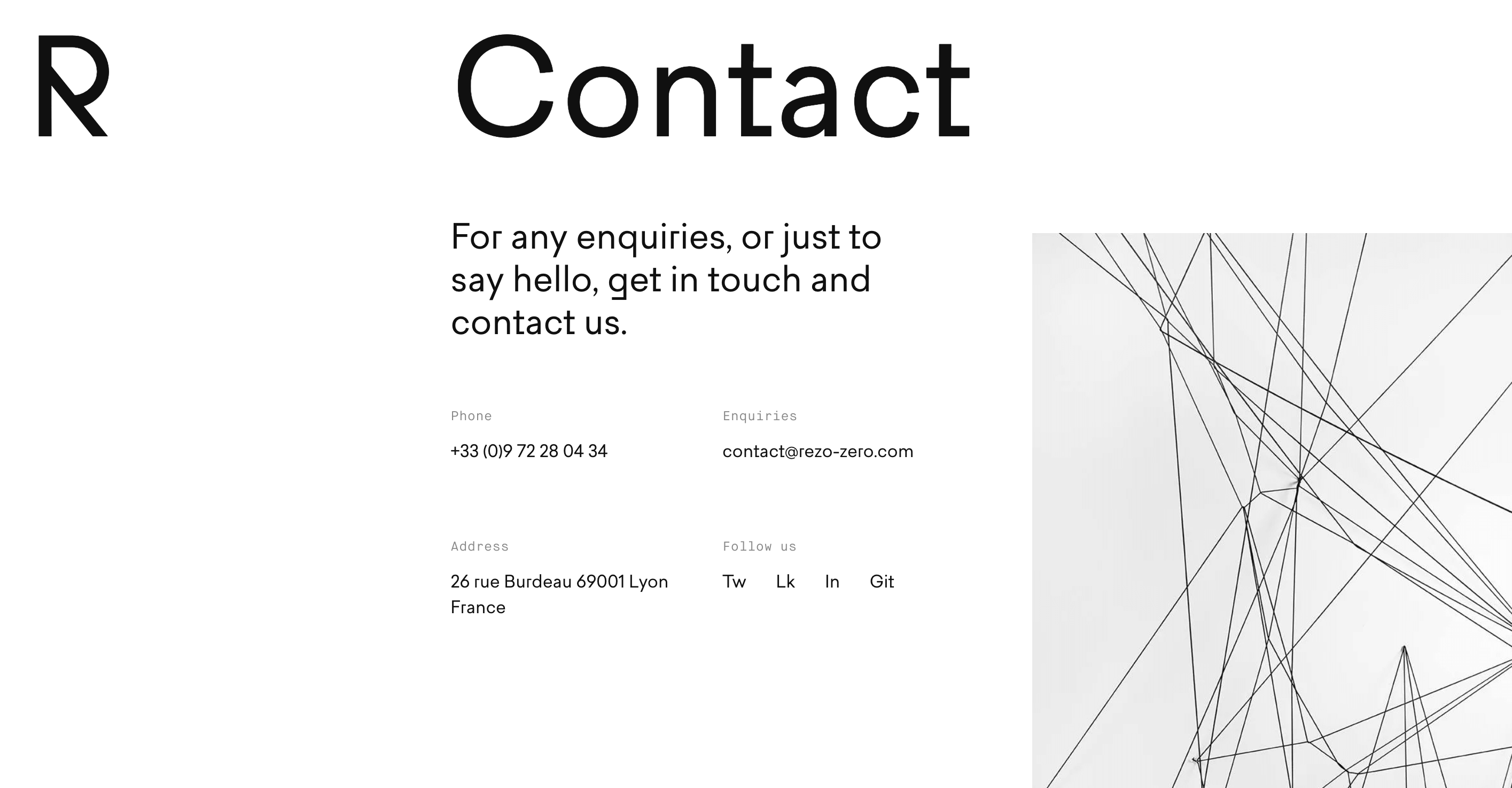 Design agency Rezo Zero's contact page has the same sleek visual appeal as the rest of their portfolio.
Work Examples
Now we get to the main course of any online portfolio: work examples. This is where you let your skills shine. Include high quality images of 6-10 of your best projects and descriptions for context. This may take the form of a photo gallery or a dedicated projects page.
If you can, share different stages of your creative process. This could mean before and after photos, sketches, time-lapses, writeups, moodboards, and anything else in that family. For collaborative projects, don't forget to give credit to the other creators who contributed to making it happen.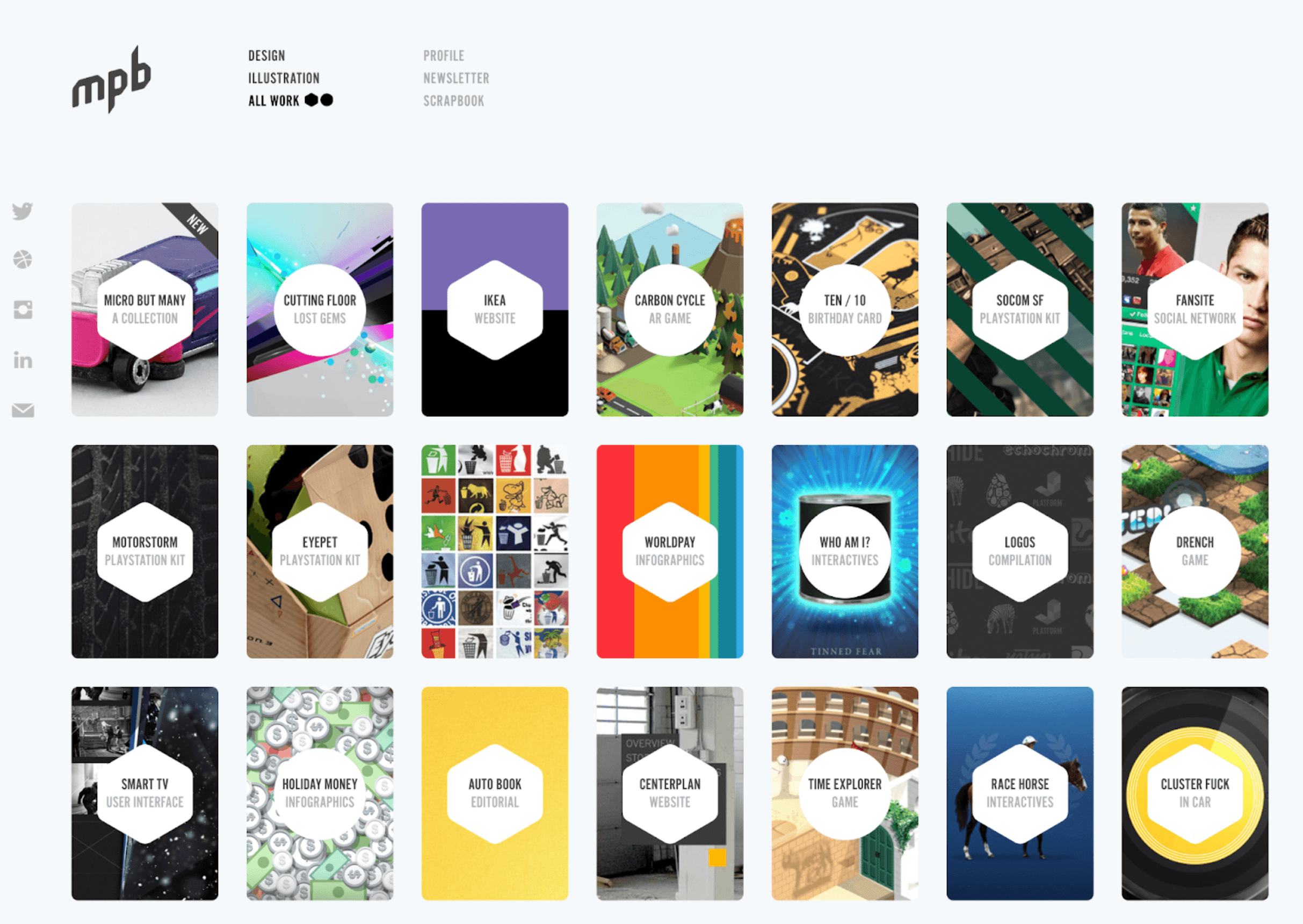 Not only does designer Tim Smith's portfolio website, mypoorbrain.com, have a delightful domain name, but it uses a thumbnail gallery to effectively display his wide range of work.
Client Testimonials
Testimonials from previous clients provide powerful social proof for new clients. In the age of Yelp, people rely on customer reviews for purchasing decisions more than ever. Why not make it easier for prospective customers to make this choice by integrating testimonials and reviews into your site?
Reach out to previous clients and ask them to provide testimonials for your website. If you have any press mentions or have won any awards, you're welcome to include those as well.
Go on, brag a little!
Call to Action (CTA)
Every page of any given website needs a call to action. Think about the action you would ideally want a visitor to take once they're done with that page.
Do you want them to learn more? Make a purchase? Contact you? Book an appointment? Tell them that directly with a link to that page. Even better, include a button that leads there.
Blog and Content Marketing
Blogging is all the rage in the digital marketing world. Informative blog posts lead new people to discover the site, establish authority, and fill out a social media calendar. Blog posts can be information related to your field, tutorials, partnerships with other creators, recipes, reviews, or anything else you can think of that's relevant.
Content marketing is not limited to blog posts. Here are some other types of high quality content you can create if it's compatible with the work you do:
Videos
Social Media Posts
Landing Pages
Infographics
Charts and graphs
White papers and ebooks
Case Studies
Webinars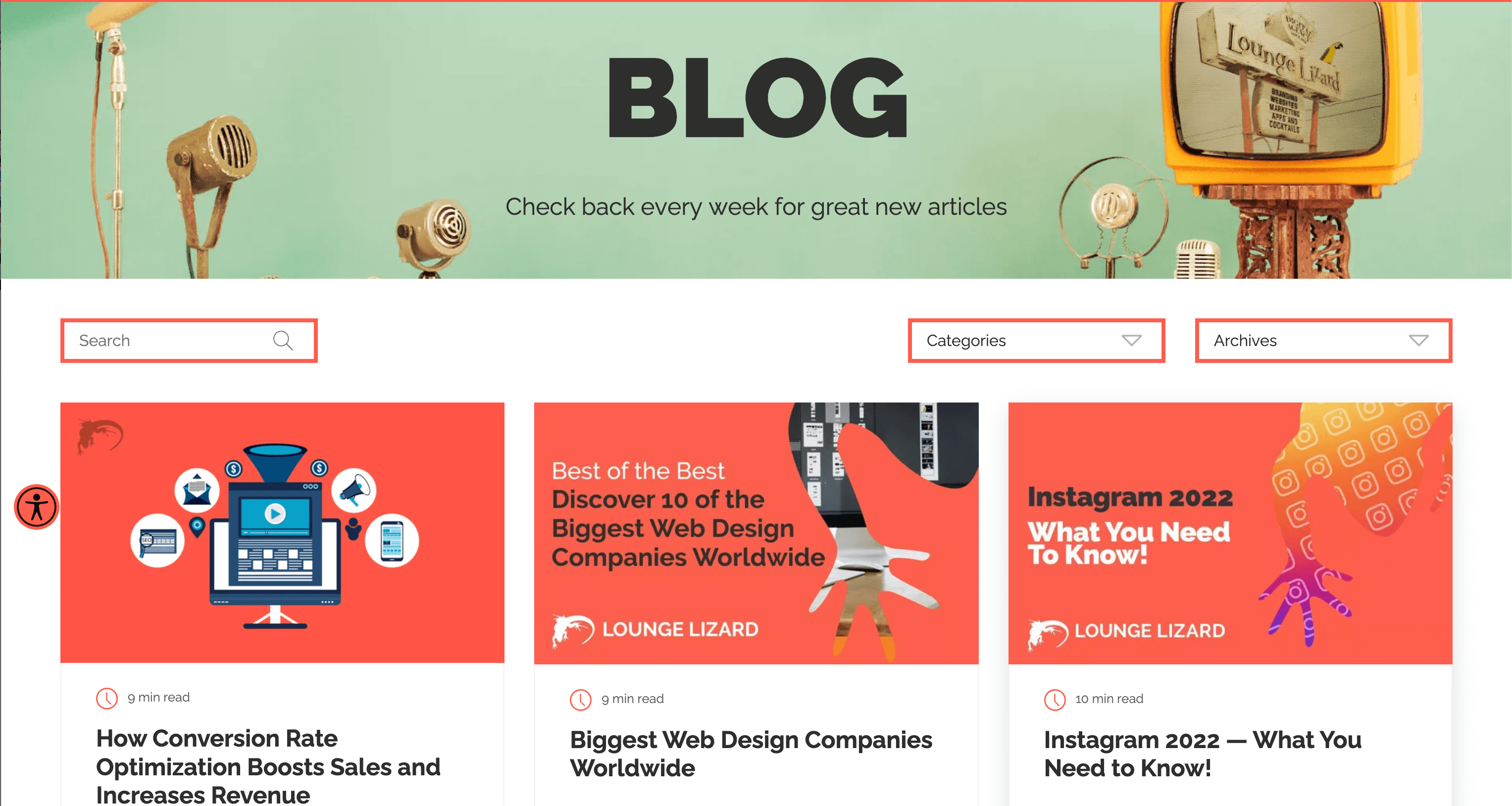 Lounge Lizard's blog is full of cool, engaging posts about web design topics.
Creating a User-Friendly Portfolio
User experience matters for any website. In order for visitors to your online portfolio to become new clients, they need to be able to easily navigate, read, and perform actions.
Good web design, clear and concise copy, and mobile-friendly optimization are all components of a user friendly portfolio. Start by choosing an eye-catching, responsive portfolio template. Then, fill it with intuitive content that's easy to find and load.
Every once in a while, ask for feedback from customers. You may find new ways you can improve the experience for the users.
Search Engine Optimization
Search engines and their algorithms basically run the world. Search engine optimization, or SEO for short, is the process of using these algorithms to your advantage. Getting to the top of the Google search results page helps people who are looking for exactly what you offer pick you over your competitors. Doing keyword research and planning where to put them in your site may seem tedious, but with Sav's SEO tools you don't need to be a strategy expert to get to the top of the page.
Content marketing, alt text, titles and descriptions for all pages, and basic keyword research can go a long way in boosting your search engine cred.
Publish and Promote
Once your content is in place and looking great, it's time to publish. But your work isn't done yet. Keep your portfolio up to date with new projects and client feedback, make changes to optimize your site every so often, and promote, promote, promote.
Share your new online portfolio on all your social media platforms and lead all of your digital marketing efforts back to it. Having your social media linked to your website allows people who find the website first to follow you, but linking to your website in your posts and bios allows people who find you on socials first to easily find your work and become new clients.
Why Trust Sav With Your Portfolio Website?
Sav is a growing business and we're excited for you to be part of that growth. Not only do we provide features you need at prices you can afford, but all Sav websites come with a free SSL certificate, mobile friendly optimization, SEO optimization, Google Analytics integration, and unlimited storage.
All websites can also connect to a custom domain from our world-class domain marketplace. All Sav website builder customers can take advantage of great ecommerce features including but not limited to 40+ payment methods, multi-currency support, real-time order and shipment tracking, and automated advertising with Google Shopping. Start your free trial to get started.